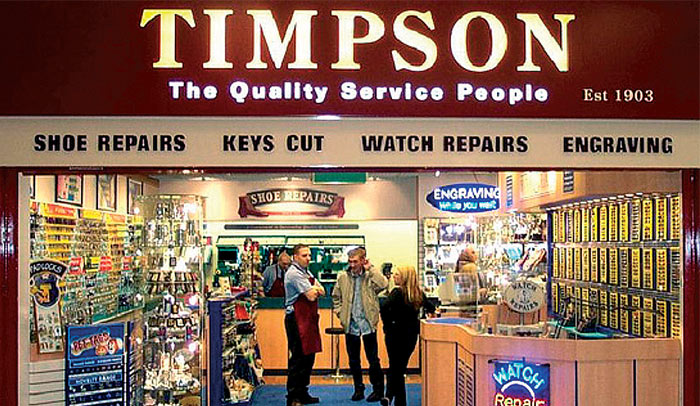 How-to
,
Store Management
Staff training high street case study: Timpson
Published:

3 mins read

By betterRetailing
Shoe repair, key cutting and watch repair retailer Timpson explains why it's important to invest in staff training from the start
Timpson has long held a reputation for being an excellent employer and you only have to speak to its head of training, Peter Harris, for a few minutes to understand why.
"All management jobs are recruited internally, apart from a few specialist jobs at head office," he tells RN. "Everyone has been through our training system. We never recruit an 'apprentice', for example, we recruit a 'trainee manager' because that's the path we see our staff on."
This faith in its employees is a key part of the company's culture and is highlighted by the investment it is willing to make in residential training trips and in-depth courses on skills, sales and customer service for new recruits.
"It's critical that our staff know that we value them, because we hope that they're ambitious and driven. They have to feel that they're not going to be stuck in a sales role in a small branch for 25 years with limited career development potential."
For Mr Harris, the realities of working for an ambitious and successful employer should dispel any fears staff may have of stagnating.
"If we're opening 100 to 125 shops a year, that's another 300 posts, which means there's going to be a whole set of area manager roles that people can aspire to," he says.
One of the most eye-catching examples of this upward mobility within the company can be seen in the watch repair service that Timpson now offers. "A member of staff had come from the watch repair trade and was working in our West Bromwich branch. Our chairman, John Timpson, visited and discovered that he was doing watch repairs under the counter." He was so impressed that he rolled the service out to the rest of the company. "It's now worth £80m a year and this guy is head of watch repair development," explains Mr Harris.
Lessons from Timpson
Teach in small chunks
The skilled work that Timpson employees are expected to carry out could mean that an intimidating deluge of information is thrown at new staff as soon as they walk through the door. Mr Harris says that staff are therefore only taught about a few of the thousands of blank key hobs that stores stock at first. "Learn 20 or 30 blanks from the entire 16ft key board and you'll be able to serve eight and a half out of 10 customers," he says.
Offer long-term training
Timpson's training for new starters lasts for 16 weeks and this is a critical period for gaining key skills. After this, however, new recruits are not expected to know everything about their role. Instead, the initial training aims to make people "useful" as quickly as possible. "As soon as they start showing that they've got skills they begin to take a share of the profit-sharing bonus that Timpson offers staff," says Mr Harris.
Discuss progress regularly
New staff have regular meetings with their managers. "We encourage them to drive this," says Mr Harris. "They tell us where they are up to and where they need more help." These conversations are part of an overall structure which ensures that employer and employee are good fits for each other. "We learnt not to put someone on our major company-wide courses in their first few weeks because we didn't know if they liked us or we liked them," he says.
Provide regular training updates
"All of our staff go on a customer care course every two years, which is refreshed to fit the areas that we think we're not good enough at," Mr Harris tells RN. "We work hard on this because we think standards are pretty poor on the high street and that there's a gap there. Purchases at Timpson are not exactly fun – getting a shoe or a key repaired – so to encourage people to come back and have a good impression of your branch you need to have great customer service." Every two years, Timpson also asks its mystery shoppers where the company is falling down, and training is refined to reflect its findings. "Our last training scheme concentrated on acknowledging consumers, but if we go back seven or eight years it was about handling complaints and making sure that staff didn't take it personally when someone complained."
Become a Member to comment
Register to comment and get exclusive content and subscribe to the online and print versions of Retail News.
Become a member