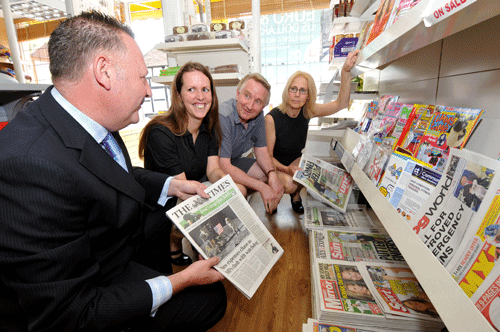 Motivating, training and deve­loping staff is vital, whether you are a large convenience store with a large team of employees or, in the case of Herefordshire retailer Christine Hope, a village store employing part-time staff.
From the moment a member of staff is employed, a structured induction, followed by training, feedback, good communication and opportunities for personal deve­lopment, are vital to ensure you are getting the best from the people you employ.
Christine has owned her store for five years, running it in partnership with her parents. Her mother runs the post office and Christine also has four part-time members of staff. While she tried full-time staff initially, she says there was no flexibility for holiday cover, and staff commitments to families also made part-time work preferable. With a steady turnover of roughly one staff member leaving every two to three years, Christine is keen to build on this stability by improving her staff training.
Neil Moss, employer engagement manager for Skillsmart Retail, took a trip to Hope's of Longtown to lend a helping hand.
Top Tips
Give your staff job descriptions when they start
Make sure you include customer service and selling skills in induction training
Keep staff engaged by keeping them up to date with business performance, such as customer numbers, basket spend and sales increases
Don't forget your own development – are there courses you could take, or other retail businesses and trade associations you could connect with?
For information about retail training courses and qualifications across the country, visit www.nsaforretail.com
1 Give staff structured inductions and feedback
Christine explains she is trying to improve her interview and induction process.
"We have a general chat at the start, where I ask people what their best and worst service experiences have been. Then I ask how we could replicate or avoid that in our shop. I tell staff to think of the shop as a theatre where you are here to perform, no matter what mood you are in," she says.
She shows Neil a comprehensive induction manual which she uses to train all new staff. Neil says that low staff turn­over means Christine can create a bespoke induction for each new staff member that is tailored to her own business. He praises her induction manual for covering topics such as health and safety and store systems, but suggests she could also include customer service and selling in her training programme.
Christine says she would like to develop her existing staff, but faces difficulty because "they don't want to discuss how they enjoy their jobs because they say they aren't working for Tesco".
Neil replies that her enthusiasm for coaching and feedback is a positive way to address this.
2 Offer personal development to keep staff motivated
Christine says she gets the best results by asking each staff member to look after the whole store while working, then assign extra responsibilities on an ad hoc basis.
"It's hard because when you recruit a sales assistant there isn't a next step for them. The post office is the only role where there is a "next level" of responsibility, and my mum runs that," she says.
She adds that staff reviews have not proved popular. With no staffroom, any discussions about progress take place on the shop floor while normal work is done.
"You should give staff job descriptions. They are very helpful because they set out your expectations from the start. It removes doubt when staff say 'that's not my job'," says Neil.
He adds that Christine could offer incentives to staff via a bonus, or keeping them up to date on business performance. Christine agrees this may help, though she questions how best to structure bonuses for part-time staff and what level of detail she should give in her updates.
"You could focus your bonus on overall profit. And don't give them too much information about business performance because that's only of use if they understand it," says Neil. "My experience is that people do want to know how things are doing. Get them to understand the importance of the sales mix, for example, by looking at footfall against average number and value of transactions."
3 Use national training and certification schemes
Christine, her mother and some of her staff have been working to complete NVQs in customer service, retailing and business administration.
Neil believes that, in addition to training her staff, it is important that Christine receives support herself, and has brought information for her to look at.
As Christine says she needs to gain more experience beyond her own four walls, Neil suggests she gets in touch with trade associations, or finds a mentor.
"Could you build links and partnerships with other retail businesses? They could help you make connections," he says.
4 Communicate in-store news via newsletters, noticeboard and staff meetings
Christine says she has been holding staff meetings but admits she is guilty of focusing on negatives rather than positives at times. While she encourages staff to give feedback from customers, staff are often reluctant to speak up, and again, the lack of a staffroom enforces this reluctance.
Neil says it is important to give regular feedback, to continue to encourage staff to give their ideas and also to keep them updated on promotions. It is good that customer requests are added to a staff noticeboard; business news could be displayed here, or communicated verbally to staff as appropriate.
For more store galleries go to See My Shop
See more of Christine's store below