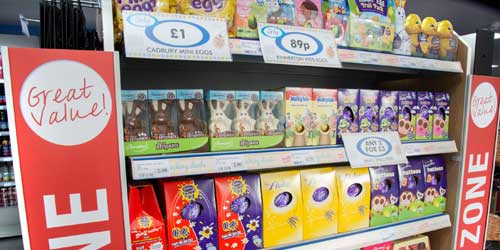 Below are some highlights from another busy year of supplier activity for the big spring events. Which products will be finding a place on your shelves?
Valentine's Day
Cadbury Roses turns 80 this year and brand-owner Mondelez has launched a new flower design gift box (RRP £4.50).
For those with an orange-chocolate fan in their life, Nestlé's Orange Smarties Giant Tube (RRP £1.38) is being touted as an ideal Valentine's Day gift.
Mars Chocolate suggests store owners keep stocked up with Celebrations for both Valentine's Day and Mother's Day. Since last year the range includes a gift pack with an RRP of £1.11.
With an RRP of £1, Swizzels Love Heart tubes provide consumers with an affordable and iconic way to tell that special person in their lives how they feel.
Two Green & Blacks gift boxes – Praline Milk Chocolate with Whole Hazelnut, and Praline Dark Chocolate with Whole Hazelnut gift boxes – have been created by Mondelez for chocolate fans. Both come with a RRP of £4.89.
Ferrero suggests retailers can use its Raffaello Heart and Ferrero Rocher Heart for both Valentine's Day and Mother's Day. The Ferrero Rocher Heart is available in two sizes, 50g (RRP £2.25) and 125g (RRP £5.07).
With an RRP of £2.39, Emmi's Oola Secrets Triple Chocolate Mousse is a positioned as an indulgent treat to enhance a quiet moment, its three types of chocolate encasing a secret caramel core.
Jelly Tots is another brand to provide retailers with an affordable option for smitten young customers at Easter. Its "Love You Lots Like Jelly Tots" egg comes with an RRP of £5.61.
For many years, Thorntons stores have done a roaring trade in personalised Easter Eggs. Now convenience stores can benefit from a personalised gift campaign from the Ferrero-owned brand.
Hancocks' range this year includes a cream and cereal-filled milk chocolate egg and a Bunny & Chick marshmallow bag for those who want to get into the Easter spirit.
The MaltEaster sub-brand has performed increasingly well since its introduction. Brand owner Mars says its Mini Bunny Egg format (£1.52) is a proven bestseller.
Nestlé's family-size Pick & Mix Giant Egg brings together four big brands – Smarties, Rolo, Aero and Toffee Crisp – in one product with an RRP of £7.49.
With larger family sharing formats in growth, Mars' 330g Milkybar Mini Eggs format, with an RRP of £3.00, is designed to capitalise.