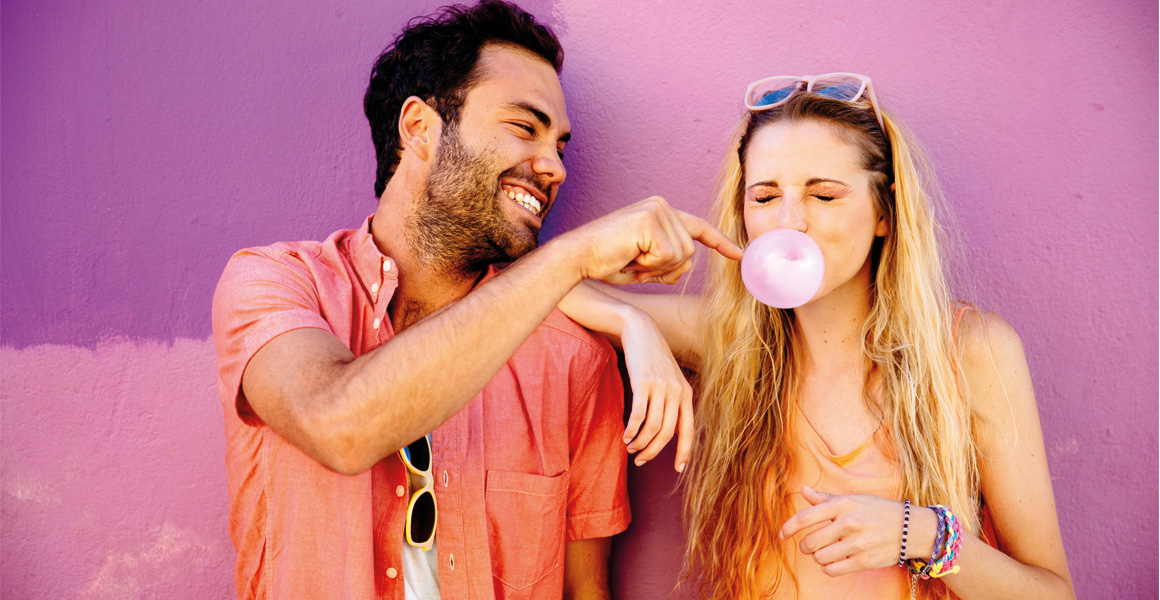 Mints and gums provide the archetypal opportunity for impulse sales. Priyanka Jethwa's test will make sure your knowledge is up-to-date
Having a wide range of mints and gums is essential for any store, and independents can capitalise because shoppers are more likely to come to a convenience store, rather than a multiple, for gum.
John Parkinson, of Broadway Premier News in Penryhn Bay, says it is a category that not only helps increase basket spend, but appeals to all age groups – from schoolchildren to working adults.
"A lot of people come in for gum and end up buying something else. With gum, it's something you don't want to go to a big store for, you'd rather go to a smaller store you can walk in and out of quickly – and that is where independents come in."
So, to make sure your selection is up-to-date, and that you are offering consumers a wide range that taps into the current format and flavour trends, take RN's big quiz below and put to the test your knowledge of all things mints and gums – from new products and formats, to popping flavours – and see how well you do.
1. What is the latest addition to Perfetti Van Melle's Mentos range?
a) Mentos Orange
b) Mentos Stay Free
c) Mentos Strawberry
Answer: b)
This year, Perfetti Van Melle is introducing sugar-free Mentos Stay Free to its line of mints and gums in Mint and Menthol Eucalyptus flavours. The range is designed to help retailers capitalise in the sugar-free segment, and the mints will be available from May in fliptop format with an RRP of 75p.
2. What percentage of gum in the market is sugar-free?
a) 55%
b) 75%
c) 95%
Answer: c)
With more consumers conscious about the amount of sugar they are consuming, stocking sugar-free gum in-store has never been more important. A reflection of this (alongside our national fear of the dentist's chair) is the fact that 95% of all gum in the category is now sugar-free, so shoppers are never short of options.
3. Which brand features in four of the five best-selling mint products in the UK?
a) Trebor
b) Smints
c) Fruittella
Answer: a)
Four out of five of the best-selling mint products in the UK are under Mondelez' Trebor brand, which has sales of over £48m. The best-selling product is Trebor Extra Strong Peppermint, which was first introduced in the 1950s. Trebor Extra Strong and Trebor Softmints also have the highest rate of sale of all mints.
4. Which Trebor product did Mondelez launch in a 100g pot format last year?
a) Trebor Softmints
b) Trebor Extra Strong
c) Trebor Mighties Mint
Answer a)
Trebor launched its Softmints in a 100g pot format last summer. The new larger-format pot was created to allow consumers to eat the mints on-the-go. The pot format is now worth £4.5m in the mints category, and launches of mints in more convenient formats aim to help retailers drive further sales in the category.
5. Which sweet-inspired gum variant did Mars Wrigley Confectionery launch this year?
a) Skittles
b) Starburst
c) M&M's
Answer b)
Mars Wrigley Confectionery expanded its portfolio in February by introducing a Starburst Chewing Gum, aimed to provide consumers with a sugar-free treat alternative which bridges the gap between gum and sweets. The product is designed to appeal to 15- to 24-year-olds.
6. Which gum format has seen a 13% increase in Mars Wrigley Confectionery's sales over the past year?
a) Bottle
b) Single pack
c) Rolls
Answer a)
Mars Wrigley Confectionery's bottle formats (in 46- and 60-piece pellets sizes) have seen 13% growth in the past 12 months, and after noticing more people eating gum in the car, the supplier developed a holder which is tailored to conveniently keep bottle formats in easy-to-reach positions for drivers.
7. What brand is celebrating its 100th anniversary this year?
a) XXX Extra Strong Mints
b) Fox's Glacier Mints
c) Smints
Answer b)
Fox's Glacier mints marks its 100th anniversary this year. To celebrate, the brand has rolled out specially designed anniversary packaging across its entire range of Fox's Glacier Mints, Fruits and Dark. The brand is also launching a new mint variant this May: Glacier Spearmints, which has a milder, sweeter flavour than classic Fox's Glacier Mints.
8. Which flavour is currently popular with younger consumers?
a) Mixed Berries
b) Apple
c) Bubblegum
Answer c)
Classic flavours such as peppermint and spearmint continue to be popular within the category, but new flavours such as bubblegum are growing in popularity among younger consumers and are helping increase sales and bring innovation to the category. Mentos White Bubble Fresh, by Perfetti Van Melle, for example, aims to help retailers tap into this demographic.
9. What does Mars Wrigley Confectionery recommend retailers cross-merchandise gum with?
a) On-the-go food
b) Fizzy drinks
c) Fresh produce
Answer a)
A great on-the-go range provides an opportunity for retailers to encourage gum as an additional purchase. Mars Wrigley Confectionery advises retailers to cross-merchandise displays that focus on different meals throughout the day, such as 'a sandwich and pack of chewing gum for £2'.