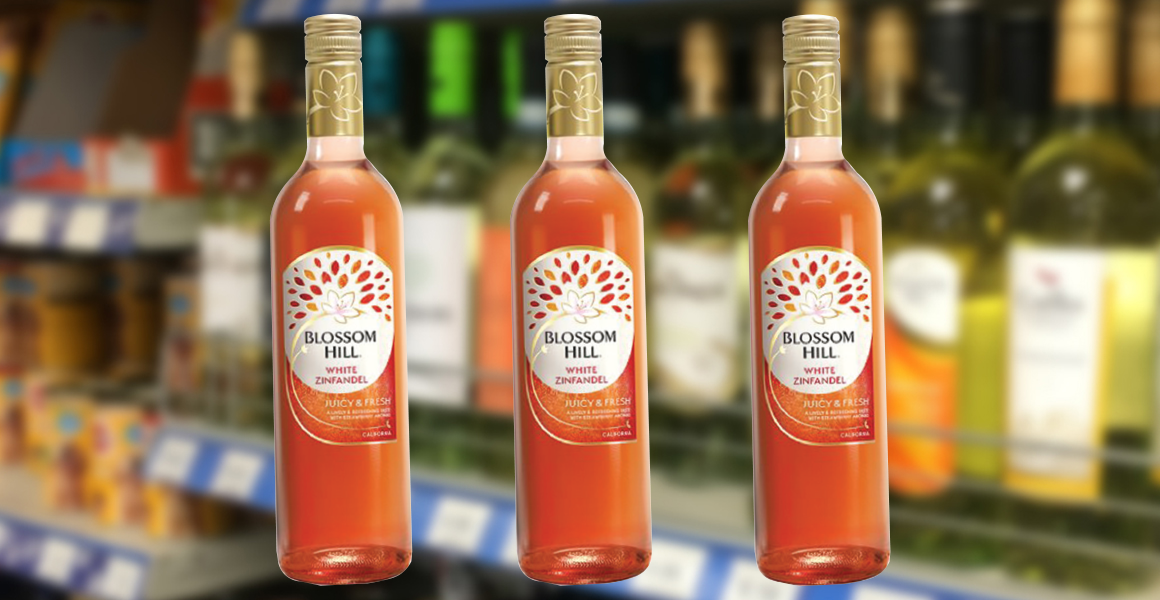 Analysis
From Asti to Zinfandel, downtrading in wine is one of the biggest headaches for alcohol manufacturers, and looking at the table (right), it's easy to see why. Nearly every single line in the multiples is consistently priced cheaper than Booker's RRP.
Retailers that try to play the multiples at their own game by stocking wine at increasingly lower prices will eventually run out of steam, so it is great to see independents squeezing extra margin on popular lines such as Blossom Hill White
Zinfandel (above) for the convenience of shoppers buying it on their doorstep.
Your shelf space deserves a premium. Yes, there will also be people looking to walk out with a £5 wine, but what can you stock that commands a price of £8-£10?
The vast majority of growth in the wine market is coming from products at this higher end, so if you're not stocking a premium offering, you are missing out.
Profit checker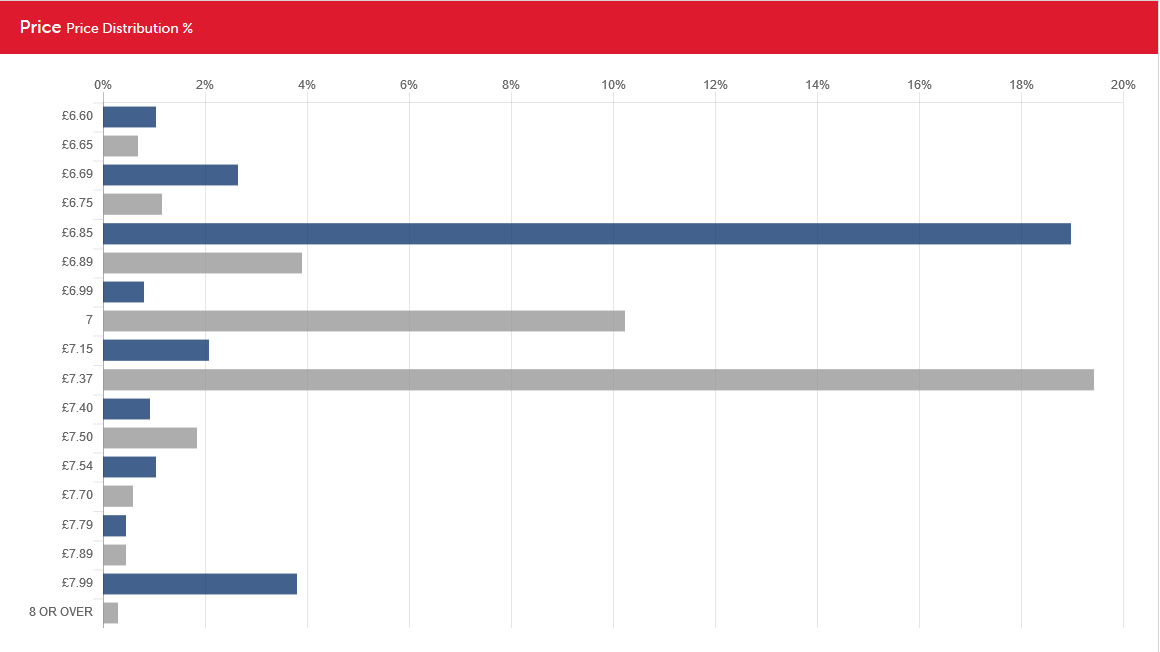 Price checker
Average price
Booker RRP
LOCAL C STORE IN SOUTH EAST LONDON SUBURB
HEREFORDSHIRE VILLAGE SHOP AND OFF LICENSE
SMALL OFF LICENCE AND GROCERY STORE IN TEESSIDE VILLAGE
LARGE C STORE IN RESIDENTIAL AREA OF LARGE ESSEX TOWN
OFF LICENCE AND C-STORE IN REDSIDENTIAL AREA OF MERSEYSIDE TOWN
OFF LICENCE AND C -STORE IN DUNDEE CITY CENTRE
HARDYS BIN 161 CHARDONNAY
£5.53
£5.50

–

£5.50
£5.50
£5.50
£5.50
£5.00
HARDYS BIN 161 SAUV BL PM550
£5.54
£5.50
£5.50
£5.50
£5.50
£5.50
£5.50
£5.50
ECHO FALLS WHITE ZINFANDEL 75CL
£6.40
£6.69
£6.89

–

–

£5.49
£6.29
£5.99
BLOSSOM HILL WHITE 75CL
£5.84
£6.59
£5.99

–

£5.50
£6.49
£5.99

–

ECHO FALLS CALIFORNIA WHITE 75CL
£5.37
£6.49

–

£5.99
£5.50
£6.29
£4.25
£4.99
HARDYS VR CHARDONNAY 75CL
£6.08
£6.79
£6.99
£6.79
£5.99
£6.99
£5.39
£5.99
DISTANT VINES PINOT GRIGIO 75CL
£4.07
£4.00

–

£4.00
£4.00

–

–

£4.00
HARDYS VR PINOT GRIGIO
£6.17
£6.79
£6.99
£6.79
£5.99
£6.99
£5.39
£5.99
BLOSSOM HILL WHITE ZINFANDEL 75CL
£6.66
£6.49
£5.99

–

–

£7.79
£6.59
£5.99
CASILLERO DEL DIABLO SAUVIGNON BLANC 75 CL
£7.51
£7.99
£6.50
£7.99
£7.99
£8.99
£6.99
£6.99
YELLOW TAIL CHARDONNAY 75CL
£7.05
£7.49
£7.49
£7.49

–

£7.69

–

–

MCGUIGAN BLACK LABEL PINOT GRIGIO
£7.85
£7.99

–

–

£7.99

–

–

–
Data supplied by
EDFM is a specialist in helping leading suppliers to the UK's independent convenience channel get value, insights and business benefits from EPoS data. To find out how they could help you call 07976 295094
Supermarkets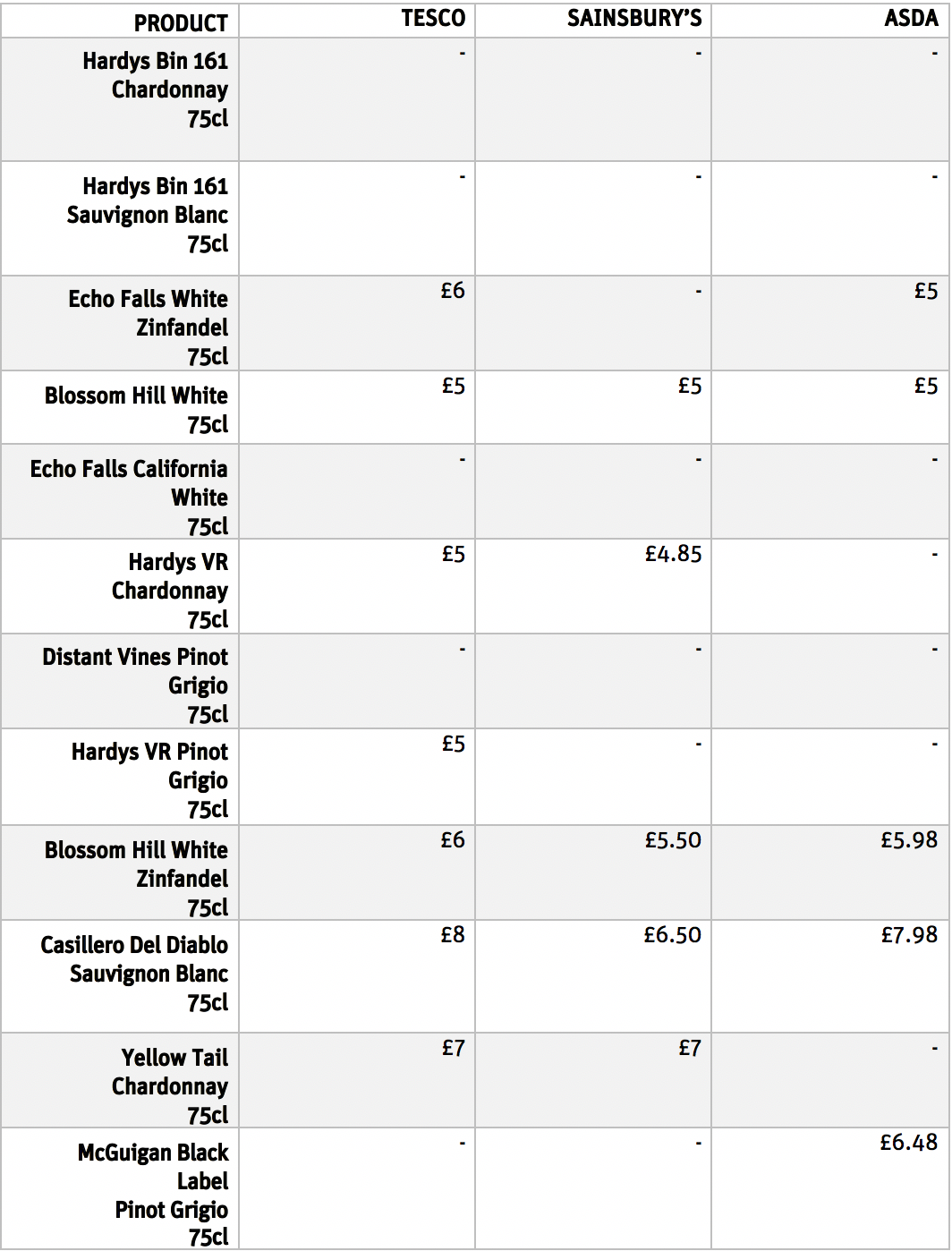 Drive your profits
Bob Sykes
Denmore Premier Food
Location: Denbighshire
Size: 1,000sq ft
Type: estate Top Tip If you don't have a huge store, stick to value wine brands rather than a premium range We don't have an expensive range of white wine in store and a lot of that is to do with the lack of space and the fact there is an off-licence nearby. We stock a lot of pricemarked white wines at £4, and we keep Hardys Bin 161 Chardonnay for £5.50. We try not to go over the RRP on white wines and try to keep as many promotions available as possible. Whenever there is a white wine promotion in our symbol group, we stock up and keep it on promotion until they replace the offer. This is partly down to our demographic – we want people to keep coming back.
Mike Nicholls
Costcutter
Location: York
Size: 4,000sq ft
Type: neighbourhood Top Tip Make sure to have a wide range and don't be afraid of pricing above the RRP We do a lot of promotional activity through our symbol group on white wine, and Yellow Tail, Casillero Del Diablo and Co-op's own range are among the bestsellers. Co-op's popularity is down to its price and the fact that people trust the brand. We typically aim for a 20-25% profit margin on white wine, and do not stock any pricemarked wines. When it comes to who buys white wine, it is still mainly women from across all age groups. It's a huge category in the running of our business, and it definitely helps when there is an offer on.
Vince Malone
Tenby Post Office
Location: Pembrokeshire
Size: 900sq ft
Type: town Top Tip It's about understanding the market and your customers and focusing on the bestsellers in your area We generally stick to the RRP when it comes to white wine as our nearby competitors – including Londis, Spar and Co-op – tend to go 10% up on the RRP, so we need to match them, or go lower. It's a competitive market, and we find that it's all about building customer loyalty to encourage them to repeat purchase. We do particularly well on bigger brands when they are on offer. We've seen an uptake on sales of Yellow Tail. Jacob's Creek is also popular, but that sells better when it's on promotion, whereas people buy Yellow Tail all the time.
Harry Patel
Kwiksave
Location: Warlingham
Size: 1,000sq ft
Type: town Top Tip Keep a few popular wines among some of the lesser-known ones to draw attention to them Sometimes we will price above the RRP and sometimes go below – it depends on the brand, what the demand is and what my competitors are selling. There is a Co-op across the road, but I have a larger selection of wines, which helps my footfall. Casillero Del Diablo has been on TV a lot lately, so I've made sure to sell its entire range, including all its white wines. As a result of this, the brand has been very popular, so I keep the prices on it slightly higher. On the weekend, the majority of white-wine drinkers seem to be women.