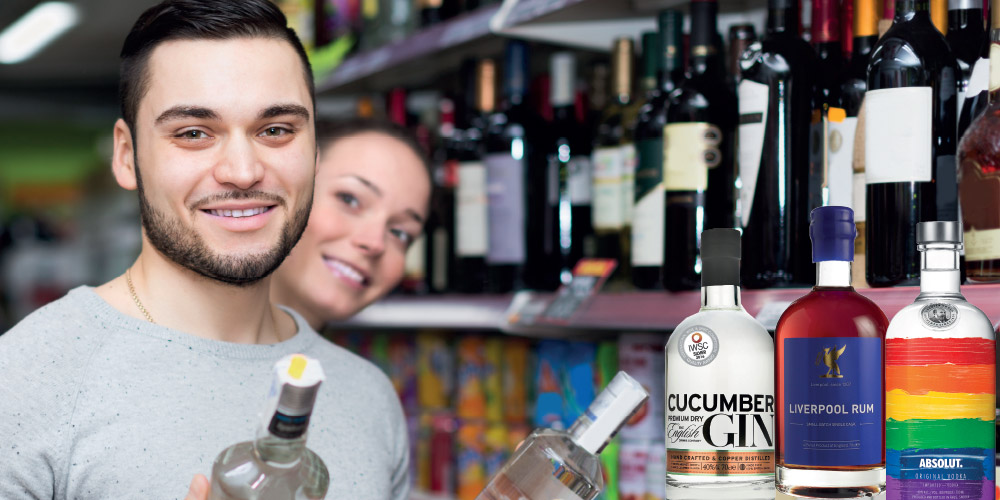 Premium spirits sales can soar by 20% in the summer months. Lee Graham finds out three ways you can get your share.
Stock interesting brands
Shoppers are increasingly looking for premium alcoholic drinks. This has prompted the massive growth seen in craft beer in recent years and is also driving spend in the spirits category.
You should make sure you are tailoring your range to cater for this demand.
James Middleton, impulse channel director at Pernod Ricard, says the company has seen growth on its Absolut, Jameson, Beefeater, Plymouth, Chivas Regal and Malibu brands. "We will support retailers with ranging and merchandising advice to support growth and enhance their premium range," he adds.
Retailers that do not evolve with the demand for premium spirits run the risk of losing their shoppers. Graham Carr-Smith, founder of the English Drinks Company, says complacency is the biggest threat to success.
"Consumers have evolved: they want to try new brands and new flavours. To maintain the momentum, it's down to suppliers to deliver further innovation and it's down to retailers to give on-shelf focus and support cross-promotions," he explains.
Do it: Merchandise cocktail ingredients like lemons and limes next to premium spirits.
Drive pre-mix sales
Pre-mix cans are a huge opportunity for retailers this summer, but this segment can often be forgotten when it comes to merchandising the chiller.
In a recent survey of 300 independent and symbol stores, Diageo found 35% of retailers offered no pre-mix cans in the chiller. As 90% of convenience shoppers drink pre-mix purchases within two hours of buying them, this means that retailers might not be catering to demand. Claire Kendall, senior customer category development manager at Diageo, says having a great chilled range could help convenience retailers differentiate from the supermarkets.
"Summer is the time when the most drinking occasions take place, so it's a great time of year for convenience retailers to review their range to make the most of the opportunity," she adds.
It's important to offer premium options of pre-mix as this increases spend and allows shoppers to buy drinks for special events in summer, like barbecues and get-togethers. Middleton says: "Pre-mix cans are experiencing value growth of 12.2%." He adds that Pernod Ricard has entered the category for the first time this year with premium pre-mix from Absolut and Jameson.
Do it: Stock pre-mix in the chiller so shoppers can drink it straight away.
Extend your range of gins and vodkas
If you are looking to increase sales of vodka you need to focus on two areas. "The first is quality," says Middleton. "Second, a range would not be complete without a selection of flavoured vodkas to create interesting cocktails."
Place recipe cards next to flavoured vodkas to encourage shoppers to create cocktails and drive basket spend. Eighty-two per cent of shoppers drink citrus cocktails and lime-flavoured vodka makes up 10% value share of flavoured vodka, so this is a good place to start.
Last year marked the largest-ever volume of gin sold in the UK, equivalent to 40 million bottles. It is a market that's grown by 68% in the off-trade since 2012 and one convenience retailers must capitalise on. Brands like the English Drinks Company's Cucumber Gin are helping trade shoppers up to premium options.
"Gin continues to show strong annual sales growth of 12%," says Carr-Smith, adding that convenience shoppers are highly likely to try new brands, so retailers shouldn't be afraid of stocking new products.
Do it: Find a local gin supplier and arrange a tasting event in your store.
Retailer View
"I'm hearing 'gin' everywhere at the moment. Yesterday I went to Booker to photograph a few with a view to buying a selection of gin and I've just had a delivery of a few specialist gins from a company near me. I've asked for a range of seven or eight different types.
"I've not had any customers ask for premium gins, but having said that, I started craft beers about four weeks ago, which no one had asked for, and I got about £900-worth in. They've moved so well that I've had a second delivery in the space of a month. I'm hoping the same will happen with the gins as shoppers want premium drinks."
Sandip Kotecha, Londis, Cheltenham, Gloucestershire