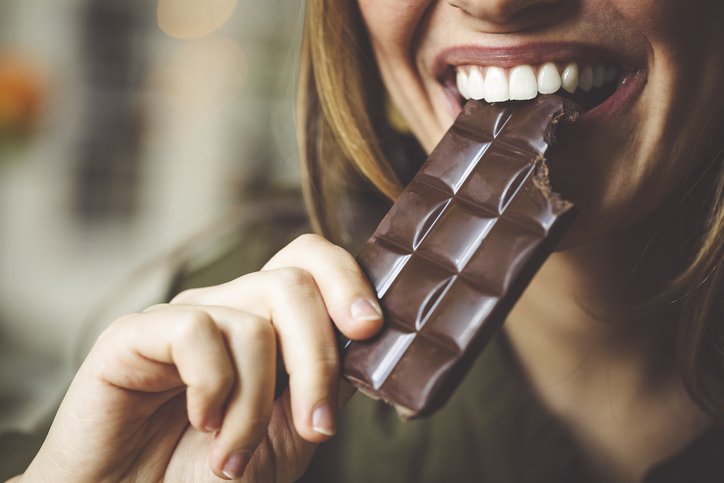 Comparing premium chocolate prices
Behind the numbers
Our premium chocolate price comparison tools below will help ensure you make the most of this growing category.
With premium chocolate sales growing an average 111% year on year, it's no surprise that five lines are being sold above the most common price by the majority of retailers.
For example, 61% of retailers are charging up to £3.55 on Green & Black's Milk Chocolate, over a pound more than the most common price of £2.19.
Explore more of our exclusive product price comparisons
Similarly, 50% of retailers are pricing Lindt Excellence Milk Chocolate above the most common price of £1.99, going up to £2.29.
Divine has less flexibility on pricing, however. Ninety-three per cent of retailers are selling Divine Smooth Mint Chocolate at the most common price of £2.75, while 91% of those represented in this week's data are charging the most common price on the brand's Ginger & Smooth flavour.
Premium chocolate price comparison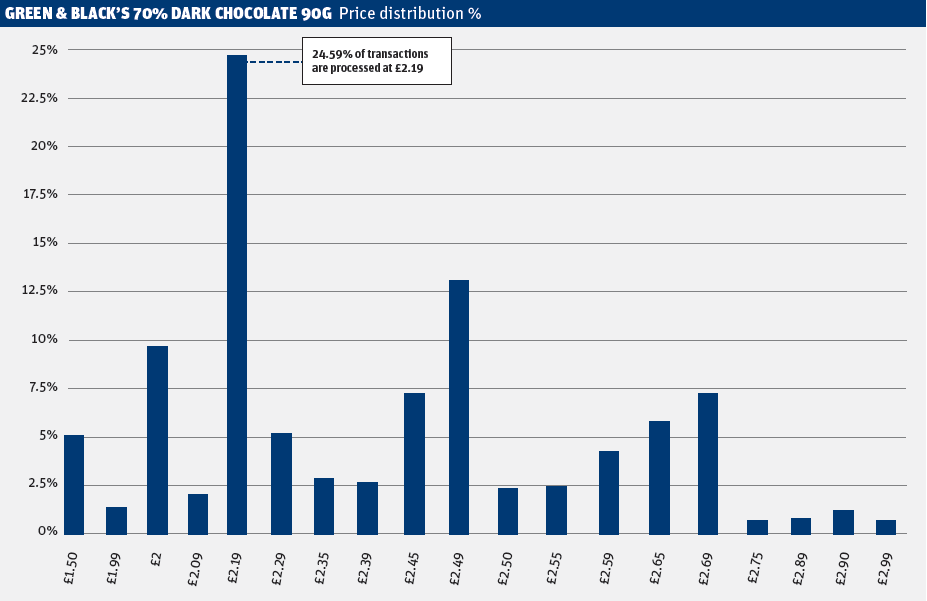 Premium chocolate price distribution
Percentage of stores selling premium chocolate lines above, below and at the most common retail price: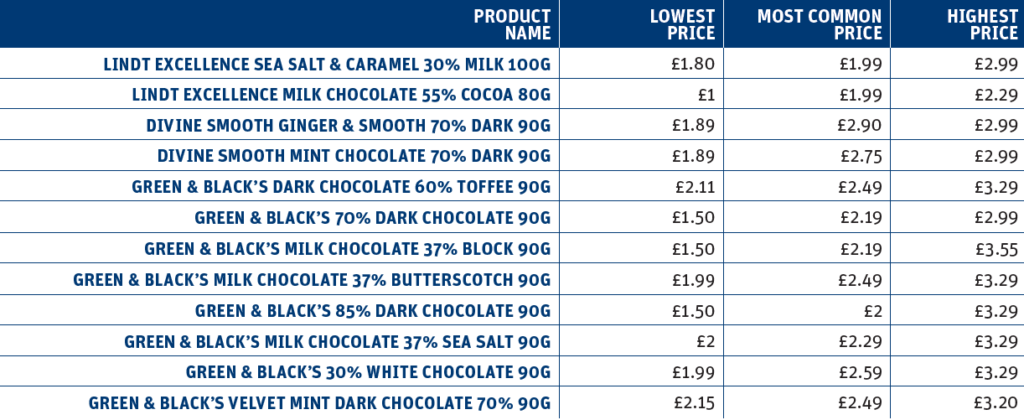 Must-stock premium chocolate products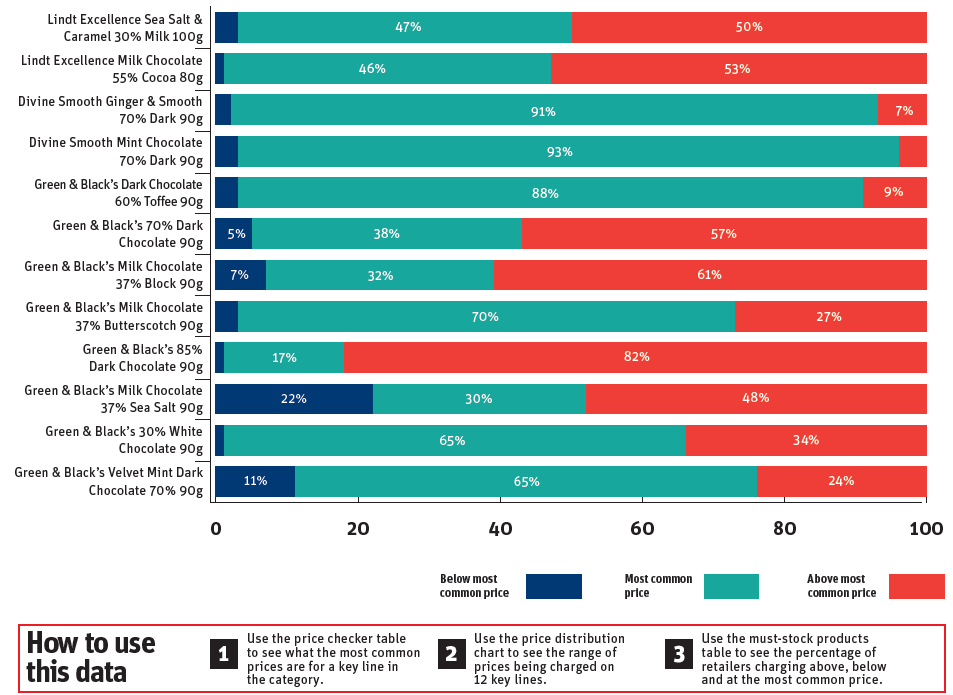 Retailer viewpoints
How premium chocolate works for their stores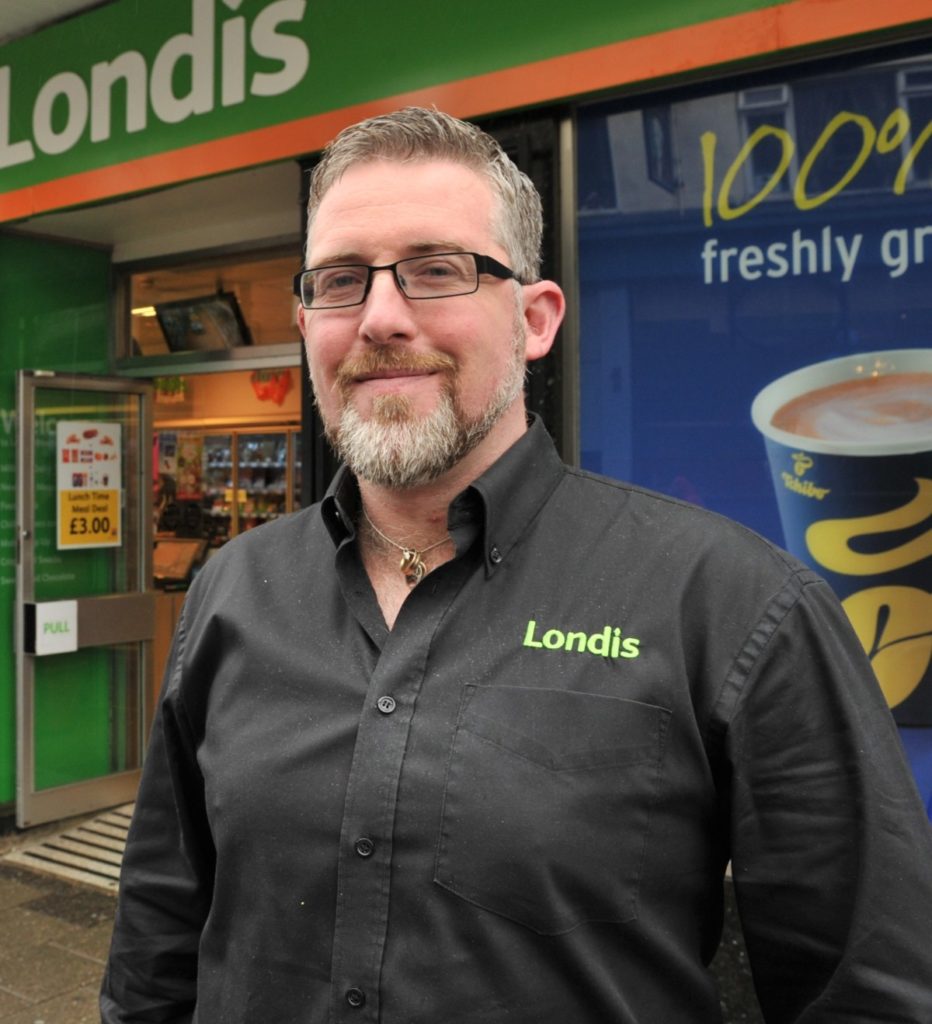 Store Londis Westham Road
Location Dorset, Weymouth
Size 2,200sq ft
Type Town centre

Top products
Guylian Sea Shells Praliné 500g
Lindt Milk Chocolate Truffles 200g
Lindt Strawberry & Cream Truffles 200g
"We have a lot of competition nearby because we're in a town centre, so most of our categories are impulse-led. This means that premium chocolate doesn't perform well in store, but we still stock five lines.
"In fact, we stock premium chocolate to capitalise on the seasons when sales increase, like Christmas. Shoppers will spend a little more at Christmas, Easter and Mother's Day, so they'll trade up to premium brands. Similarly, if customers want to treat themselves but want to stay relatively healthy, they'll buy dark chocolate."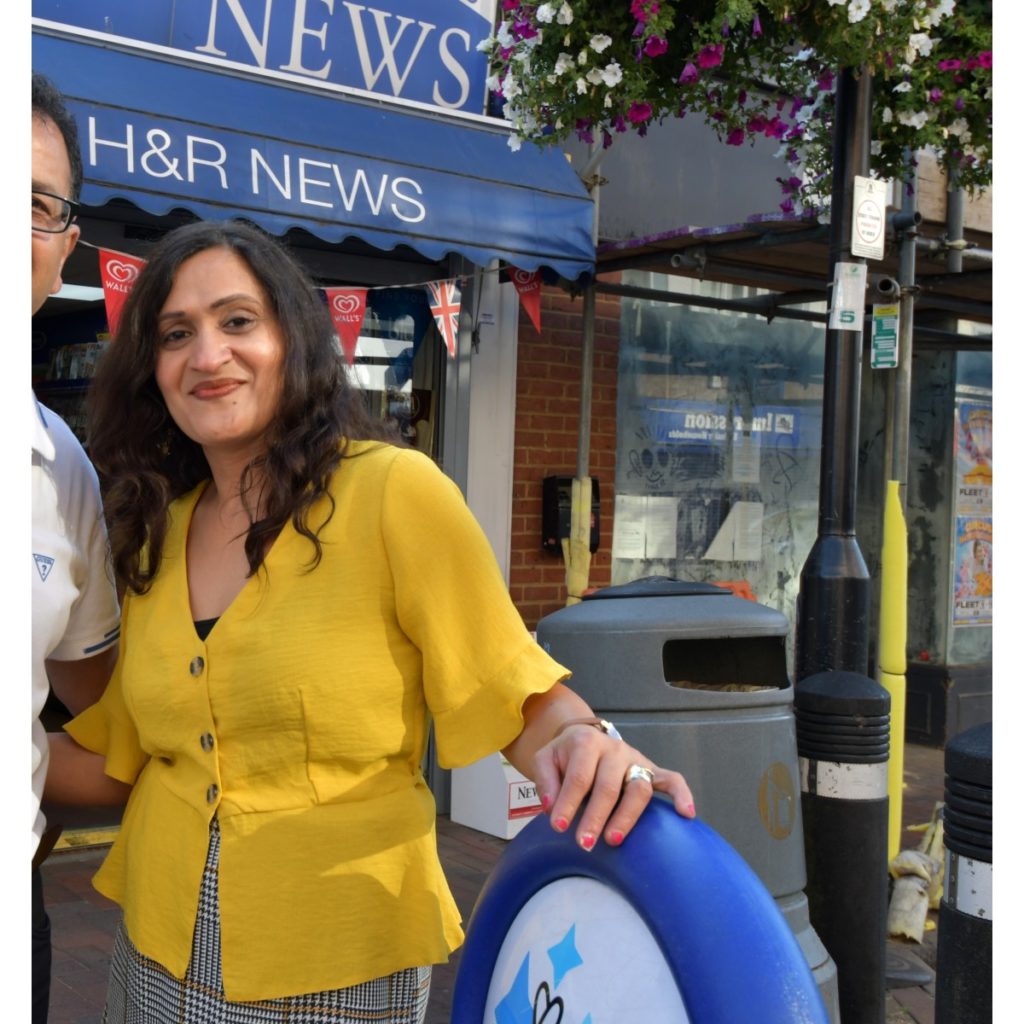 Store H & R News
Location Camberley, Surrey
Size 700sq ft
Type Town centre
Top products
Galaxy Darker Milk 110g
Cadbury Bournville 180g
Bounty Dark 57g
"We focus on dark chocolate within our premium chocolate range. Maintaining high availability is key for us to retain customers and they tend to come to us before visiting the multiples. If a new product launches, we'll always try it and see how it goes, but they're rarely delisted.
"Although health trends play a role in dark chocolate sales, it's not the primary reason customers buy it – it's more of a treat and they like the taste. We only tend to dedicate a small space to dark chocolate, but it's an important category to stock."
Read more Pricewatch and get expert product price comparison analysis and retailer insight on all the key products in your store

Data supplied by the Retail Data Partnership, a specialist data and EPoS supplier committed to serving the independent retail sector