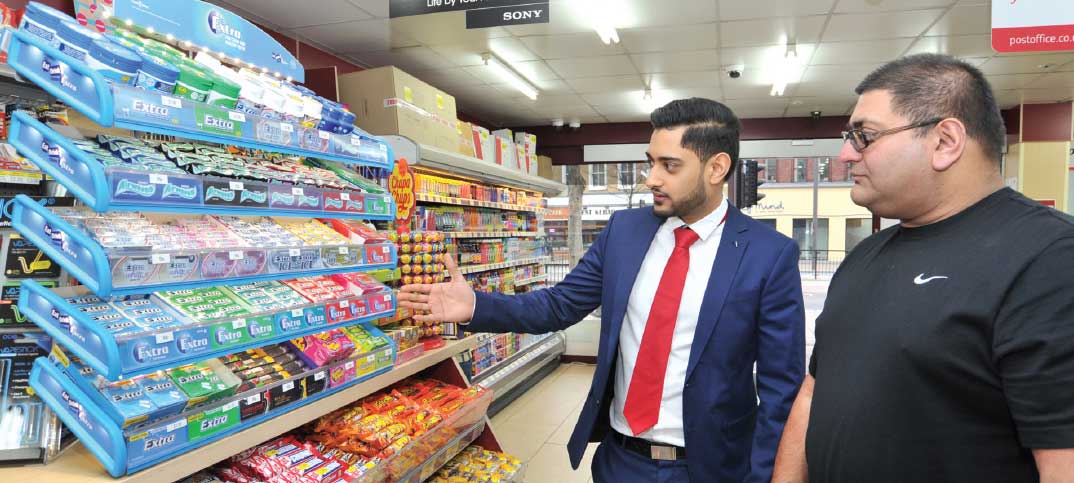 The facts
Name:

Amit Patel

Shop:

 

Stratford Post Office

Location: 

Stratford, London

Size: 

2,200sq ft

Years retailing: 25
Years in the IAA: 2
With most purchases in convenience stores being made on impulse, best practice merchandising is essential for prompting

 

sales. The IAA's
Steven Lambert
visited
Amit Patel's
east London store with Wrigley's
Raj Jadeja
to discuss how retailers can get displays right.
Amit's challenge:
Amit says a constant stream of customers and a wealth of products on shelves means space is at a premium and effective merchandising is difficult.
IAA advice:
1. Keep your products and shelves clean and dust free.
Amit tells Raj he uses several methods to make it easier to keep his display clean and tidy. For example, his chiller features a plastic bar in the middle of each shelf to stop drinks from being pushed to the back of the unit. Amit says this helps with stock rotation and also makes it easier for the drinks to be removed when the shelves need cleaning. However, he adds: "We get staff to clean the shelves whenever it's quieter, but it's quite hard because we're busy most of the day." Raj says he understands the challenge faced by Amit and his team, but urges them to make this more of a priority during their daily schedule. He advises Amit to choose a particular area to clean and dust when the store is less busy, and to rotate this throughout the week to cover the entire shop.

2. Ensure presentation of products and services is consistent and easy to shop
Amit struggles when it comes to presenting products the way he wants to, especially on his profitable confectionery range. Chocolate, mints and other sweets are housed in shelves underneath his front counter, while he also has two Wrigley chewing gum displays by his main till. He says: "We want to stock more confectionery but we always have to take out one line and replace it with another because of space. "We tried using dump bins and free-standing units but elderly customers with scooters kept knocking into them." Raj notices that Amit has two fixtures holding confectionery sharing bags, one at the till and another on the other side of the shop. He advises Amit to condense these into a single fixture, keeping the best-selling lines, and to use the other fixture by his counter to add new products and increase facings of more popular lines.
3. Make sure your pricing is clear and accurately displayed
Amit feels clear pricing is one of his store's strengths. This is evident from the amount of self-made, black and white labels, which feature prices in a large font.
He says: "We print them ourselves. Because we're near the station, a lot of customers want to get in and get out as quickly as possible and they don't want to take forever trying to find prices. "We also have elderly customers who have trouble with their vision, so we wanted to make sure they were able to see prices clearly." Raj encourages Amit to continue with his approach. He also suggests personalising his existing Wrigley gum counter unit to include prices for each product. Amit adds this will draw customers' attention and encourage further gum sales.
What we learnt:
"With such a busy shop, I'm impressed with what Amit has been doing when it comes to merchandising. He understands that space is at a premium, especially around his front counter, so I'm hoping that what we talked about today will help him organise this space. "
Raj Jadeja, FMCG territory manager, Wrigley.
"Today has been really helpful and I've had some really good merchandising advice from Raj. I think combining the sharing bags is a really good idea and should give me some more space. I've been trying to find better ways to promote our range of sugar confectionery and imported American sweets, so this should help to give us more room to do this."
Amit Patel, Stratford Post Office, London.
Amit's action plan:
Put confectionery sharing bags on a single display and increase the number of best-selling sweets.

Organise a cleaning schedule to take place during quieter times of the day.

Personalise counter unit to include price labels.
Your action plan:
Go to

betterretailing.com/IAA

to download the free tools to improve your store

Complete the benchmarking form by

26 June

to enter the IAA and be in with a chance to receive a mystery shop visit

Download your free digital copy of the IAA's Retail Profit Guide.