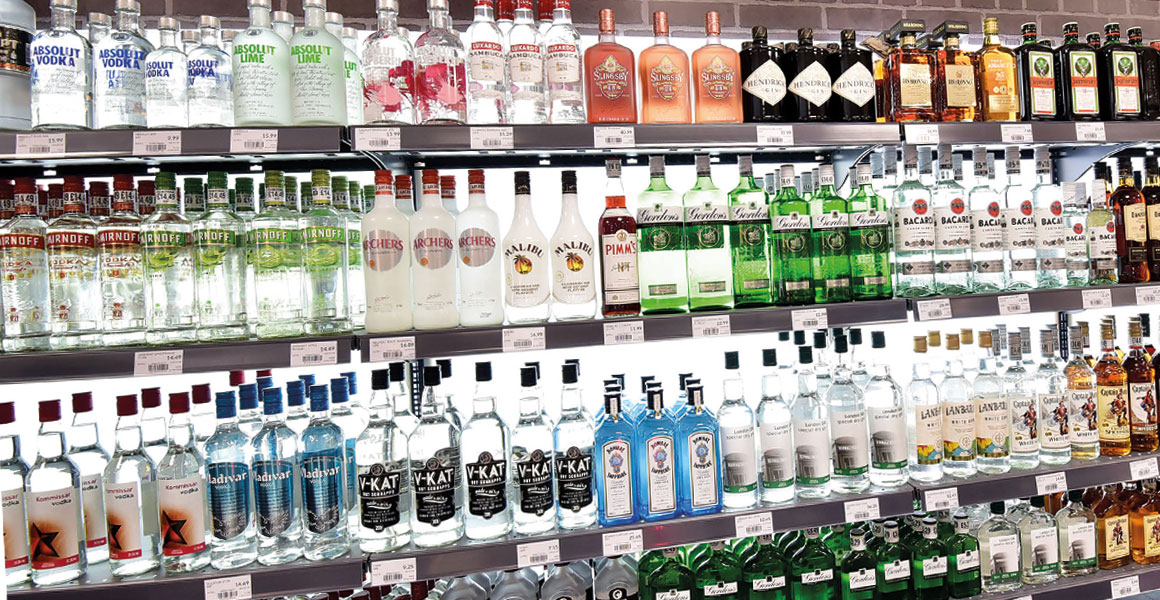 Stores with well-lit, interesting ranges of premium wines and spirits will clean up among millennial customers, manufacturers say. Andrew Don looks at market growth areas and the must-stock products
The context is now a cliché: younger customers unable to spend big on homes or starting families are instead choosing to spend more on life's little luxuries. Alcohol is a classic example and while the premium market has developed over the past few years, trends have been changing.
Gin is still booming. Sophie Gallois, managing director of The Gin Hub – which focuses on the global development of the resurgent spirit – has, however, noticed "a real appetite for new and innovative products that offer consumers a different drinking experience".
Gin is also a popular spirit to include in the premium ready-to-drink category, which Edinburgh Gin says grew 10% last year.
Rosé wine is also in the ascendant. The category grew £13.6m in value in the year to March 2018. James Hick, senior brand manager at Concha y Toro, which has added Adorada premium rosé to its range, says: "This data is from before the heatwave, which will have accelerated this growth further.
"Premium, light-coloured rosé is enjoying a fantastic period of growth, thanks in part to a range of unique bottle shapes and premium designs now available," Hick adds.
Giving shoppers a clear added benefit is a key lever in getting them to trade up
The wider premium wine category is the only wine segment seeing growth in "all shopper measures", according to Concha y Toro, which produces Casillero del Diablo. This includes week-on-week and year-on-year growth, highlighting the opportunity that exists long-term in this trend.
Company spokesman Ben Smith says: "Giving shoppers a clear added benefit is a key lever in getting them to trade up. At the same time, there has been a real blurring of lines with many products in beers, wines and spirits."
He cites whiskey with cider from Jack Daniel's, rum-flavoured beer, and vodka with cider, for example.
"Bourbon itself is also seeing really positive growth," he says.
And bourbon is just one of a number of other trends that are providing retailers opportunities to profit.
On the larger scale, premium vodka – like gin – remains in growth, with volume up 10.5% and value
up 9.4%. Cîroc – a leader in the sector – has an RRP of close to £40 and yet is up 14.4% by volume and 24.6% by value.
Retailers such as Adam Viney – whose store caters to a student population (and is pictured above) – are offering brands such as Cîroc, highlighting just how wide the appeal for premium alcohol now is.
Another example of a trend driven by younger customers is vegan alcohol. Diageo has now launched a vegan version of its Irish Cream brand Baileys, ensuring these customers don't have to miss out.
Laura Pearce, marketing director for Baileys Europe at Diageo, says: "With dairy-free products in high demand, and almond milk currently the fastest-growing product in its category, it made sense to produce an alternative variety that taps into this."
There would be little surprise if other companies bend towards the dairy-free market – or any of the other trends featured here – and produce their own alternatives or innovations in 2019.
And with the right display, staff knowledge, pricing and promotions, stores of a wide variety are finding this sector is working well for them, too.
Tips on profiting in the premium sector
Bestway is just one of the big names helping stores build a great range of premium products. Here are the wholesaler's top tips
The trend for small and frequent shopping has increased demand for fractionals and small bottles, so ensure you have a great range.
Stock premium gin, rum and vodka. Shoppers are more willing to trade up in these categories, and these items can help boost sales at important times, such as weekends.
Merchandise 35cl and 20cl fractionals next to bigger bottles to allow customers to trade up. Profits on small bottles are generally high because shoppers are less sensitive to pricing.
Four out of 10 shoppers buy spirits to share and are likely to need mixers, so ask if they are required.
Merchandise premium products on the top shelf to allow designs and brands to stand out.
Premium products
Vodka with a twist 
New from the luxury Diageo Reserve portfolio comes Black Raspberry (RRP £39) in the ultra-premium Cîroc vodka portfolio – the brand's first winter edition, presented in a black and gold bottle. Diageo has emphasised its usage for cocktails, such as Cîroc Black Raspberry Velvet Crush and Cîroc Black Raspberry Royale.
Vegan liqueurs 
Diageo has launched Baileys Almande, a dairy-free, 'vegan-friendly' liqueur in 70cl bottles (13% ABV, RRP £20), which taps into the growing demand for dairy-free products. It comprises a blend of sweet almond oil and almond essence with vanilla.
Premium cans 
Extending the gin theme is Edinburgh Gin with its new ready-to-drink formats in 250ml slimline cans (RRP £2). The range includes a pre-mix with premium tonic water (6% ABV) and Rhubarb & Ginger Liqueur mixed with ginger ale (5% ABV).
Premium gins 
Whiskey maker Whyte & Mackay is continuing to grow its gin range with the launch of Wildcat Gin (RRP £28 for 70cl), featuring Cat's Claw among 10 botanicals – the latest in a series of investments by the spirits company. The brand is distilled especially for mixing, and is marketed at younger adults.
Rum for new 
Halewood Wines & Spirits' Dead Man's Fingers brand has two new extensions to the original Spiced Rum – a rich Coffee Rum and smooth Coconut Rum. The products are available in 70cl and 5cl formats with an RRP of £22 for 70cl and £3.29 for the miniature version.
Barrel-aged wines
Concha y Toro's bourbon barrel-aged Zinfandel, called 1,000 Stories, from California is in line with the 'crossover' drinks trend and launched in the UK last April. The business says it has already sold more than 10,000 bottles at an average price of more than £13.