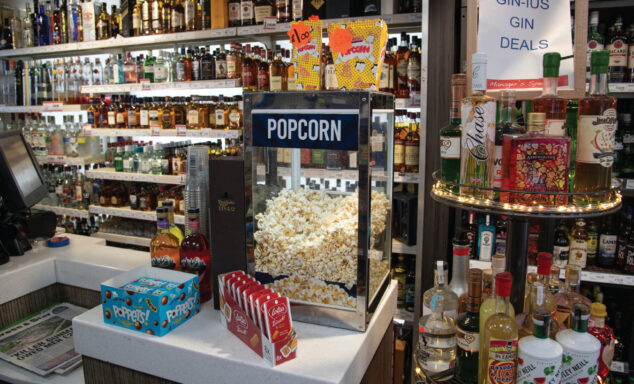 It's old scriptwriting advice to 'kill your darlings', to cast off those comfortable ideas and fantastical characters to create something more realistic or workable. The same principles apply in retail.
We all have ideas that we fall in love with and want to pursue to success. But unfortunately, some passion projects simply don't have the wings to fly. It can be disheartening to have to abandon something into which you have invested not just time and money but emotional attachment as well, but sometimes it just needs to be done.
When it comes to passion projects in retail, it is worth finding out that it's not going to work as early as possible and to then act promptly to avoid making what could be a costly mistake. It also enables you to rethink the project and determine if it's worth benching it for the future.
"The first rule I've learned is to do research," says Bobby Singh, from BB Nevison Superstore in Pontefract, West Yorkshire. "I make a plan of how we are going to carry out this idea. Is this the right decision we're making? Is it worth the investment?
"What's the worst-case scenario? Once you've done the homework, you can either start something or back out."
For Singh, this rigorous approach to planning means he rarely has to completely disentangle himself from something that he's built and can instead simply leave the idea by the wayside and carry on. There are many things to consider – not least how much it will cost to install and how much it will cost to run.
But the core thing to remember is what your customers will want. Just because you want something doesn't mean your local demographic will be interested. "You can only price according to location," says Singh.
"Doing your homework can show that something that looks appealing at first glance may not turn out to be a viable idea."
Get everyone on board for success
If you can't sustain a passion project, it's best to find out in the research stages, as was the case for Imtiyaz Mamode. The Wych Lane Premier retailer in Gosport, Hampshire, was drawn to a popular way of preparing ice cream in Asia which he had seen online, but several factors prevented him from bringing it to fruition.
"The profit margin would have been really good for it, but it required three extra staff and there was no one in Hampshire who could do it. The second thing was how to cut the counter to make space for it, and then to get a hygiene certificate for the food we would be making in the store." These problems were compounded by Mamode's family members not backing the idea. "It's a family-run business and I had to convince everyone, and everyone was not convinced." Mamode is still looking at introducing the concept, but is happy to have not rushed into it.
Think about more than cost
Installation cost is one thing that retailers should think about. But they also need to bear in mind what will happen once that piece is in place. For Meten Lakhani, from St Mary's Supermarket in Southampton, it wasn't the cost of installing a proper bakery section in his store that put him off five years ago, but the staff time involved in running it.
"I wanted a really nice section with pies, hot bread and more," he says. "I'd mapped it out, but you have to have one person full-time on it. There are lots of hygiene implications there as well."
With a refit planned for next year, he has not fully let go of the idea, but he still needs to find someone he can trust to handle that side of the business.
"There's manpower and there's responsibility. If you haven't got the people to run something properly, it affects the business, and I don't need that," says Lakhani.
Think of the long-term
Bobby Singh, from BB Nevison Superstore in Pontefract, West Yorkshire, had plans to install a dedicated dessert counter in his store, offering things such as fresh waffles. But when he sat down with his team to flesh out the details, its long-term viability began to falter and he had to abandon the idea.
"That was one plan that I was very keen on, and I thought it would do brilliantly. I could visualise people coming in and buying all sorts of cakes. When we did our brainstorming and looked at the plan, we could see that it would be quite straightforward to set it up," he said.
"Then we thought about the manning of it, the time it would take to prepare these things and how much we'd have to sell to make it a good investment. After that, it looked like a different picture."
Singh currently sells pre-packed desserts in his store that have sold very well.
Think of you and your customers
Christine Hope, from Hopes of Longtown in Herefordshire, hasn't had to back out and 'kill a darling' in which she was wholly invested, but she is constantly sifting through new ideas that come into her head and are then brainstormed with her team.
"Last month, I looked back and saw that we'd introduced more than 30 different lines in that month," she says. "We do change our offer quite regularly, but not everything works. Failure is part and parcel of it. We'll try anything, but we also stop very quickly when it's not working. Or we tweak. It's knowing what will work and when."
Hope asks herself two questions before she decides to start stocking something new. "Can we think of a customer who will buy it? Will we eat it if it doesn't work? If it's 'no and no', we don't stock it. If it's 'no, yes', it's worth a try. We've never been afraid of trying something a bit different."
Explore our comprehensive archive of advice and insight for independent retailers