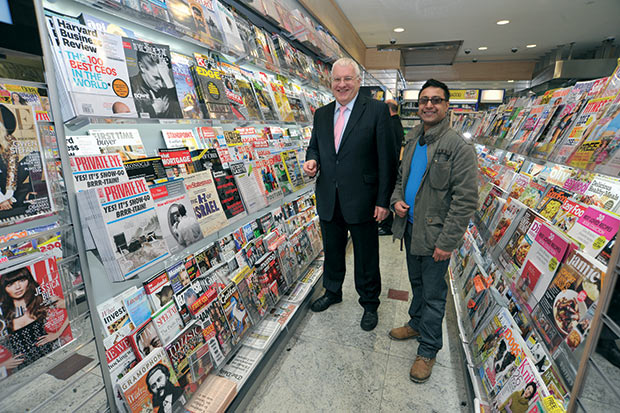 Convenience retailer Alkesh Pankhania has worked hard to build a fantastic store over the past 10 years. His community work, range, in-store services and relationships with suppliers helped him earn a place in the Independent Achievers Academy Top 100 stores last year.
Yet he admits he is struggling with magazines. In the face of falling sales he has halved his fixture to three metres in the past year and cut his range back to include just five monthly titles, banishing it to the back of his store.
It's a familiar story for many local shops, which lack specialist knowledge on this category, but Alkesh says he regrets the cuts. Although slow-selling motorbike and modelling magazines were removed, he now questions the wisdom of losing popular titles such as Vogue.  To the rescue comes newsagent extraordinaire Peter Wagg, who invited Alkesh to his Canary Wharf stores, where magazines never sit long on shelves.
ALKESH PANKHANIA I find managing magazines a challenge, but I now really want to improve my range and sales. I've been giving control of my range away to a Best-one contractor who offered to manage it for me, but I'm missing titles which I know sell elsewhere. I now only stock a basic range of five monthly titles, for example – four for women and one for men.
PETER WAGG I manage magazines in the same way that I manage the rest of my store. Through my EPoS system I know every magazine I sell, what time I sell them and when I sell out. I give that data to Menzies, which means they can run a sales-based replenishment (SBR) system. So, if I get lots of copies of Grazia because it's got a promotion or a gift inside and I sell a big percentage, I automatically have more sent. You and most retailers would need to sell out to trigger another order.
AP We need to get on the phone and immediately try and reorder it. It's not always easy to find time to do this, though.
PW Ranges planned by wholesalers are based on averages, not on what each shop sells. My best-selling magazine is the Economist, but how many shops in the UK would say that? The way that SBR works is that when supermarkets or customers like us buy in bulk, they'll give you 75% of your allocation on the first run and keep 25% back as the sales data comes in. Tesco might not sell a lot of a particular title, but Sainsbury's will, so Sainsbury's dips into the bumper stock. The system leaves most independents at the bottom of the pile for replenishment.