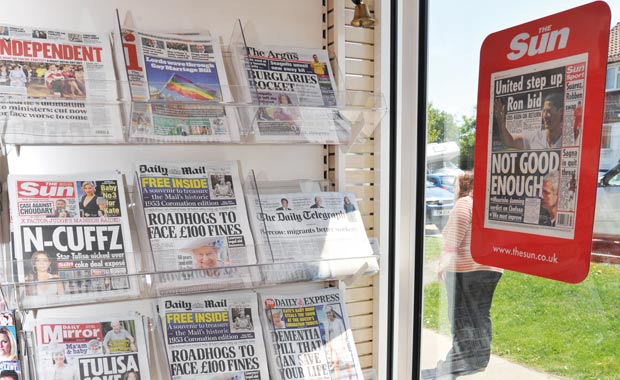 Regular newspaper buyers may be declining, but it's still possible to make sales with a good front page story on full display. This was the message from News UK's Lizzie Unsworth at the Local Shop Summit last month. Could this be a route to better sales for you?
Of all the information, advice and opinions offered at the NFRN conference and Local Shop Summit in Torquay in June, one point has stuck in my mind more than all the others.
It concerned sales of newspapers at two shops in the same area with similar footfalls and customer demographics. In one shop the products were displayed in their usual place alongside their competitors on the plinth of the magazine stand, with the front pages only partly visible. Daily sales averaged 15 copies.
In the other shop, the products were also displayed alongside their competitors, but in a much more prominent position and full-faced. Daily sales averaged 61 copies.
The titles were The Sun and The Times, and the story was told by Lizzie Unsworth, head of the independent retail channel at News UK, to illustrate the point that front pages sell newspapers.
Ms Unsworth's anecdote reinforced my own belief that displaying newspapers full-face, so the front-page stories can be seen, is now the only way to maximise the category's sales.
It used to be enough to overlap the papers so that just the masthead could be seen, because most customers bought the same title every day.
Not any longer: these days there are far fewer six- or seven-day regular buyers, but still many potential purchasers who may buy a paper if a story or promotion catches their eye.
It seems much less likely that they will buy, however, if they can't see what's on the front page.
That's why publishers are always urging retailers to give their titles full-face displays.
News UK's sales team, which is now calling on around 10,000 independent retailers across the country – and will respond to requests for a call in all but the most remote areas – have been pushing the 'front pages sell papers' message.
I'm sure most news retailers know this, so it's surprising that, according to News UK's records, more than four out of 10 independents still display the papers on the plinth, with the front pages of some or all of them partly hidden.
Maybe these retailers feel that sales of newspapers are going down anyway, so what's the point of doing anything about it?
The point is that not all shops' newspaper sales are going down. Some shops are managing to hang on to what they've got, and in others sales are actually increasing – and this is usually where the category is being given the sort of support it needs.
Newspapers continue to be one of the main footfall drivers for local shops, and for this reason alone they deserve to be displayed in a way that gives them every chance of selling.
Moving them from the plinth to a more prominent position where they can be displayed full-face does not take a lot of space or very much money.
You can buy stand-alone newspaper display units less than a metre wide, with capacity for eight or 10 tabloid titles to be displayed full-face (the top half for broadsheets), for between £150 and £300, depending on quality.
If installing a new display unit in a good position enables you to sell an average of 10 extra newspapers a day it could pay for itself in less than six months. That's a return on investment well worth thinking about.
And there's a bonus. The space on the plinth vacated by the newspapers could be used to give full facings to the shop's best-selling magazines. They need better displays, too.