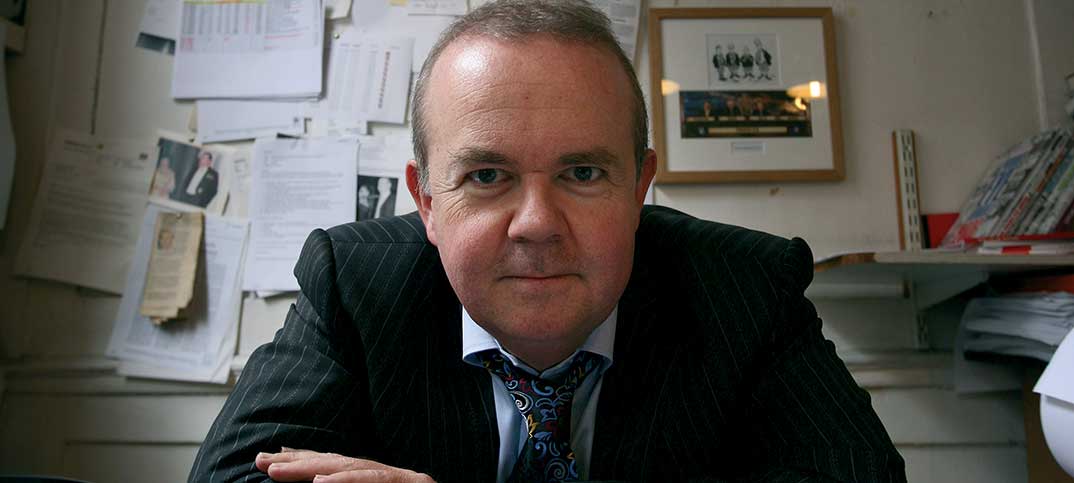 Dubbed "the most sued man in Britain", Ian Hislop has edited Private Eye since 1986. He discussed libel, his passion for honest print journalism and growing his title's circulation in a declining market with Tom Gockelen-Kozlowski.
When RN catches first sight of Private Eye's long-time editor and Have I Got News For You team captain Ian Hislop, he is checking and proofreading pages for the forthcoming edition at the magazine's office in Soho.
It is a position which he has clearly taken up many thousands of times before over the decades, having edited the title since 1986.
Private Eye, with a circulation of more than 224,000, has not only survived through years of hardship for the magazine industry, but has flourished. A 50-year anniversary in 2012 and the scandals of MP's expenses and phone hacking have had politically-interested Britons rushing to the newsstand, desperate to hear inside stories of an establishment in crisis.  
Perhaps unsurprisingly, then, Mr Hislop has been heralded as not only a skilled editor (by those who've not faced the magazine's wrath, at least), but also as someone with considerable business acumen. Indeed, a Guardian interviewer referred to him as "looking like the successful entrepreneur he is", in a recent article. Is this a description he recognises?
"No, I don't," he says. "But that's probably because we have a team who do all that stuff really well. My only real function is to provide a magazine which is really sellable. If I've done that, I feel that's my bit of the job done." 
In fact, like journalists of old, his mind seems utterly unsullied by budgets, revenues and other business matters.
His approach is a more personal one, based on a faith in the content – journalism and jokes – that fills the title's pages. "You have to put in what interests you," he says. "If I knew what sold I would choose the covers deliberately and put kittens [as happened, in October last year and did, according to Mr Hislop, sell "quite well"] or Princess Di on every time." 
In a turn of events that would irk the iPad-wielding, ABCs-obsessed editors of struggling titles elsewhere, Private Eye sells more magazines now than it did a quarter of a century ago and has achieved this by displaying a passion for print journalism that starts with him and permeates through the whole magazine.
"We're content-led so we don't spend a huge amount on production or glossy paper," he says. "People still want to read about what's going on in the world and if we can deliver it in an entertaining way, they will stick with us."
To this end, the 54-year-old still runs around Private Eye's office and commits himself completely to the paper like a child given the responsibility of driving a steam train. 
It is this undimmed love for journalism which continues to drive his self-described Presbyterian work ethic. "I'm doing a job I really enjoy so I feel slightly guilty if I don't do it properly and wholeheartedly."
And he looks to stuff the magazine's Georgian townhouse base with kindred spirits. "I try to fill the place with people who are interested in news, care about news, are funny about news and are people who other people want to read," he says.
While these impassioned journalists uncover and collate stories of corruption in housing associations or constabularies nationwide, or parody the pomposity of politicians, Mr Hislop is also confident that their work – and its popularity with readers – will be enough to increase revenue through advertising.
"For us it's the numbers that do it," he says. "We can say, look, we're selling 224,000 copies so you really should advertise, whether you're selling cars or books or films or whatever." 
This picture of seemingly easy survival should not suggest, for a moment, that Mr Hislop's editorship has been devoid of crises, threats and controversies, however. Exactly 25 years to the week that he speaks to RN, we were reporting the likely closure of Private Eye after it lost a libel case put forward by Sonia Sutcliffe that ordered it to pay damages of £600,000, as well as an eye-watering legal bill. 
"I thought I'd genuinely bankrupted the magazine. I was sitting in the dock and we were looking at our combined costs. We were in danger of trading insolvently and about to go under. I thought, how brilliant is my editorship that I've ruined this magazine?!"
A judge reduced the costs to £60,000 on appeal and a reader appeal provided some financial stability through this period. 
Indeed, the Eye has many 'friends' it can thank for its survival and success, from the journalists and MPs who turn up to its legendary fortnightly pub lunches in the nearby Coach & Horses and provide stories to fill the next issue, or the news sellers who've stood by the magazine through its legal controversies.
"Independents are better, because the big retailers are threatenable," he says. "We've had our issues with WHSmith over the years. They have taken covers off shelves on a matter of taste, when essentially taste is our business and legality is theirs."
The loyalty of independent businesses was once again emphasised last year when Farringdon news seller Tony McCarthy was asked by the police to remove from sale copies of the Eye featuring a picture of Rebekah Brooks who was about to go on trial, in case they were seen to be a contempt of court. Much to Mr Hislop's obvious delight, the request was refused.
"He was fantastic," he says. "He exemplified everything that's brilliant about the British retail industry – you don't tell them what to sell."
The faith that newsagents and others have shown in his magazine is reciprocated by his utter faith in print and print sales.
"Everyone's sales have gone down the toilet, but we continue to believe in print and that young people buy magazines," he says.
This belief – vindicated by the magazine's sales – also explains Mr Hislop's antipathy towards newspaper and magazine websites. 
"I don't see the point of giving away content online. If I was really brave I would do what [Parisian satirical magazine] Le Canard Enchaîné do," he says. "They still sell about 600,000 copies in Paris and their online presence is a board that says 'go and buy the paper' – that's it." 
After the magazine turned 50 and reported on the demise of the Murdoch Empire, the extra sales it attracted suggested that it feels no ill effects whatsoever from shunning the web, but Mr Hislop is aware that what matters more is what happens once attention drifts away from the title.
"It's easy to keep readers when you've got something to sing and dance about, but on an ordinary issue, have we got enough to keep people interested? So far, touch all the wood on my desk, we've kept them, which means that sales are looking pretty healthy."
And, RN suggests, there will always be corruption and naughty politicians to create other scandals.
"Yes," he says, suddenly animated. "And now we have Farage!"