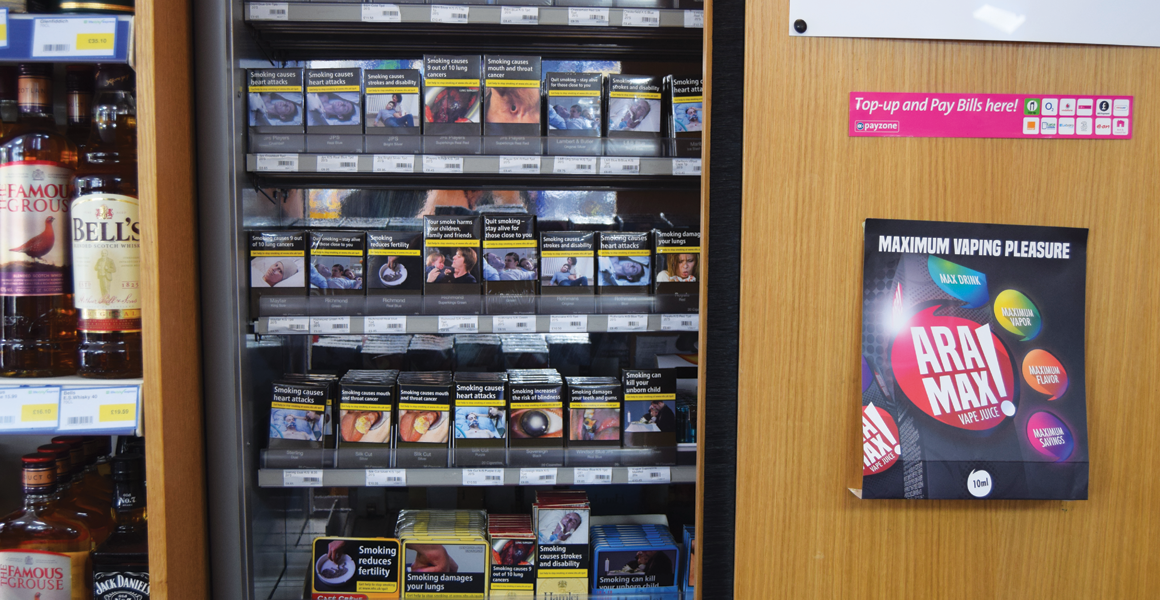 With track and trace just around the corner, Tamara Birch looks at the key requirements and the opportunities it could offer
Track and trace is the second phase of EU Tobacco Products Directive II, designed to combat the illicit tobacco trade that has led to an estimated tax revenue loss of £43.5bn since 2000/2001.
With the initial introduction of EUTPD II in 2016, retailers had to make changes to comply with new regulations, including the removal of 10-pack cigarettes; the upcoming menthol ban, which paved the way for the UK government's choice of the gantry ban; and plain packaging. Track and trace is the next phase of the legislation, which will require manufacturers to place a unique code on all tobacco products by 20 May 2019. All products purchased by retailers before this date will need to be sold before 20 May 2020.
We speak to retailers about their tactics to protect their sales, and reveal their strategies for success.
Changing market
Retailers are counting down to 30 April 2019, the official date when they can register for their unique codes.
This gives just three weeks to register before the May deadline, with the new regulation being met with confusion and retailers calling for clarification. "We haven't received much information from the government or our wholesaler. Our stores will need to quickly adapt and enhance what we are already doing to deal with the impact the new legislation will have," says Adam Dipoti, who owns Todmorden News Centre in West Yorkshire.
Dipoti's comments were echoed by Julie Ludlow, owner of the Steeple Ashton Village Shop: "We don't carry a huge line on tobacco, and if we are going to need this type of ID for sale, then we need more information."
Track and trace is aimed at detecting counterfeit tobacco and allows products to be traced to their original source. Retailers will need an economic operator ID (EOID) and separate facility IDs (FID) for each premises they own that sells tobacco products to the public and stores tobacco products. Multi-site retailers will not only need a code for each store they own, but stock must be kept separate, which poses an additional challenge.
"The disappointment is that HMRC has failed to inform retailers how we can comply. There is such a big gap and it feels like retailers are in such doubt," says Dipoti.
In a survey of more than 1,400 retailers carried out by JTI, it was revealed 65% of store owners didn't know where to go for information, and 60% didn't know when the legislation was due to come into effect.
Track and trace will have additional security features such as anti-stoke ink that will not rely on fluorescence or illumination, but requires a laboratory to be detected, and microprint, which is extremely small text requiring magnification to become readable.
Supplier advice
JTI recently launched a website to support retailers and wholesalers through the transition. The website features information and advice to help prepare for the regulatory changes. Mark Yexley, head of communications at JTI, says: "JTI is committed to supporting law-abiding retailers by fighting the illicit trade. Retailers found guilty could face any penalties that HMRC decides to apply and potentially lose the right to trade tobacco."
Imperial Tobacco is also working with retailers to ensure track and trace is implemented correctly
and all stores are compliant. Duncan Cunningham, head of corporate and legal affairs at Imperial Tobacco, says: "We are committed to helping independent retailers with their merchandising, legislative education, tobacco and vape ranges, anti-illicit trade support and track and trace."
Additionally, Scandinavian Tobacco Group is providing independent retailers with information on cigars and the opportunities it holds as cigar regulations are different to cigarettes – for example, cigars do not currently have to be in plain packaging.
Menthol cigarette ban
The upcoming menthol ban is a four-year phase out aiming to deter young people from smoking, with menthol cigarettes disappearing from shelves by May 2020. Most products containing menthol, including dual cigarettes, will be banned from sale, causing confusion for some retailers.
Eugene Diamond, of Diamonds Newsagents in Ballymena, says: "Dual cigarettes are huge sellers and Rizla Polar Blast has been popular in my shop, but I don't see much point when we won't have that big of a margin. So, why are we introducing these products so close to the upcoming ban?"
Although menthol and capsule cigarettes will be banned, tobacco companies feel this is an opportunity to create a larger profit margin and introduce customers to next-generation menthol products.
Menthol and capsule cigarettes have played a significant role in sales and profit margins and cigarette companies are working hard to ensure retailers are educated on the new legislation, what it means for them and how it will impact their profits, by advising them on the opportunities available to menthol smokers from May 2020.
Next-generation products
Retailers feel out of the loop regarding these new regulations, but have seen the opportunities there are for their businesses. Dipoti says: "The biggest opportunity for retailers is to push customers on to next-generation products, where there are bigger profits. However, some retailers have not explored these opportunities, so we need suppliers to make sure retailers are aware of these new regulations and to allow retailers more space to cope with this impact and talk to their customers."
The EUTPD II includes regulations on e-cigarettes, which means suppliers are limited to how they can advertise. The regulations prohibit advertising of tobacco on TV and online, but retailers are still permitted to advertise their latest next-generation products. "While we are in favour of some of these regulations – particularly those which have resulted in improved safety standards – we disagree with restrictions on e-vapour advertising which limits our ability to promote vaping's reduced-risk nature to adult smokers looking to switch," Imperial's Duncan Cunningham adds.
The popularity of vaping devices is on the rise, and retailers have the opportunity to encourage customers who consume menthol products to transition to e-cigarettes, where they can purchase menthol-flavoured liquids. Cunningham says: "We are working hard to educate retailers about the opportunities available to menthol smokers after May 2020. This includes smokers potentially moving towards e-cigarettes, where Blu offers a wide range of both menthol and other flavours."
Timeline: What to do and when
Top 5 questions retailers ask about the new tobacco legislation
Will capsule cigarettes fall under the menthol ban? Yes, all capsule cigarettes will be removed from May 2020.
Will menthol filters still be available? As menthol filters and tips are smoking accessories, they aren't covered by the 2020 smoking ban, if sold separately.
Where do we go for track and trace information? There is more information on the government's website, gov.uk/guidance/security-feature-for-tobacco-track-and-trace
Why are dual cigarettes being removed as well? Dual cigarettes produce a menthol flavour, meaning they qualify for banning under the upcoming legislation.
How will these regulations affect smaller retailers? Retailers could experience limited stock, a margin decrease, loss of customers and a smaller selection of products.
Supplier viewpoint
"Ensuring the new track and trace system is implemented by 20 May 2019 is a significant challenge facing the tobacco trade sector, but JTI will be on hand to support trade partners through the transition every step of the way. We advise retailers and wholesalers to visit our new website to ensure they are prepared. The success of the track and trace legislation will require strict enforcement, and it's now more important than ever for retailers and wholesalers to report instances of illicit tobacco being sold in their area."
Want to read more from Mark? Read his exclusive industry profile with RN on being prepared for track and trace