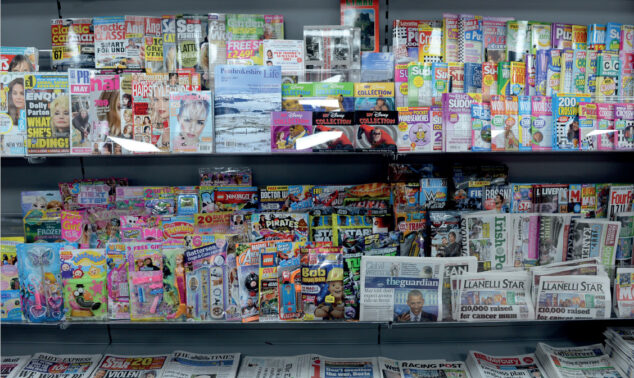 Late newspaper deliveries are a common complaint for retailers, with lost sales, disappointed customers and time wasted often the result of a newspaper arriving after it was supposed to. This is a particularly acute problem for smaller stores or stores that open early, as well as those offering home delivery, as they need their newspapers to arrive on time to sell to commuters on their way to work or to hand over to delivery boys and girls for their rounds before school.
How should stores respond when things go wrong? The first port of call should be the wholesaler, and after that, retailers can take things further.
Consistent and registered complaints are hard to ignore, but it's important to remain polite and calm. "Go all in with them, but if you argue, you're not going to get anywhere," recommends Sukhdeep Balaghan, from Shell Corner Newsagent in Halesowen, West Midlands.
"Talk to the Smith News or the Menzies representative with a clear head, and without going overboard."
Maintaining a relationship with your supplier is critical. If you're struggling to do so, it's worth leaning on organisations such as the NFRN, which does have that relationship.
"We have an excellent relationship with Smiths," says Derek Cook, south west district president at the NFRN.
"We have regular meetings with the district and them. We try to push them along. We're honest with them and they are honest with us."
Finally, don't give up. "It's a declining market, but it's worth it," says Bhavesh Patel, from Watties Newsagents in Horley, Surrey.
"A lot of big stores have stopped selling newspapers and magazines, which means there's a chance for other retailers to take that on."
Arrange a face-to-face meeting
Two years ago, Derek Cook, south west district president at the NFRN, arranged a face-to-face meeting with publishers from Swindon to Redruth. Everyone turned up at the depot's meeting room and time was taken for retailers to air their views and complaints.
After that, things improved. However, other forces – such as Covid-19 and Brexit – have led to a drop-off in service once again, so, Cook is organising another meeting. "We met with them and a lot of them did their best to rectify things. They did improve, but it's time to be done again," he says.
"I have called for a meeting through the NFRN, and they're going to get a face-to-face meeting set up. The only thing we can do is keep speaking to publishers."
Cook lauds Smiths' SNapp app as a tool that helps retailers know where their papers are and why they're late.
Contact the Press Distribution Forum
Paresh Vyas, from JND Stores in Ashton-under-Lyne, sits on the Press Distribution Forum (PDF) and recommends retailers send complaints to this body if they want restitution, which comes in three stages.
Stage one is registering a complaint with the PDF if you've not received papers on time for three days within two weeks. You'll then get a reference number and response from Menzies or Smiths. Stage two is where retailers can take things further.
"By stage two, they're panicking and they'll call retailers to try to fix the problem.
"Once you reach stage three, where you're talking about how much you've lost in sales, and how they've not replied, that's where you're looking at restitution and compensation," says Vyas.
"Even if you don't have your vouchers, they can cross-reference things. Visit pressdistributioncharter.co.uk or call 0843 2893967."
Make sure your voice is heard
If it feels like your complaints aren't being heard, that is not a reason to stop making them, according to Bhavesh Patel, from Watties Newsagents in Horley, Surrey. By making official complaints, you enable suppliers and the NFRN to build a clear picture of the crisis, understand the situation and resolve it.
"It's worth reporting rather than moaning," says Patel. "It's worth contacting the NFRN and asking them to resolve things. That's the way a lot of members have had support and help, and they've improved their suppliers' service levels.
"Retailers need to tell the exact story of what's happening. You need to report it, and if you can't report it, then trade media is there.
"You can highlight the problems and we can all work in the same direction. When you report issues, go first to the wholesalers and they will escalate it to the depot."
Write everytthing down
If you're having problems and sending in complaints, it's important to keep track of what's been happening. A paper trail with reference numbers, dates and information can help to resolve any issues far faster.
"First of all, phone them and let them know as soon as possible," says Sukhdeep Balaghan, from Shell Corner Newsagent in Halesowen, West Midlands. "Report that lateness and write down that reference number. I have a little book where I write down the number every time some – thing's late or wet.
"Then, if they haven't dealt with it, follow it up the next day and log that call. If there's still no response, follow it up again, and tell the NFRN, passing over the reference numbers. They'll get in touch with Smiths or Menzies and deal with the situation. Two days later, the NFRN should call you and ask if you've been sorted out. If you haven't, they'll take it further."
Read more of our store profiles where we visit independent convenience retailers to showcase their fresh ideas and unique insights