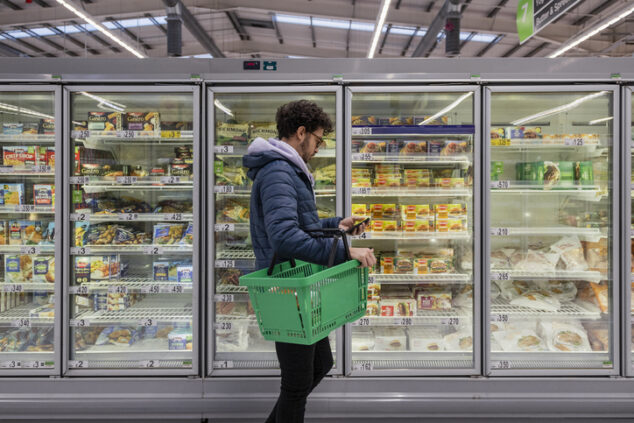 Maintaining a strong margin during a cost-of-living crisis that's seen prices rise on electricity, fuel and the products themselves can seem an insurmountable task.
Recently, we covered what retailers are doing to hold back the effects of inflation from their customers while still generating enough turnover and sales to keep their own business afloat. This time, we're focusing in on margins – where they can and are being squeezed, and what retailers can do to bolster them.
Rather than trying to maintain a store-wide margin at Premier St Dogmaels in Pembrokeshire, Catherine Johnson looks at things on a product-by-product basis to work out the balance between benefitting the business and benefitting the customer.
Are you stocking the right healthy options for the modern shopper? Three retailers reveal what works for them
"We've taken a three-pronged approach as much as possible," she says. "We get in price-marked packs (PMPs), which have a lower margin but are clearer for customers and generate footfall, or we drop our product margin to ensure customers are able to afford to eat.
"In other cases, we're maintaining our margins by raising prices and putting up with customers complaining. The choice is often determined by customer responses."
Finding new suppliers that offer lower prices can help to bolster margins at one end, while raising prices and reducing promotions can work at the other.
How to manage soaring inflation and beat the cost-of-living crisis in your store
For Enya McAteer, from Mulkerns Spar Jonesborough in County Armagh, frozen and confectionery have held their margins, but she constantly analyses prices and invoices so she can react quickly. "It's a full-time job keeping an eye on that. If you miss out, you could be in trouble," she says.
"You don't want prices to be too high so you can compete with the big guys, but we don't have as much on promotion now to bring that margin back."
Adapt your range
Craig Warren, of The Corner Stores Costcutter in Mildenhall, Bury St Edmunds, is prioritising footfall to combat the cost-of-living crisis. "Without footfall, you've got nothing, so you might as well try and work on it," he says.
This has meant adapting his range in response to rising prices. "We have delisted some products that have gone up so much in price it's not worth stocking them and have replaced them," he says. "A gammon joint went from £6 to £8.50, so we knocked it on the head and put gammon steaks in because people weren't buying it. We noticed the sales drop instantly."
Warren says retailers should only hunt around for favourable margins if they have the time and certainty.
"There probably are better margins out there, but by the time you've scraped around for a few pennies you might have wasted your time, I don't really see too much benefit from that," he adds.
Offer trade-ups
Catherine Johnson uses one main supplier for the majority of products at Premier St Dogmaels in Pembrokeshire, but she also has a wide range of smaller, local suppliers that she can turn to for additional or different products. This enables her to sometimes find products for a better price or if they aren't more generally available, but also gives her customers more choice as well.
"We have two different milk suppliers and three different egg suppliers," she says. "We offer local Welsh ciders and national mainstream ciders, and local ice creams and national ice creams. The local cider is about a third more expensive than the national stuff because it's small batch, but some people are willing to pay that bit extra for it.
"It's important to give customers that choice and not just assume they only want the cheapest or the most expensive goods. Offer cheap, middle and high prices as much as possible."
Tactical promotion removals
Enya McAteer has found that margins have shrunk considerably in certain sections of Mulkerns Spar Jonesborough in County Armagh, with meats and hot food from the deli in particular suffering big drops.
McAteer has looked at other suppliers, trying to get them to compete on price to get her business, but she needs to be sure of the quality of a product before she accepts a lower price.
Additionally, she has reduced the number of promotions she has in her store, as well as getting rid of PMPs.
"You have to offer some promotions because that's what brings people into your store, but it's hard to get good ones now," she says. "We've also been looking at non-PMP confectionery to boost the margin. We've scrapped the PMP Haribo. But it's important to do little things every few weeks rather than everything all at once, otherwise you'll scare customers off."
Sit on promotions
Danny Wilson, who runs 17 One Stop stores in Yorkshire, believes prices are only likely to keep rising and that "some products that used to be £1 may never be £1 again".
For the most part, he sticks to the prices recommended by One Stop, which means that prices are going up in places in his store.
"It's a matter of maybe selling fewer products but for more money," he says.
"Sales are quite strong at the moment, but we will see people's spending start to tighten further.
"If you can buy a lot of stock and sit on it for a while then you might be able to sell it for a lot more than what you bought it for or provide customers with a good deal that generates footfall. We try to be patient and do a bit of a price increase occasionally. If you raise bread prices, people notice. It's better to raise prices on things that people might not buy every time so they might not notice."
Explore our comprehensive archive of advice and insight for independent retailers