Local suppliers can bring a significant boost to a store's offering, adding unique products to the shelves that provide a point of difference for customers. For some stores, that engagement with the local community is embedded with their relationships with local suppliers. For others, local produce can be a big seller for visiting tourists looking for local fare.
"People approach me because they know we're a store that does lots of local products," says Trudy Davies, from Woosnam & Davies News in Llanidloes, Powys. "We like to encourage as much local stuff in our shop as possible.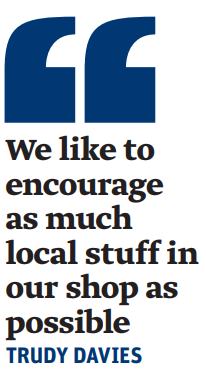 "Not only because I want to work within the area and encourage local enterprises, but also because people then trust you with their products.
"Because we've been here so long, we have a track record of being sustainable. Another benefit of buying local is that it means it's fewer miles for everything."
In recent times, availability has become a significant talking point in the industry, as wholesalers, delivery companies and manufacturers try to overcome challenges and shortfalls.
For retailers, having a strong, stable relationship with local suppliers can ensure they aren't left with gaps on their shelves – and instead can offer something unique and special to their customers.
Faraz Iqbal, from Premier Linktown Local in Kirkcaldy, reached out to a local takeaway business that impressed him and they have now built a successful partnership that works for each of them.
"That was down to me speaking to other retailers and finding out about him. He's got a special run for me now. It makes you stand out and gives you a point of difference," he says. "You can work with suppliers who aren't supplying anyone else at the moment.
"We are quite involved in the local community, and when people see a local product, they want to support the supplier."
Seek out and contact local suppliers
Trudy Davies has found that local suppliers often get in touch with her about stocking their products in her store, Woosnam & Davies News in Llandloes, Powys.
She also does the hard work in seeking them out and making sure the word gets out that her store is looking for local suppliers.
"They see our social media," she says. "A lot of it is word of mouth. They see we're stocking other people's products and get in touch. But if you take time out of your store and walk around the local markets and you can make good networking contacts.
"Be blatant about it. People do come to me, but there are new enterprises out there and if you put it on Facebook or Instagram that you're looking for local suppliers, then people will approach you. Don't be shy. Get in touch with local business hubs. Get onto government enterprises that fund the hubs."
Shout about it
Faraz Iqbal uses local suppliers for his eggs, meat and baked goods, and has found that people will come to his Premier Linktown Local store in Kirkcaldy specifically to buy these products because they say they are better quality than supermarket equivalents.
His store is now well known for stocking quality, locally sourced ingredients.
"It's not always about having the cheapest products. We have people coming in regularly for our eggs," he says. "I changed my bakery supplier and the decision was down to the quality of the product.
"Our customers are more aware of our local connections and they look for that.
"Sometimes local products are far superior, which gives you some stand out and a point of difference, so you have shout about it."
He has been approached by suppliers because of the reputation his store has built up for stocking local goods, but he also hunts new suppliers out.
Have strict rules for success
Ali Awan has been stocking products from local suppliers in his store, H&H Convenience in Gateshead, Tyne & Wear, for some time and intends to continue to do so. He has found it is usually suppliers that approach him with their products. When he is approached by a local supplier, he considers whether or not it will work in his store and will suit his customers before taking on some stock on a sale-or-return basis.
"That's one of my conditions," he says. "If it works, that's great. If it doesn't, then there's no harm done. If it's consumable goods, I'll give it six months on the shelves before I decide it's not working.
"If it's alcohol, I'll give it three months. If you think customers will be interested, why not give it a try?
"If it's worked out well, I'll take it in front of the NRFN at North of England district level and recommend that more people try it."
Local suppliers can be a bulwark
Cornish retailer Claire Tonkin, of Bridge Stores Goonhavern Londis, sees local suppliers as a fundamental part of her offering, to locals and summer tourists.
"We use a lot of local suppliers for everything from milk, clotted cream and eggs to pasties and local alcohol suppliers such as Truro brewery Skinner's."
Having well-established local supply chains means Tonkin does not have to scramble for multiple alternative suppliers to plug any gaps left by more nationally recognisable brands, going instead to her local cash and carry.
"There have been stock capping and availability issues with Londis, so we've been going to our local Booker as well as getting our Londis deliveries to stock up and see if we can get what's missing. Devon brand Burts has stepped into the breach as a Walkers substitute."
Read more of our store profiles where we visit independent convenience retailers to showcase their fresh ideas and unique insights