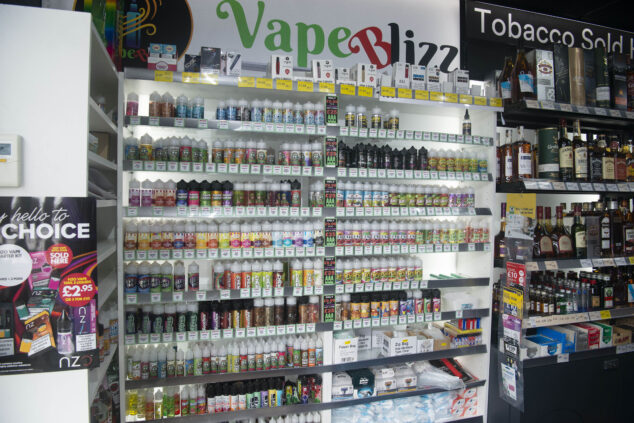 Last year, Costcutter Armthorpe in South Yorkshire was making around £400 a week in vape sales. Now, the store is up to £1,000 weekly sales. But what was the key to this success?
The store's owner, Kopi Kalanathan, who also owns Costcutter Kirk Sandall, has been selling vapes in his stores for around four years. Costcutter Armthorpe, located in Doncaster, is a 2,800sq. ft store, in a mostly middle class residential neighbourhood. When opening the new Armthorpe store, Kopi decided to take the vape category to the next level. Here's how he did it.
Give customers space and time
It's important to remember that for many, vapes might be a new experience. At the same time, having a big wall of e-liquids can be intimidating for shoppers, who are afraid of holding up the queue as they look for what they want.
Kopi explains: "It's important customers have the time to browse the selection of vapes – something they can't do when it's solely on the countertop or behind the till – it's one of the biggest things I learnt in making the category a success. Our vaping range is now at the front of the store, split at the counter – people who want to browse can do so without worrying about holding anyone up behind them."
Staff training
New vapers will be desperate for knowledge and information on the category before they make their initial investment. Meanwhile, existing vapers will have more specific questions about the products they buy, and what sets them apart.
"Staff training was the area I struggled in the most, and it's challenging keeping up with everything and then feeding it back to staff. To combat this, I always share YouTube videos I find where vape specialists are explaining hardware and e-liquids to staff on our work group chat."
Customer loyalty
Again, many customers will be reluctant to splash out on a new device, especially if they're new to vaping. But Kopi has found that sometimes rewarding loyal customers can have long term benefits, and be a great way to get the most out of any free stock you receive. "I used to have a regular cigarette customer and one day I gave him a Dot device for free because he's very loyal to us and I wanted to do something nice for him.
"He switched to the device permanently and now comes in every two days to buy the pods which we sell three-for-£18. He then came back and said his wife also liked the pen, and now she has also converted to vapes."
Each edition of Vape Retailer includes an in-depth interview and photos from a store which is making a success of the vaping category. Learn more here.
Order your copy of Vape Retailer today, the leading vape magazine for the convenience sector. Click here for vape product news and category advice.