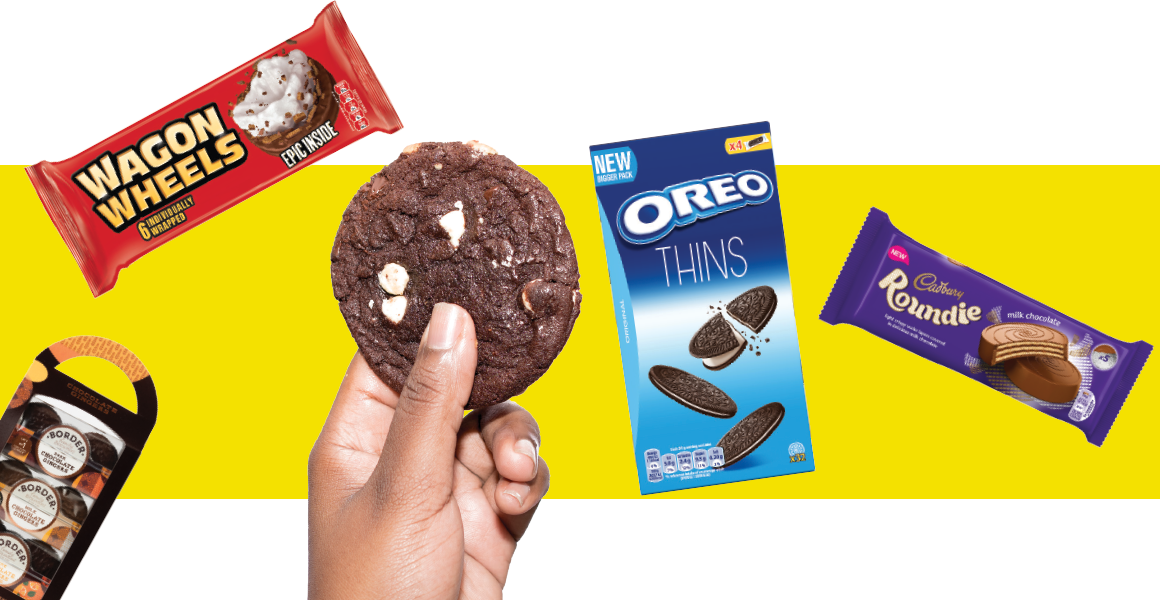 Britons love biscuits, and RN readers regularly rank sweet and savoury treats in their top five most-profitable categories. But it's also a fiercely competitive market, with every store and manufacturer fighting hard for its share of sales. Toby Hill finds out how to make your range as profitable as possible
Own-brand growth
On the shop floor, retailers note significant growth in sales of own-brand biscuits. As ever, people are looking for good value – but experts say their trust in unbranded products has been boosted by the success of discounters like Lidl and Aldi, which trade predominantly in own-label goods.
"We have a two-for-£1 offer on Happy Shopper biscuits and they sell very well. A lot of workers pick them up," says Julie Duhra, owner of Jule's Premier in Telford, Shropshire.
"We're in uncertain times and people's disposable income is under pressure, so they're trying to stretch their cash."
Retailer Anish Parekh, of Londis Broadoak and Post Office in Ashton-Under-Lyne, Greater Manchester, thinks improvements in presentation have also boosted own brand's popularity.
"Booker has improved the packaging on Happy Shopper and I think it's more appealing to customers now," he says. "Value brands have done a good job recently of being cheap without looking cheap."
Healthier Biscuits
Across the grocery sector, customers are looking to eat more healthily: 85% of consumers say they are trying to improve their diet. Even in a traditionally indulgent category like cakes and biscuits, suppliers are looking for ways to innovate and meet this growing demand.
Mondelez, for example, reformulated its recipes for Ritz Original and Ritz Cheese crackers, reducing saturated fat levels by 70% and 50% respectively.
It's also continued to push its healthier breakfast biscuit options, such as Belvita Breakfast. On Mondelez's Delicious Display retailer website, store owners can find downloadable Belvita posters and a PoS unit to attach to coffee machines, providing straight-forward cross-category merchandising.
Top lines – and those often missing
Unsurprisingly, the top of the biscuit category is dominated by McVitie's, with seven of the top 10 products belonging to the brand. But while most retailers stock the biggest-selling McVitie's products – 83% sell Milk Chocolate Digestives, for example, and 78% sell Milk Chocolate Hobnobs – there are some currently high-selling biscuit products that many retailers are neglecting to put on the shelf.
According to RN What to Stock data, 45% of retailers don't stock McVitie's Dark Chocolate Digestives, for example. With the average store stocking the product drawing in annual sales of £185, this means the convenience sector as a whole is missing out on a potential £2.8m in revenue a year due to stores deciding not to stock it.
A similar calculation can be made with the ninth-bestselling biscuit line, Tunnock's Caramel Wafers, sales of which have been growing year on year. Just one-third of retailers stock the product, which generates an average of £174 revenue per store. Consequently, between them, the other two-thirds of stores are missing out on potential annual sales of £3.9m.
For a complete list of the top 25 bestselling biscuits, go to betterRetailing.com/what-to-stock
Tip: Great merchandising
Small changes can make a big difference in the biscuit category. "Positioning is key; I place mine next to the teabags and coffee," says Julie Duhra.
These are distress purchases, which people will come in specifically to buy, so if biscuits catch their eye at the same time, they'll often pick up a packet.
"I also place my biscuits opposite the cakes, another product that people might buy with hot drinks," Duhra adds.
In Anish Parekh's store, he follows the usual guidance of placing branded products like McVitie's at eye-level, and own brands, such as Happy Shopper, on the lower shelves. "But with own-brand products becoming more popular, I also put some barker labels advertising long-term multibuy offers to make them more visible," he says. "It's worth considering so you can increase sales of own brand, too."
Parekh has also set up a £1 price-marked section in his shop, with snacks, drinks and chocolates. "I have Penguin, Club and Wagon Wheels on there, in price-marked multipacks that represent good value and are supported by strong brand names," he says.
Tip: Independent service
With competition over prices fierce and there being little to set stores apart in terms of value, good customer service is vital for driving sales in a category such as biscuits, retailers say.
"Prices for the main biscuit lines are reasonably similar across all shops," says Julie Duhra. "This makes customer service more important than ever. I'm always well-stocked and make sure staff prioritise presentation and being polite. Get that right and people will come back."