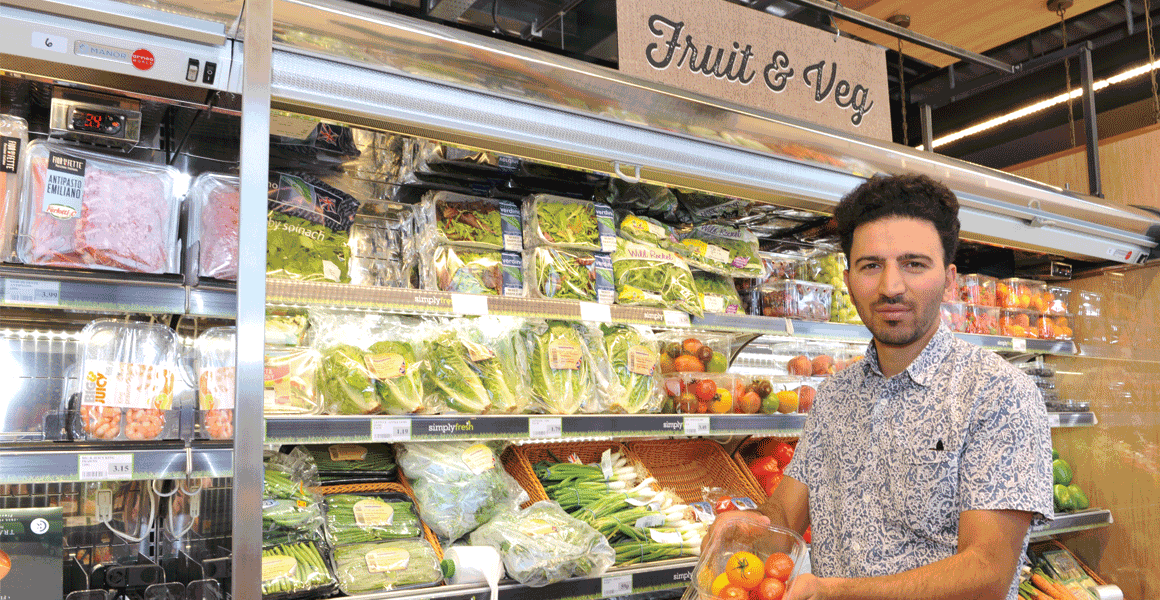 With fresh & chilled and local products among the biggest profit opportunities for retailers, Joanna Tilley spoke to top retailers to find out how store owners can grow their sales
In order to keep up with growing shopper demand and the increase in Best-one's product range, Kay Patel doubled the area he dedicates to fresh & chilled in one of his London stores.
My three tips to doing well in fresh and local
Speak to other store owners
In regards to fresh and local, it is a good idea to look at other retailers and see what they are stocking, and what moves and what doesn't.
Cater to local festive demand
We have a lot of Russian and Polish customers, so we offer fresh meat for these groups and also sell plenty of parsley, as this is popular in Eastern European cooking.
Grow margins with loose fruit and veg
I only make about a 30% margin on packed vegetables, but 50% on loose veg. It also gives a fresher appearance to your store and is eco-friendly.
Despite having competition from a nearby Aldi, Dennis and Linda Williams have invested in a wide range of fresh produce and offer a number of promotions through their symbol group, Premier.
My three tips to doing well in fresh and local
If you are going to sell fresh produce, you have to do it properly
Just having potatoes, onions and bananas is no longer sufficient – our range includes kiwis, turnips, cabbages, blueberries and broccoli.
Look for a mix of suppliers
We get some of our local suppliers through Booker, and we also attend local fruit markets. There are fruit markets in most major towns and villages in the UK.
If you have local produce in your store, shout about it
The big supermarkets are getting better at it, but convenience stores are best placed to highlight their partnerships with local suppliers.
Following their switch from Simply Fresh to Budgens, Avtar and Sukhi Sidhu are enjoying access to a large range of fresh and local produce, and are making it front and centre of their updated image.
Our three tips to doing well in fresh and local
Make sure your displays really stand out
If you are starting out in this category, begin with a good, tight range that's fully stocked and then this will grow organically.
Aim for exclusivity with local suppliers
You've got to put the leg work in at the beginning and hunt for local suppliers – but often small companies are crying out to work with someone like you.
Attend local food festivals
We sample food and make contacts with people in the industry. There is real appetite for fresh and local produce, so it is a good time to expand your network in this area.
Raj Aggarwal says tackling fresh as a retailer can be challenging, especially when it comes to managing waste, but that understanding your demographic is a great place to start.
My three tips to doing well in fresh and local
Get your displays right
Your fresh and local produce has to look good and fresh all the time, with great availability. It is important to offer promotions on new fresh produce to get customers interested.
Don't be afraid of waste
We have been selling fresh for a while, so waste is not a problem for us, but I know that to build your sales you have to take waste into account.
Take a look at local businesses in your area
If you are near a farm that supplies good-quality fruit and veg, you can make the most of this opportunity. First, check your demographic and find out where there's demand.
Despite being located in a busy area of London with plenty of convenience outlets in competition, Mehmet Guzel says fresh produce is still in demand and is very important to his business.
My three tips to doing well in fresh and local
Keep this category tidy and rotate stock
I check my fresh produce around 20 times a day to make sure it is well stocked and there isn't anything rotten.
Make sure the prices are correct and you have a striking display
I put seasonal items at the front in big abundant displays to attract shoppers and signpost the freshness of the produce around the store.
Keep tabs on what sells well
Ready meals and food to go are doing very well for us, especially meat and fish. Since transitioning to getting our supply from Nisa, our fresh veg has improved drastically.
Wholesaler column
"Fresh is where the growth is and this category is growing more than 100% a year at Cotswold Fayre. Convenience retailers know fresh and local is the future, but often the main issue is space because they have rigid planograms. It is worth the investment, though, as the rate of sale is generally much better out of the fridge than on a shelf because the perception is that it is better quality. A good way to get inspired is to find out who is doing this category well and visit their stores. There are some great Budgens stores in London and Eat 17 is doing well in this area. The crucial thing for independent retailers is that they offer local and fresh produce that isn't available in the major supermarkets. Retailers need to also be aware of the opportunity gifts are providing because convenience stores as a whole aren't doing particularly well when it comes to seasonal sales."