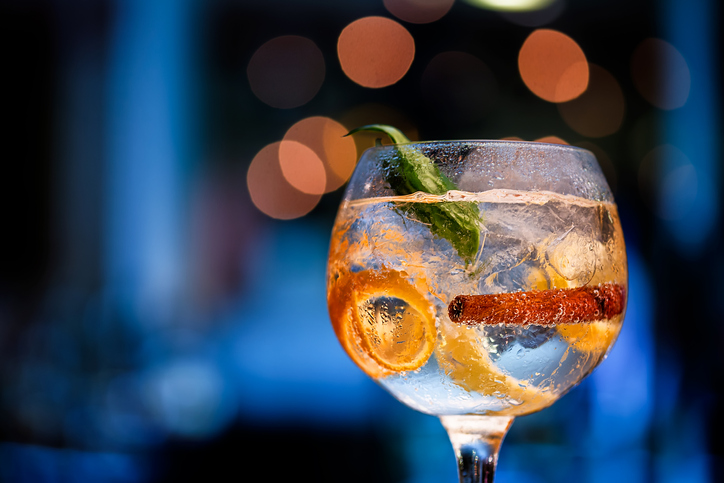 Comparing the prices of gin brands
Behind the numbers
This week's data shows that gin is competitively priced across flavoured, premium and standard lines, with the majority of retailers selling all 12 lines at their most-common prices. But is there any flexibility for retailers to drive profits?
At the premium end of the market, Bombay Sapphire 70cl offers an opportunity. Thirty-five per cent of retailers charge up to £29.99 for it, a £10 increase on the most-common price, charged by 63% of retailers, representing a sizeable shift in profits.
Meanwhile, retailers could increase profits by reviewing prices on Whitley Neill Rhubarb & Ginger. Thirty-nine per cent of retailers are going as high as £29.99, £7 higher than the most-common price of £22.99, charged by 51% of retailers.
Despite the gin flavour boom, Beefeater Blood Orange shows the least potential for convenience stores, with 94% of retailers pricing the line at its most-common price of £20.25.
Gin price checker
BOMBAY SAPPHIRE LONDON DRY GIN 40% 70CL
Use the price-checker chart to see what the most common prices are for a key line in the category.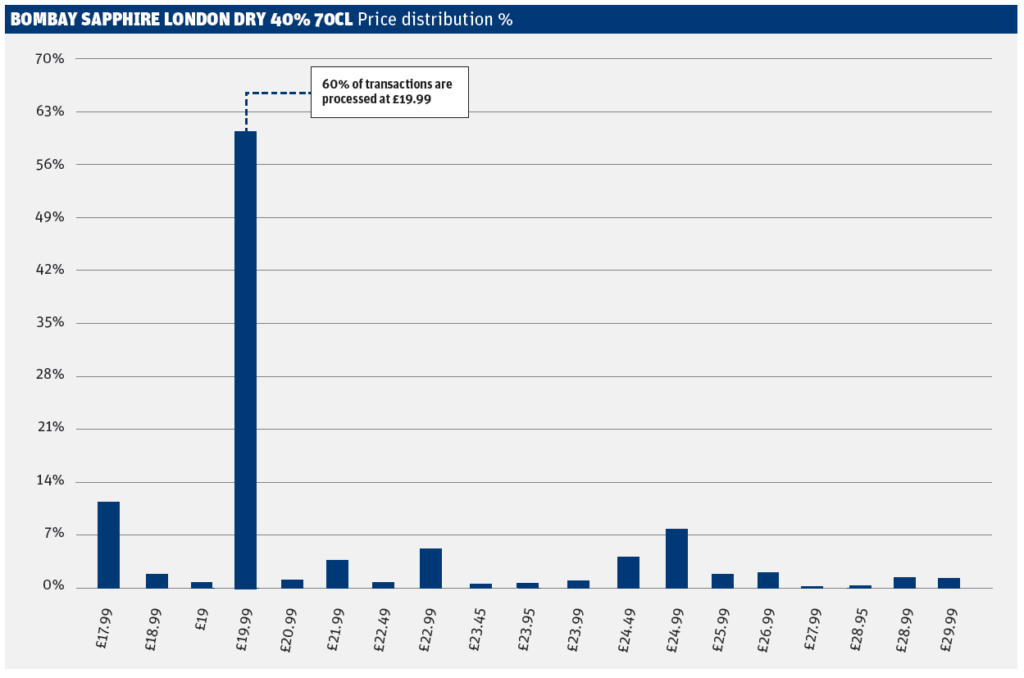 Retailer views on gin products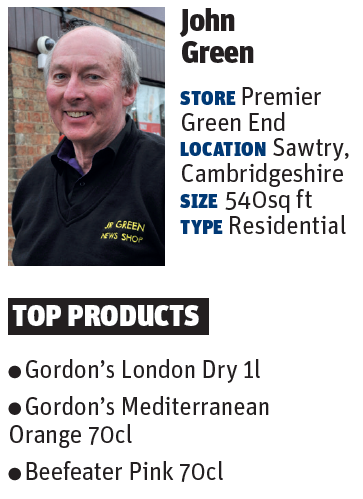 "We have about 25 gins across three shelves. This compares to two shelves of whiskies, two of vodkas, one of rums, one of brandies and two of liqueurs. Gin is more expansive because of the range of flavours now available, but rums and vodkas are trying that more now. We don't have any local suppliers, everything comes from Booker or Classic Drinks, which Booker owns. It helps us to save, and we trust Booker, which frequently has a range of offers on Gordon's varieties. We have price-marked products where possible."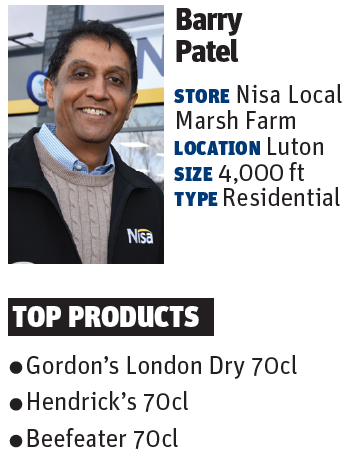 "All our spirits are behind the till. We're selling more premium gins and they're going faster than brands such as Gordon's, although Gordon's is still strong. We have 15 types overall. Hendrick's, Bombay Sapphire and Whitley Neill are all selling well. Sales-wise, gin is on a par with our other spirits, and accounts for 20-25% of our spirits sales. We get all our brands from wholesalers and Nisa. It's easier and they do well with promotions on popular premium lines and flavoured gins. All our top-selling lines are 70cl bottles."
Gin price distribution
Use the price distribution table to see the range of prices being charged on 12 key lines.
Product name
Lowest
price
Most
common
price
Highest
price
Tanqueray London Dry Gin 43.1% 70cl
£18.99
£26.25
£34.99
Gordon's Pink Gin 37.5% 70cl
£14.99
£14.99
£21.99
Beefeater Pink Strawberry 37.5% 70cl
£14.99
£20.25
£21.99
Beefeater Blood Orange 37.5% 70cl
£13.99
£20.25
£20.99
Hendrick's Gin 41.4% 70cl
£30
£35.99
£39.00
Bombay Sapphire London Dry Gin 40% 70cl
£17.49
£19.99
£29.99
Whitley Neill Rhubarb & Ginger 43% 70cl
£19.99
£22.99
£29.99
Grosvenor London Dry Gin 37.5% 70cl
£11.99
£14.25
£15.99
Prince Consort London Dry Gin 37.5% 70cl
£10.99
£13.49
£13.99
Hooch Raspberry & Lemon 37.5% 70cl
£9.99
£14.99
£24.99
Kopparberg Strawberry & Lime 37.5% 70cl
£15.99
£23.29
£26.99
Bombay Sapphire London Dry Gin 40% 5cl
£2.39
£2.75
£3.50
Must-stock gin products
Use the must-stock products chart to see the percentage of retailers charging above, below and at the most-common price.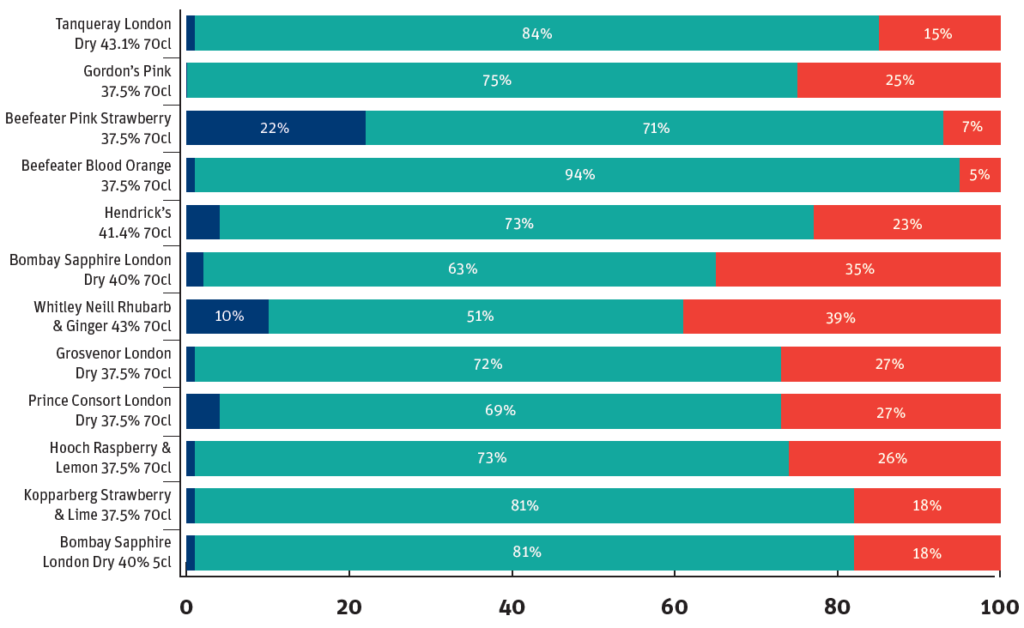 Read more Pricewatch and get expert product price comparison analysis and retailer insight on all the key products in your store

Data supplied by the Retail Data Partnership, a specialist data and EPoS supplier committed to serving the independent retail sector