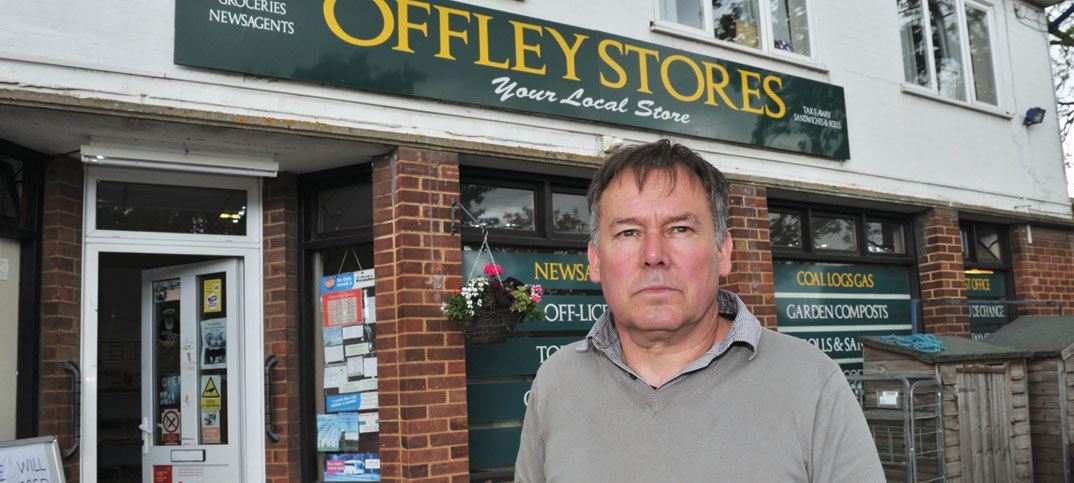 Space need not be a barrier for big ambitions. Hitchin retailer Gary Pilsworth brings in up to £500 per week in hot food sales in his 1,000sq ft village store. It's all about provenance and quality, he tells reporter
Steven Lambert
A comprehensive food service offering may sound like something more suited to a large convenience store, but try telling that to Gary Pilsworth.
The retailer has launched a dedicated kitchen area at his 1,000sq ft Offley Stores business, offering a host of hot food and fresh snacks, and is reaping the twin benefits of increased profits and footfall.
Gary explains the idea was borne out of wealth of property development going on around the store, which is located in the village of Hitchin in Hertfordshire.
"We're a small village with a population of around 800 people but recently, work has been going on on 63 new properties so we've had a lot of builders visiting the area.
"Even though the store is small, we had a bit of space to spare, so we decided to create our own serving area. We set up an oven, a microwave and a toaster and started serving hot food and tea and coffee."
Since setting up the area four months ago, Gary has built up a constant stream of customers coming in for morning and lunchtime snacks. He says this new side to his business has added an extra £400-£500 to his weekly £7,000 turnover.
"It comes in waves. We get builders coming in early for rolls and sandwiches and then we have a crowd at about 10am. Then at lunchtime it gets busy again, where we'll be selling toasties, paninis, soup, pies, pasties and cheese and bacon puffs."
Gary says he has learned valuable lessons from when he tried to get a similar idea off the ground when he took over the business 15 years ago.
"At the time, we had another housing development nearby, so we started making up our own rolls and selling them to the builders. But, once they left, that side of the business dried up.
"Now that we have this opportunity again, I want to take it further. We've attracted more passing trade because they smell the food and want to come in and buy something, and I'm now thinking about how to promote the kitchen to get more people in.
"We're also working with our local supplier, Kenhurst, to experiment with new things like chicken balti pies to make the range a bit more diverse."
While the kitchen has helped him attract new trade, Gary says the shop is geared primarily around the needs of local shoppers.
Even though the store is small, we had a bit of space to spare, so we decided to create our own serving area
This is evident from the wide range of locally-sourced products on the shelves, which he says are a big draw for residents.
"We're surrounded by thousands of acres of the Pilkington Farm estate, and they raise cattle, sheep and other animals.
"We're one of the few businesses that sell fresh meat from the estate, everything from chops and mince through to steaks and even whole carcasses, which we do get requests for. More shoppers here are concerned about food provenance, so it reassures them that they can get meat produced a few miles away.
"We have an upright chiller where we store all the fresh meat and we can also place orders for customers. If we have an elderly shopper who wants a smaller cut, for example, we can get it in for them.
"We also get rape seed oil from a local producer, which has just started to do its own infused oils with chilli and garlic, and our eggs and cheeses are also sourced locally."
While Gary says he trades from a fairly affluent area, he adds that he tries to offer the best possible deals and prices for customers.
"We shop at Booker and Bestway and around 90% of our stock is pricemarked. We also offer good prices on our local products, especially when compared to Waitrose and Morrisons.
"Our customers would be prepared to pay a bit more but I think that would be unfair. We want to offer them reasonable prices, and we will also deliver to elderly shoppers if they place orders with us. That's what keeps people shopping with us."
Visit my store