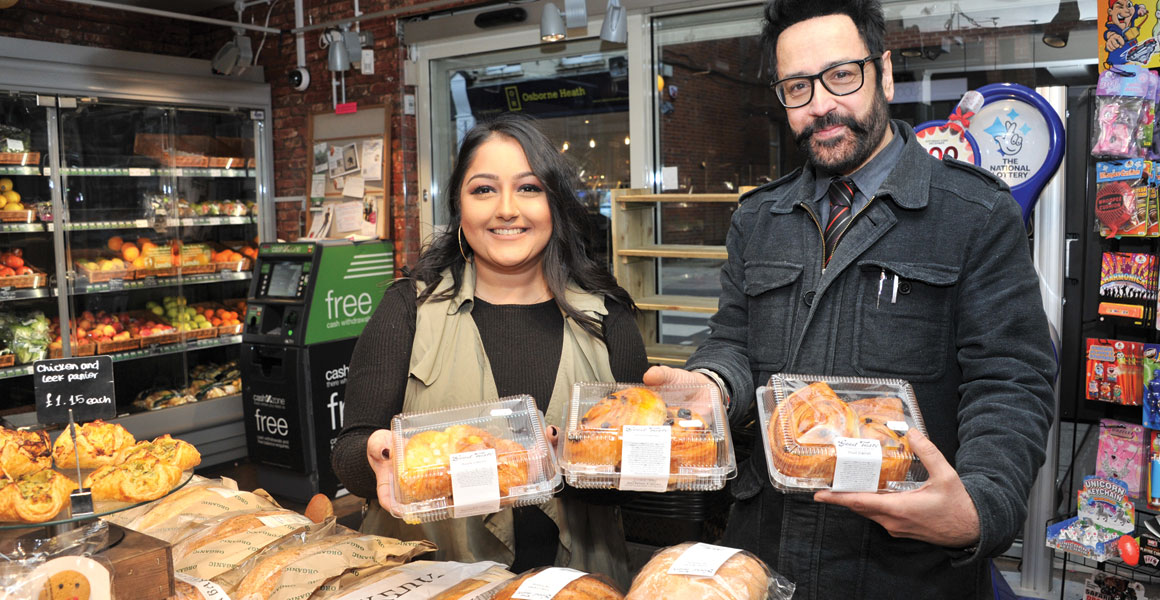 For the past year, Roli Ranger has also been training his daughter Reena in readiness for taking over the family business. Tom Gockelen-Kozlowski and Toby Hill spoke to them and three other families about ensuring a successful handover.
Roli Ranger likes to be a step ahead. His award-winning convenience store are filled with trend-friendly ranges and ultra-modern displays, yet his latest attempt to future proof his business is about ensuring its survival lasts beyond his retirement.
For the past 12 months his daughter Reena has been store manager of his flagship store – Roli Ranger's Londis of Sunninghill – preparing for an eventual handover that will allow Roli to "take a step back" while his family business continues to flourish.
RN visited the store to learn more. When the times comes, will you be as well prepared?
Roli I run a family business – so I wouldn't want to give it to anyone but family to take over. We work for our kids and the younger generation. That's my way of providing for my kids so they have a good future and, if independent retailing is something that interests Reena, then it's happy days. You can see I'm passionate about it and I'm hoping she'll gain the same passion for introducing products and innovating the business that I have.
Reena You do get passionate about it when it's your family. When you are working for someone else it's not the same. I don't want to take something over from the family and then ruin it. You have that passion to keep it running at the standard it's at.
Roli One thing we've been focusing on is getting staffing structures in place so Reena isn't required to work 24/7 like the old days. That was a family business model for a different time. The younger generation are a lot more clued up on how to manage staff and get the best out of them. They're in a position now to manage the business rather than run the business.
Reena Before joining the store again last year I had been a manager at Travelex. It was a very different experience and working here has really expanded my knowledge. Here I have to think about everything – merchandising shelves, staff, there's so many things that go into running a store.
Roli I think she's excelled at bringing the experience from Travelex – human resources, contracts, dealing with people as well. Because I can be so focused on the shop, making sure the ranges are right, I tend to put the human resources part of it on the backburner and I think she's quite strong at implementing changes, drawing up contracts for each particular member of staff and assigning job roles. Now people will have a specific job role which means staff will know what's expected of them.
Reena We've got a clearer structure. It's for our staff as well so they know what they're doing and they can get the most out of their jobs. We've got supervisors, team members and delivery staff and we now make sure they know what's expected of them. It's a big part of the other jobs I've done which is probably why I like it so much. I've also introduced an employee of the year competition in our staff meetings to recognise great work.
Roli It's extremely important to be compliant these days so Reena's experience is very useful. With auto-enrolment, all three of our stores have reached their staging date, so that's another thing we have to be on top of. Reena has really helped with the digital approach of our business as well. She can help with Facebook and Twitter – which dinosaurs like us are still trying to get a handle of.
Reena It just comes naturally to someone my age, I think.
Roli We never really discussed what her specific day-to-day skills were, so it was really interesting to hear her input when she began working in the business. That's why I was confident about letting her run the shop so soon – we only did a week or so of training and she was ready to go into a managerial position.
Reena Another thing I think I've brought is that, as a young person, I see the other side of it – what a person of my generation wants when they go into a supermarket or convenience store. My dad gives me that balance by knowing our community – we have an older generation of customers who live here too.
Roli It's been about imparting what I've picked up over the years – focusing on the core range using planograms and then devising our own.
Reena That's not knowledge I would have from my previous job so that's one of the challenges I've had, not knowing that side of the business.
I can see what my dad has built and the reputation he has – everybody knows him when they come here.
Roli The first thing Reena's had to do is knuckle-down and learn the basics.
Reena The biggest challenge was the sheer volume of things to learn.
Roli And on top of that there was the back-of-house stuff. The IT systems, that all takes time.
Reena Last year there were also some big changes in the industry such as the new tobacco legislation. I like to learn things myself but this was all new to me, so I wanted to make sure everything was right. If there was anything I was unsure of, I'd ring up Dad to check.
Roli The masterplan is for Reena to take on all three stores so I can take a back seat in the business, knowing that I'm leaving it in competent hands. We're doing it in stages. Our plan this year is to develop our Ascot store and then our Virginia Water store, then hopefully Reena will start to oversee all three. Over the next year she'll get to see how these projects work from the planning stage so that in the future, if any sites come up, she'll know what to do with them.
Reena I have worked at the store since I was at school but now I'm seeing the other side of the business, the management side of it.
Roli We're definitely feeling some of the challenges at the moment – rising staff and utility costs, all while margins are not expanding. Retailers are looking around for other opportunities such as food -service where you can access high margins. For us that might mean introducing a street-food offer or gourmet burgers. It already works in London and we want to make it work in a neighbourhood format. I've always been willing to learn from other retailers as well so it's not only Reena who's on a learning curve, I am too. The next step is how do we make our stores viable for the next 10 or 15 years, bearing in mind all of the constraints that are pushed upon us. This is where Reena and I will work together.
Reena I'm starting to develop many relationships – with reps, for example. Our Coca-Cola rep recently brought in a new display stand which I agreed to put in because I felt it worked with the look of the store. I can see what my dad has built and the reputation he has – everybody knows him when they come here.
Roli It's still early days for Reena when it comes to building relationships in the industry. The first six to seven months was about getting to grips with the business. Relationship building comes once you have comfortably got to grips with what's involved and then you can start to talk to suppliers.
Reena Now it's nerve-wracking because I can see that I'm stepping into big shoes. It's scary, but in a good way.
Roli The business is a very different one to how it was when I started 25 years ago. In those days we had no concept of refurbishments and investing money in the business – it was all about surviving. The money we made would maybe give you enough to employ a few members of staff. Now, by learning from others and working with symbol groups, we've been able to expand, to get a better range in – that was when the big change happened for us.
Reena And now we want to make this a true community store through the suppliers we work with. We already work with a local butcher and stock local honey and this year I have helped introduce a local bakery's range. Working together for the past year has been a good balance of the knowledge of 25 years in retail that dad has and my knowledge of the more of the modern way of doing things as well.