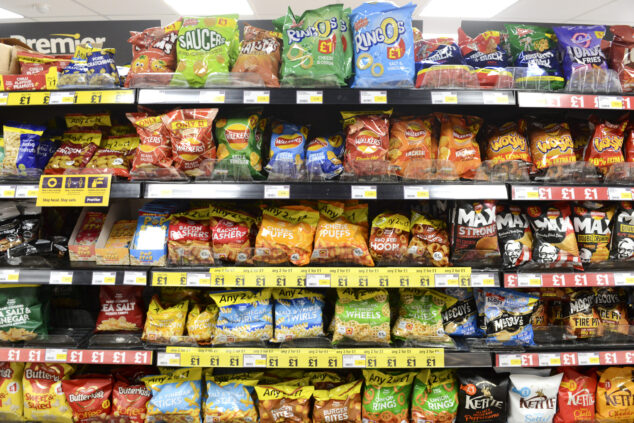 Comparing the prices of crisps and snacks
Behind the numbers
Worth £3.5bn and growing 4.6% year on year, crisps, snacks and nuts shoppers are spending an extra £100m in the category – highlighting an opportunity for retailers to review prices. There is a competitive element, though, as all 12 lines are priced at the most-common price by most retailers.
The biggest opportunity comes from new brand Takis. Twenty-five per cent charge as high as £1.99, offering scope for the 75% charging £1 to increase prices. On a smaller scale, 27% of retailers sell Jacob's Mini Cheddars Original for up to £1.30, something for the 72% charging 75p to consider.
Shoppers are price-conscious on McCoy's Flame Grilled Steak Crisps, with 97% charging the most-common price of £1. Similarly, 95% charge the same price for McCoy's Cheddar & Onion, and at least 75% of retailers sell each of the four Walkers lines examined at their most-common price of 69p.
Crisps and snacks price checker
SMITHS SCAMPI & LEMON SNACKS 27G
Use the price-checker chart to see what the most common prices are for a key line in the category.
Retailer views on crisps and snacks
"We used to sell the small 65p price-marked packs (PMPs), but a PepsiCo rep advised us to use £1 PMPs, and it's gone really well. Core lines, like Ready Salted, are £1, then the rest, like Smoky Bacon, are in smaller bags. Customers don't really say anything, they just pay extra. The lack of Walkers hit our sales, so we started to stock McCoy's. Crisps are an everyday line, so you've got to fill the shelves. We did so by doubling whatever we had. We can't get Hula Hoops or KP Nuts at the minute, but hopefully they're coming back in soon."
"When the Walkers availability issues hit and continued, we relied on Bobby's and Smiths a lot. We normally wouldn't stock either and they sold well. Our bays normally consist of 80% Walkers, 10-15% Bobby's and Co-op own-label lines. Even now, I believe PepsiCo aren't 100% up to speed because multipacks are still an issue. We haven't had any KP Snacks issues because we don't order a lot, only three or four lines. If we can, we plan to remove most of the 65p lines, as even with a meal deal, we tend to use £1 sharing bags."
Crisps and snacks price distribution
Use the price distribution table to see the range of prices being charged on 12 key lines.
Must-stock crisp and snack products
Use the must-stock products chart to see the percentage of retailers charging above, below and at the most-common price.
Get expert price comparison analysis and retailer insight on all the key products in your store