Comparing the prices of cola and carbonated drinks
Behind the numbers
Soft drinks are worth £2.9bn in convenience stores and growing at 6%, with cola and carbonates a contributing segment, but where can retailers maximise profits?
Coca-Cola Original Taste 330ml and 500ml are the highest sellers, with 66% charging up to £1.50 on the 330ml format – a more-than-75% increase on the most-common price of 85p. This provides an opportunity for the 33% pricing at 85p to review prices.
Similarly, the 24% charging £1.29 on the brand's 500ml bottle could boost profits, as 74% are selling the line for £1.99 – a 70p increase. This increase could be due to retailers capitalising on brand loyalty to drive profits.
Despite flavoured carbonates being the third-largest soft drinks segment in convenience stores, there's little potential to review prices. Take Fanta Lemon – 97% charge £1.65, with just 1% pricing higher at £1.95.
Cola and carbonated drinks price checker
COCA-COLA ORIGINAL TASTE 330ML
Use the price-checker chart to see what the most common prices are for a key line in the category.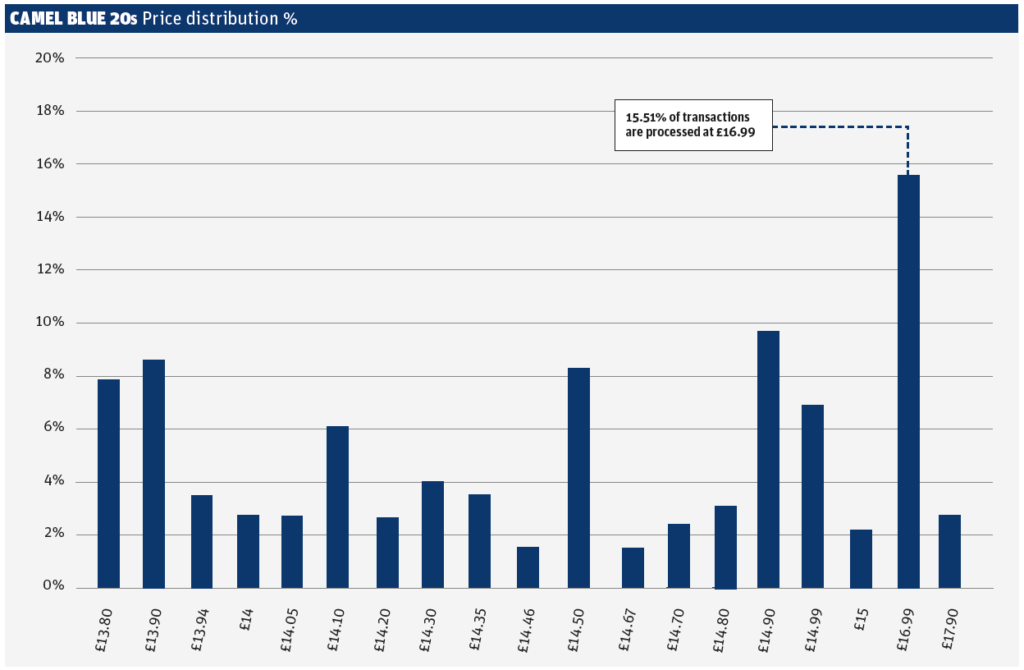 Retailer views on cola and carbonates
"In this area, the catchment is offices and a hospital. The workers are never going to buy big bottles or multipacks. If they want a Coca-Cola, they'll pick up a can or a 500ml bottle, and they can get them with crisps and a sandwich. Hospital workers also like to go towards water, both normal and flavoured. Areas with students have more soft drinks sales with American drinks as well. In Hinchingbrooke we probably have about 3.75 metres of fizzy drinks. Energy drink sales pick up in the evening after people have finished work."
"The weather we've had recently is probably the best for us to sell fizzy drinks. If it gets much hotter, everyone will move over to water, but this is a good time of year for selling cola. Water is catching up, we're selling more and more. I thought at some point it would slow down as people drink tap water and we offer free refills, but it's one of our largest growers and flavoured waters are helping to drive it. We will sell large formats in the mornings and evenings; the rest of the time people are grabbing cans or 500ml bottles."
Cola and carbonated drinks price distribution
Use the price distribution table to see the range of prices being charged on 12 key lines.
Product name
Lowest
price
Most
common
price
Highest
price
Fanta Orange 500ml
£1
£1.65
£1.99
Dr Pepper 500ml
£1
£1.65
£1.99
Tango Apple 330ml
40p
95p
£1
Rio Tropical 330ml
69p
95p
£1.19
Old Jamaica Ginger Beer 330ml
59p
£1
£1.35
Barr Shandy 330ml
49p
59p
£1
Coca-Cola Original Taste 330ml
60p
85p
£1.50
Fanta Lemon 500ml
75p
£1.65
£1.95
Diet Coke 330ml
40p
95p
£1.40
Sprite 500ml
39p
£1.45
£1.99
Coca-Cola Original Taste 500ml
£1
£1.29
£1.99
Diet Coke 500ml
75p
£1.65
£1.90
Must-stock premium cola and carbonated drinks
Use the must-stock products chart to see the percentage of retailers charging above, below and at the most-common price.
Read more Pricewatch and get expert product price comparison analysis and retailer insight on all the key products in your store

Data supplied by the Retail Data Partnership, a specialist data and EPoS supplier committed to serving the independent retail sector