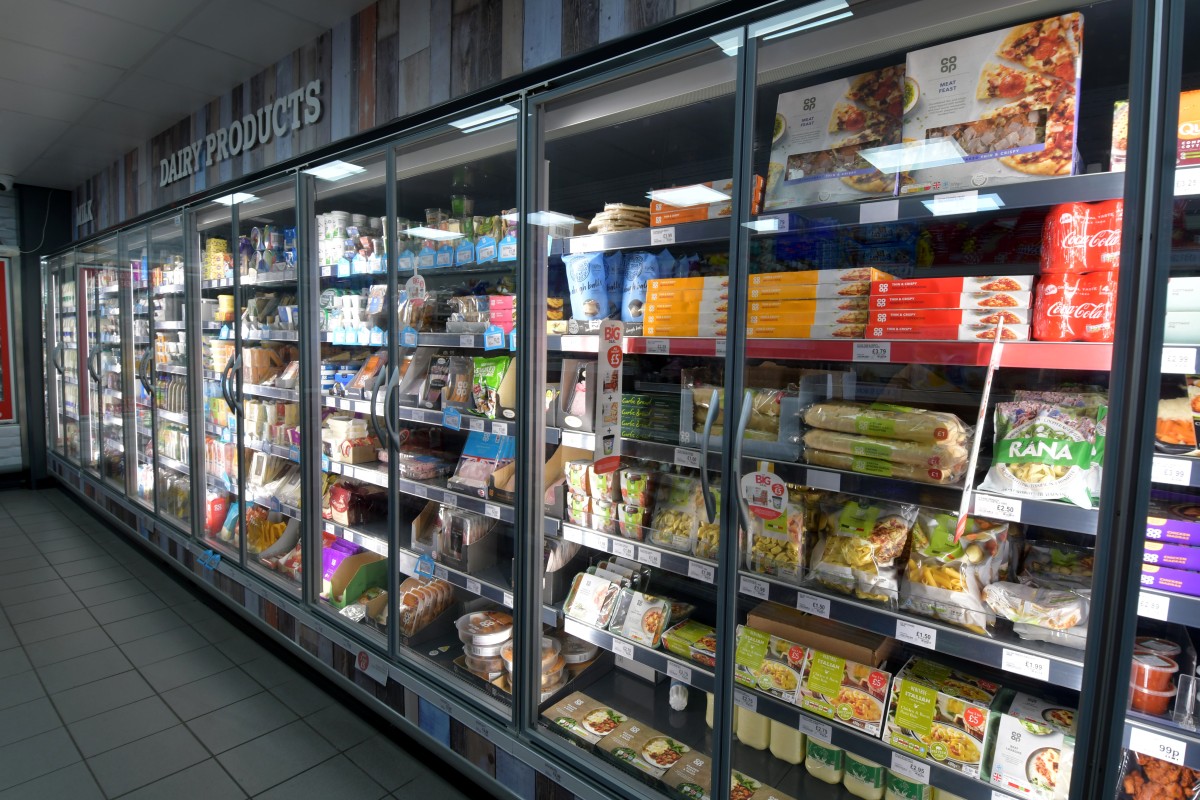 Chilled snacks price checker
Behind the numbers
With six of the 12 chilled snack lines examined this week charged by more than 50% of retailers above their most-common prices, retailers have plenty of opportunities to widen margins in a category which is in growth thanks to the return of on-the-go missions.
For example, 75% of stores sell Peter's Premier Extra Large Sausage Roll for as much as £1.99, 89p higher than the most-common price, set by 22%. Similarly, 71% set the same price for the brand's Jumbo Sausage Roll, with just 28% sticking to the most-common price of £1.29.
Ginsters Cornish Pasty represents the largest difference between the highest and most-common price. Fifty-four per cent of retailers charge up to £2.59, leaving scope for the 41% charging £1.19 to review prices. Conversely, 88% charge the most-common price for Ginsters Large Sausage Roll, although at £1.99, this is the highest most-common price out of all the lines examined.
Chilled snacks price checker
WALL'S YOUR HEARTY SAUSAGE ROLL 130G
Use the price-checker chart to see what the most common prices are for a key line in the category.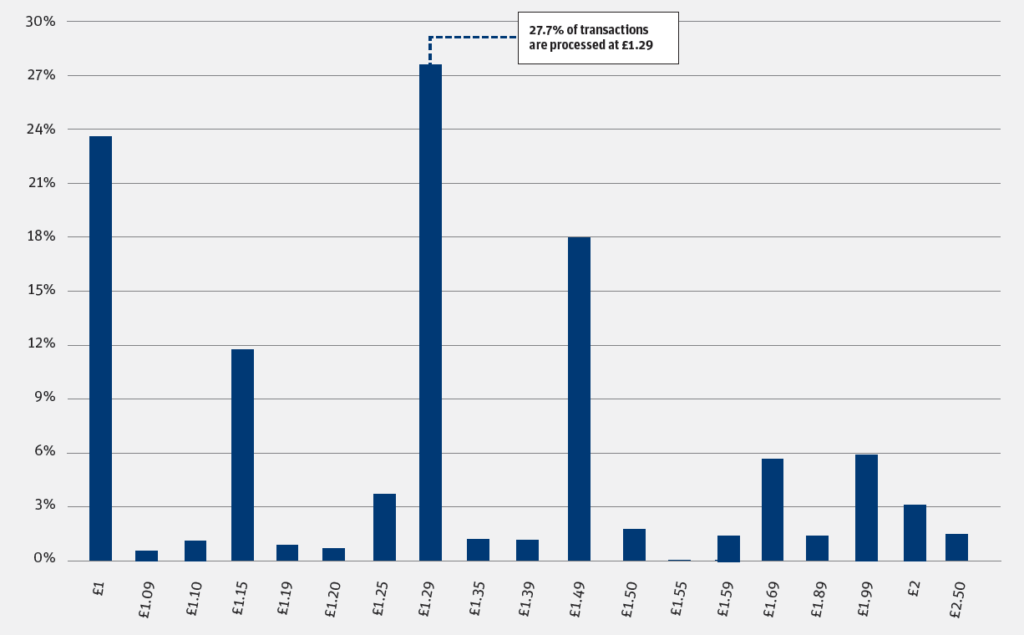 Retailer views on chilled snack products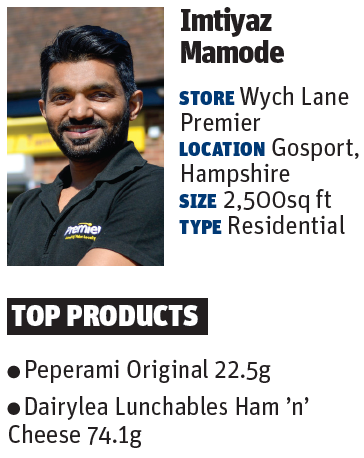 "We've got almost five metres for our chilled food range, and we benefit from offering Snax On The Go, which is a Booker brand. We used to offer meal deals, but we stopped doing it because of a price change. It used to be a £3 meal deal with a sandwich or wrap, crisps and a drink. I've tried looking for local chilled suppliers, but there don't seem to be any. We don't sell a huge amount of vegetarian and vegan alternatives. I know people are moving to them and we have a few lines, but we don't sell a lot and they have a shorter shelf life."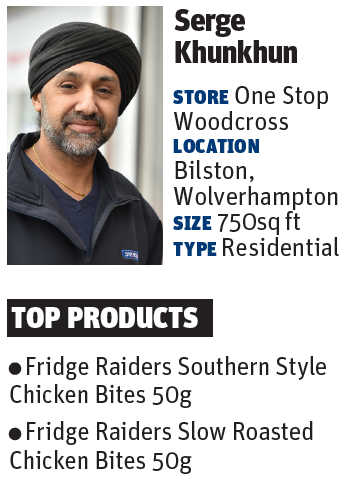 "Sales are doing quite well. A lot of the lines sell quite a lot on their own, but fit well into a meal deal. All the usual suspects are there, such as Fridge Raiders, Peperami and Wall's, although we don't offer any Ginsters. We see a spike in sales when they're on offer, which is often – Peperami is two-for-£1.20 when it's usually 90p each. We stick to the bestsellers and complement them with rotating ranges such as Grab It's chicken skewers. We have vegan and vegetarian alternatives available, but they don't really sell for us."
Chilled snacks price distribution
Use the price distribution table to see the range of prices being charged on 12 key lines.
Product name
Lowest
price
Most
common
price
Highest
price
Peperami Original Salami 22.5g
60p
79p
£1.15
Peperami Hot Salami 22.5g
60p
85p
£1
Fridge Raiders Southern Style Chicken Bites 60g
£1
£1.39
£1.74
Fridge Raiders Slow Roasted Chicken Bites 60g
£1
£1.39
£1.74
Ginsters Cornish Pasty 227g
£1
£1.19
£2.59
Ginsters Peppered Steak Slice 170g
£1
£1.19
£2.50
Ginsters Large Sausage Roll 130g
£1
£1.99
£2.55
Peter's Jumbo Sausage Roll 144g
£1.05
£1.29
£1.99
Peters Premier Sausage Roll Extra Large Roll 165g
£1
£1.10
£1.99
Wrights Jumbo Sausage Roll 150g
£1
£1.29
£1.59
Wall's Your Hearty Sausage Roll 130g
£1
£1.29
£2.50
Dairylea Lunchables Ham 'n' Cheese 74.1g
£1.39
£1.49
£2.15
Must-stock chilled snack products
Use the must-stock products chart to see the percentage of retailers charging above, below and at the most-common price.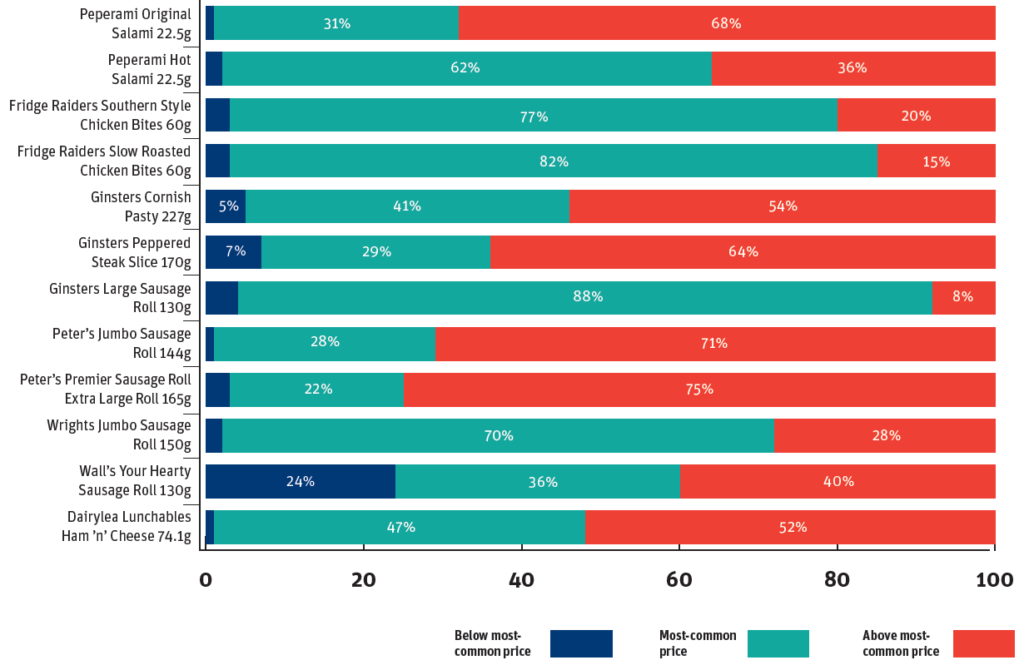 Read more Pricewatch and get expert product price comparison analysis and retailer insight on all the key products in your store.

Data supplied by the Retail Data Partnership, a specialist data and EPoS supplier committed to serving the independent retail sector.