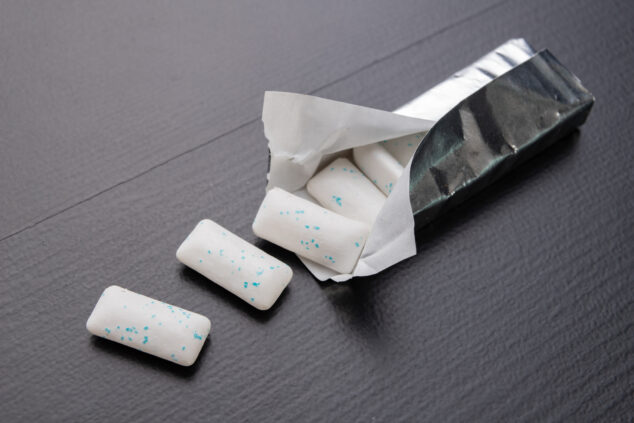 Comparing chewing gum prices
While gum sales took a hit last year, this week's data shows more than 40% of retailers are increasing profits by charging above the most common prices on seven out of 12 lines.
Take Chupa Chups Cotton Candy Tutti Frutti. Sixty per cent of retailers are charging up to £1, 55p above the most-common price. Hubba Bubba's Snappy Strawberry Tape offers a similar opportunity, with 52% charging as much as £1.49, compared with the 46% selling it for £1.
Retailers have reported price isn't a factor in gum, but this week's data suggests value is becoming important. The most notable example is Crazy Candy Factory Bubble Rubblez Watermelon, with 30% pricing as low as 89p and 62% charging the most-common price of £1. There could be scope to review prices, as 8% are pricing as high as £1.34.
Similarly, 79% charge 60p on Wrigley's Hubba Bubba Outrageous Original, compared with just 20% going as high as 79p.
Chewing gum profit checker
Wrigley's Extra Pepermint Sugar-Free 14g Price distribution %
Must-stock chewing gum products
Product name
Lowest
price
Most common
Price
Highest
price
Wrigley's Extra Refreshers Peppermint Handybox 15.6g
49p
60p
£1
Wrigley's Hubba Bubba Outrageous Original 35g
40p
60p
79p
Wrigley's Airwaves Extreme Menthol Sugar-free 14g
50p
60p
85p
Wrigley's Airwaves Blackcurrant Sugar-free 14g
49p
60p
85p
Crazy Candy Factory Bubble Rubblez Watermelon 60g
89p
£1
£1.34
Wrigley's Extra Peppermint Sugar-free 14g
45p
60p
99p
Wrigley's Extra Refreshers Spearmint Handybox 15.6g
50p
60p
£1.49
Chupa Chups Cotton Candy Tutti Frutti 11g
40p
45p
£1
Starburst Red Berry Sugar-free 13g
49p
55p
80p
Wrigley's Extra Spearmint Sugar-free 14g
45p
60p
85p
Wrigley's Hubba Bubba Tape Snappy Strawberry 56g
95p
£1
£1.49
Wrigley's Hubba Bubba Seriously Strawberry 35g
40p
60p
75p
Price distribution chart
Percentage of stores selling chewing gum above, below and at the most common retail price: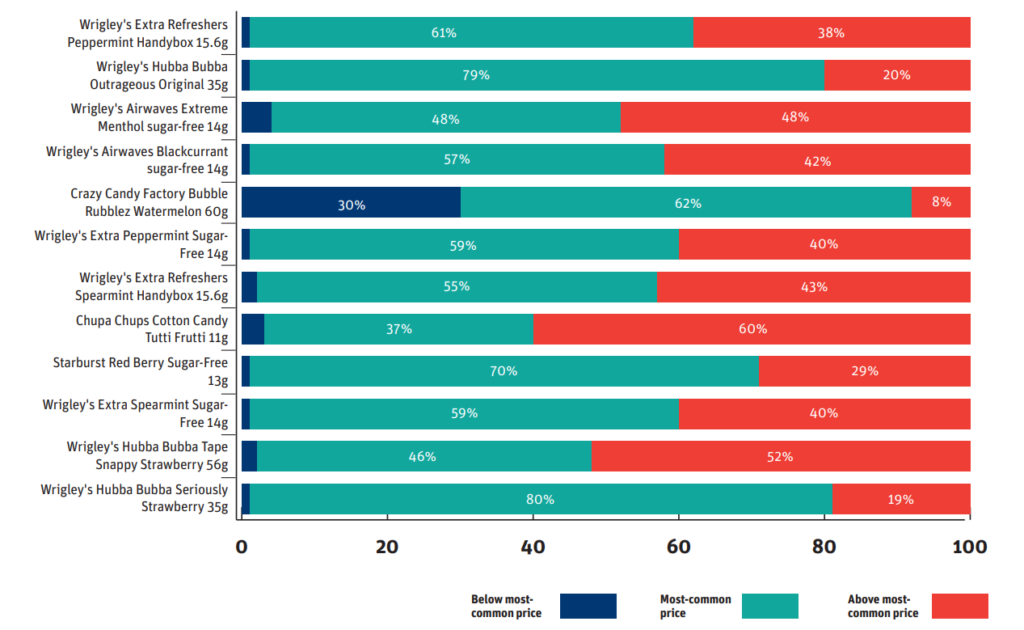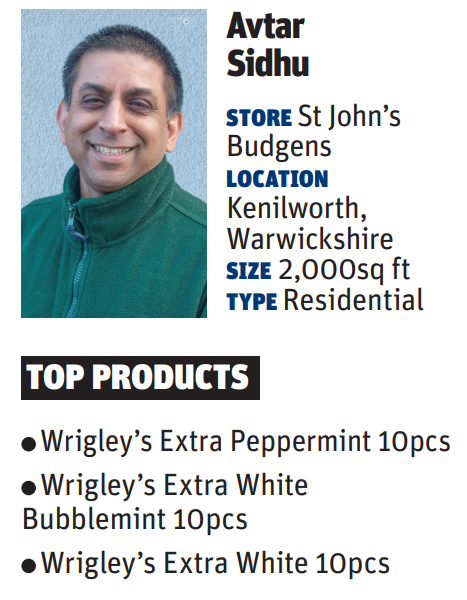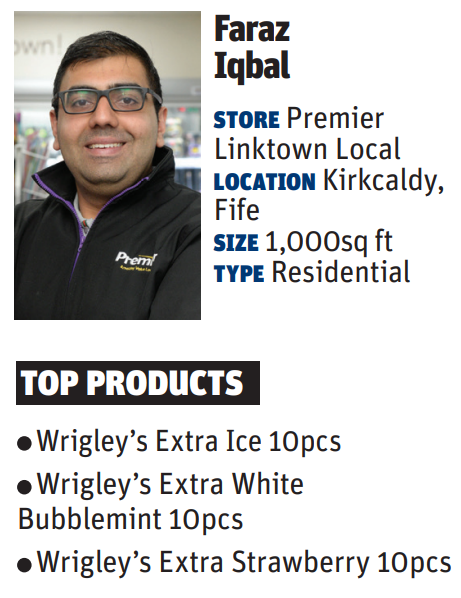 "We stock a good range of chewing gum and I'm not having the same supply issues that I'm having with mints. The category is stocked on the counter. Mints and gum sales this year have been far better than 2020. There was a decline at some point, and I realised I hadn't ordered stock for a while.
"This year, sales have definitely increased, including the big resealable tubs and individual packs. Ninety-five per cent of sales come from mint flavours or variations thereof, with Extra the strongest seller, compared with other brands."
"I stock a reasonable range of gum. I've got a Wrigley's stand at the till where I stock our main sellers. I've noticed resealable tubs have increased in popularity in the market as a whole, but as we're a convenience store, shoppers normally buy the smaller standard packs.
"We noticed sales decreased during the pandemic. They're steady again. I wouldn't say I've noticed a huge spike, but with shoppers out and about, I've seen an increase. Elderly shoppers prefer mint flavours, while young ones go for fruit flavours."
Read more Pricewatch and get expert product price comparison analysis and retailer insight on all the key products in your store

Data supplied by the Retail Data Partnership, a specialist data and EPoS supplier committed to serving the independent retail sector