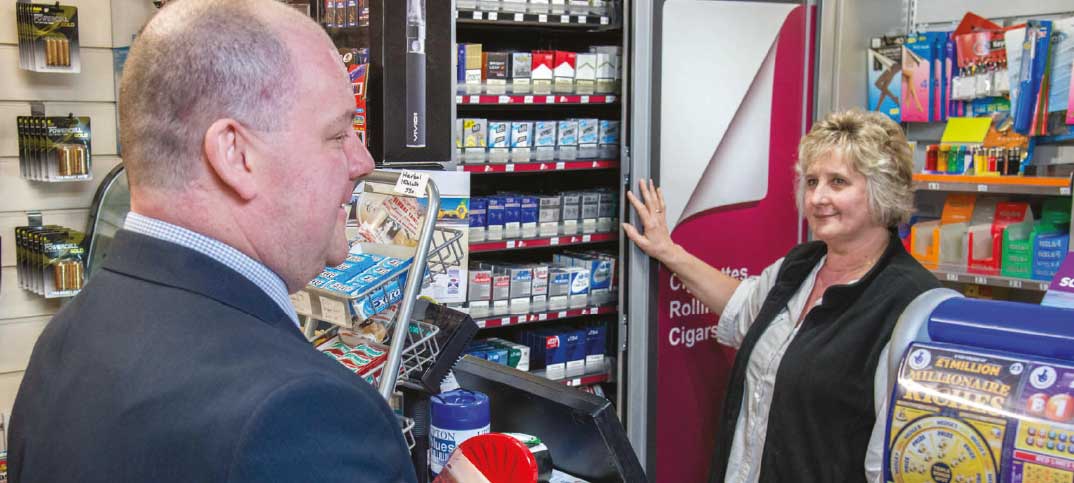 The facts
Name: Kate Clark
Store: Sean's News
Location: Upton-Upon-Severn, Worcestershire
Size: 750 sq ft
Years retailing: 35
Years in the IAA: 5
Knowing which products to stock is key for any retailer, but failing to maintain full availability of them will have a severe impact on profits. The IAA's
Tom Gockelen-Kozlowski
visited Kate Clark's store in Upton-upon-Severn with Imperial Tobacco's Michael Lockhart to discuss how retailers can get availability right.
Kate's challenge:
Availability is challenging enough when your customers have regular buying habits, but the tourist season and customers' preference for cheaper products means it's even harder to maintain in Kate's store.
IAA advice:
1. 

Try to ensure you have at least 96.5% availability across the store.

Kate worked hard with her Imperial Tobacco rep over recent months to improve availability of her cigarettes ahead of the display ban. "Kate started with a tobacco availability rate of 79% and she's now running at about 96.5%," says Michael.

This is a great performance, the benchmark level for the IAA, but that final few per cent represents just one or two brands out of stock, which Kate and her Imperial rep can now work on.

"It's about isolating the brand or brands where there are issues and then looking to see if that product is in growth or what other reasons there might be for it selling out," says Michael.

He says Kate's availability shows that she is ready for any challenges the display ban poses.
2. Keep shelves filled throughout the day.
Kate is proud of her support for local producers, but seasonal peaks in sales cause a challenge with availability. One of her favourite suppliers is luxury chocolatiers Hamil-tons, from the neighbouring county of Warwickshire. She has built a cabinet next to her counter purely for its choco-lates and drives to the supplier when she's running low.
With a summer rush expected imminently, Michael suggests Kate starts monitoring and recording sales data for her local produce too, which doesn't currently appear on EPoS reports.
This activity already helps her maintain availability in her core categories such as confectionery, snacks and
tobacco and could deliver higher availability for other lines too.
3. 

Train your staff to look for and avoid out of stocks.

Kate's store has recently received an award for being a top local employer, and apprentices are trained in all the skills needed for good store management. Michael suggests, therefore, that Kate delegates management of one of her newest additions, a hot dog counter, to one of her charges.

Products like hot dogs – which have only a short sales window but are bought for immediate consumption – present unique challenges to retailers.

With Kate's store seeing up to 75 sales per week, it is important to ensure that staff understand who is buying these snacks, and when, so that availability is consistently high.

Giving responsibility to a junior member of staff will also help give them confidence, Kate says.
What we learnt:
"Kate has a diverse range of customers and she clearly listens to what they say and knows what they want. I've been really impressed with Kate's commitment to her business, particularly availability. Her consistent level of high availability on tobacco is a reward for her hard work and the application of good stock management and ranging practices."
Michael Lockhart, Availability executive, Imperial Tobacco.
"Today has been very useful and it's always good to talk to people who can help you deal with current trends and better prepare for the future. One thing I've learned is that my team can play a big part in making our availability even better. It's really given me encouragement that I can make changes and hopefully get into the top 12 IAA stores this year. Working with suppliers is going to be key to this."
Kate Clark, Sean's News, Upton-upon-Severn.
Kate's action plan:
Work with tobacco reps to analyse sales figures, identify out of stocks and ensure 100% availability.

Record sales of local produce to identify patterns.

Delegate management of hot dog counter to ensure availability at key times of day.
Your action plan:
Go to

betterretailing.com/IAA

to download the free tools to improve your store

Complete the benchmarking form by

26 June

to enter the IAA and be in with a chance to receive a mystery shop visit

Download your free digital copy of the IAA's Retail Profit Guide.