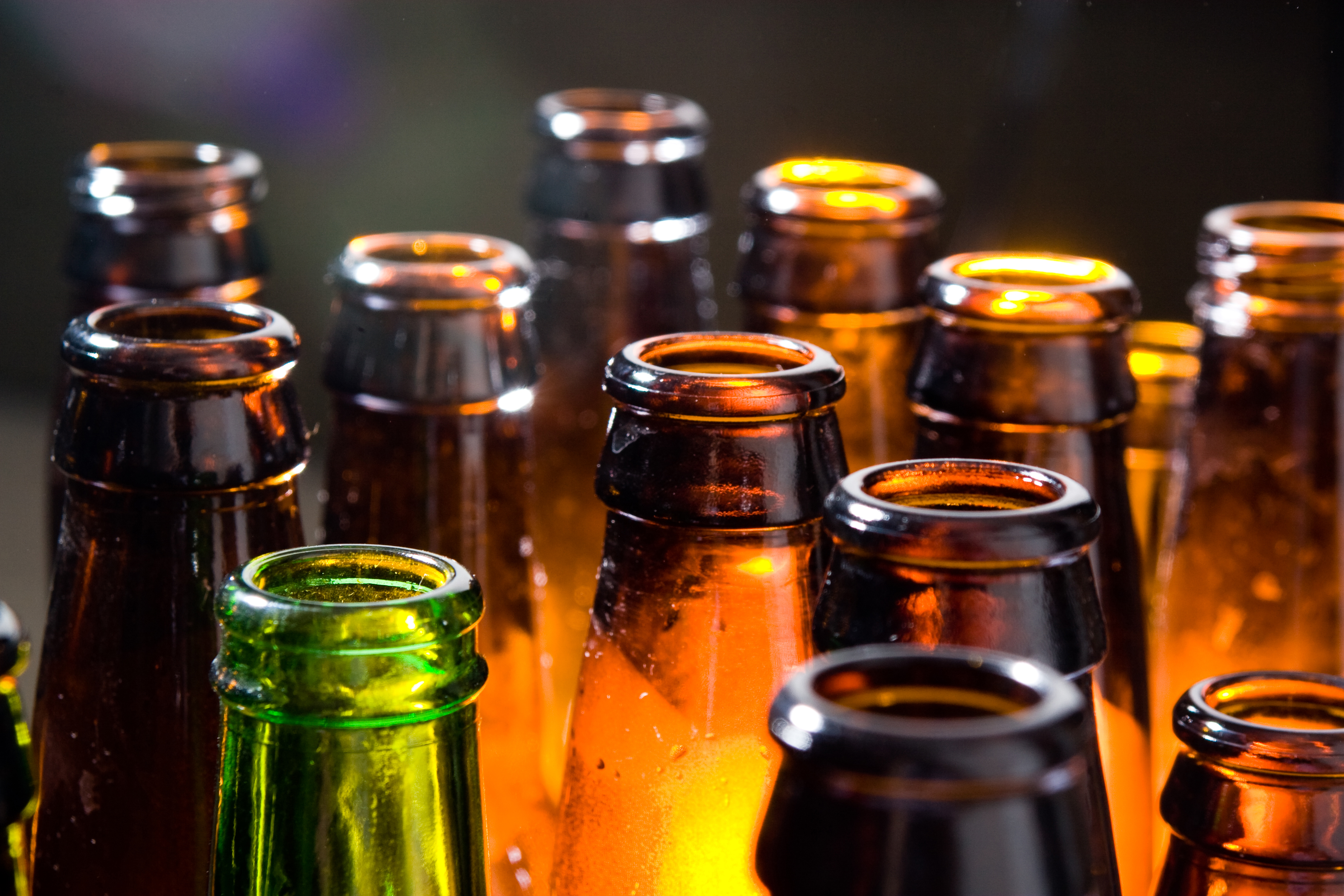 Comparing ale and stout prices
Our ales and stouts price comparison tools below will help ensure you make the most of this growing category.
Retailers have plenty of scope to increase profits on ales and stouts, with seven out of 12 lines sold higher than the most-common price by the majority of retailers.
Wychwood Hobgoblin Gold, for example, is being priced as high as £2.59 by 84% of retailers – a 92p increase on its most-common price of £1.67. Similarly, 59% are pricing Badger Fursty Ferret as high as £2.79. This presents a key opportunity for the 40% charging the most-common price of £2.29 to drive profits by reviewing their prices.
Shoppers are more price-conscious when it comes to well-known brands, though. 94% of retailers are selling Guinness Original four-pack at the most-common price of £6.29, while 90% of retailers charge £1.99 on Guinness Foreign Extra Stout. There could be some potential to increase profits, with 5% pricing as high as £6.50 on Guinness Original four-pack.
Ales & stouts profit checker
Guinness Original Stout 4.2% 4x500ml Price distribution %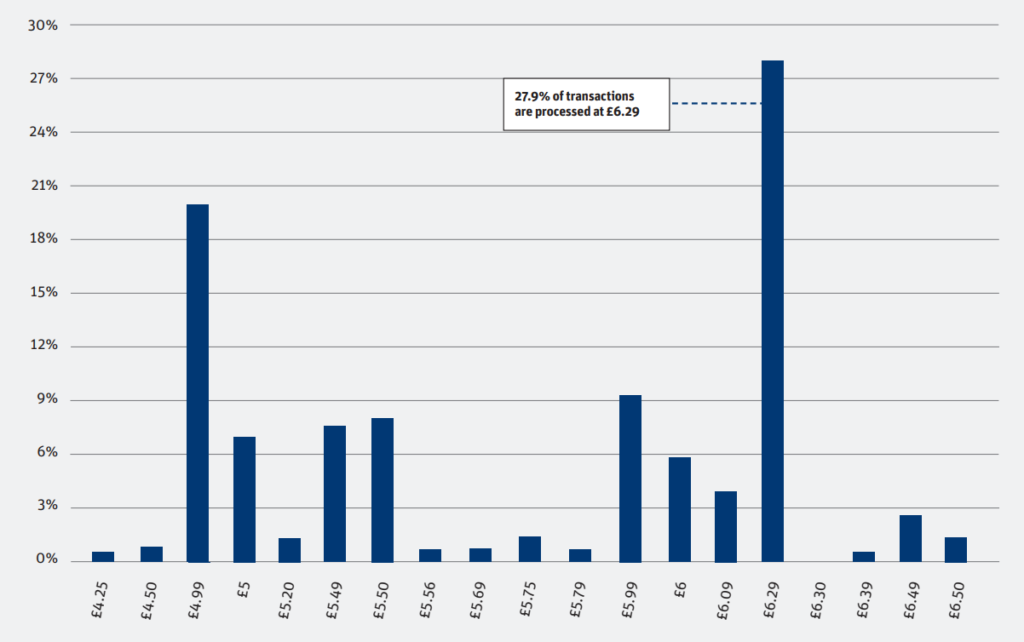 Must-stock ale and stout products
Product name
Lowest
price
Most
common
price
Highest
price
Thwaites Wainwright Golden Ale Golden 4.1% 500ml
£1.55
£1.67
£2.50
Shepherd Neame Bishops Finger 5.4% 500ml
£1.58
£1.67
£2.59
Guinness Foreign Extra Stout 7.5% 330ml
£1.49
£1.99
£2
Shipyard American Ipa 5% 500ml
£1.62
£2.29
£2.50
Guinness Original Stout 4.2% 4x500ml
£4.25
£6.29
£6.50
Newcastle Brown 4.7% 500ml
£1.67
£2.49
£2.89
Fuller's London Pride 4.7% 500ml
£1.62
£1.67
£2.69
Wychwood Hobgoblin Gold 4.5% 500ml
£1.51
£1.67
£2.59
Adnams Ghost Ship Pale Ale 4.5% 500ml
£1.55
£1.67
£2.69
Greene King Abbot Ale 5% 500ml
£1.62
£1.67
£2.69
Morland Old Speckled Hen 5% 500ml
£1.62
£1.67
£2.79
Badger Fursty Ferret 4.4% 500ml
£1.54
£2.29
£2.79
Price distribution chart
Percentage of stores selling ales and stouts above, below and at the most common retail price: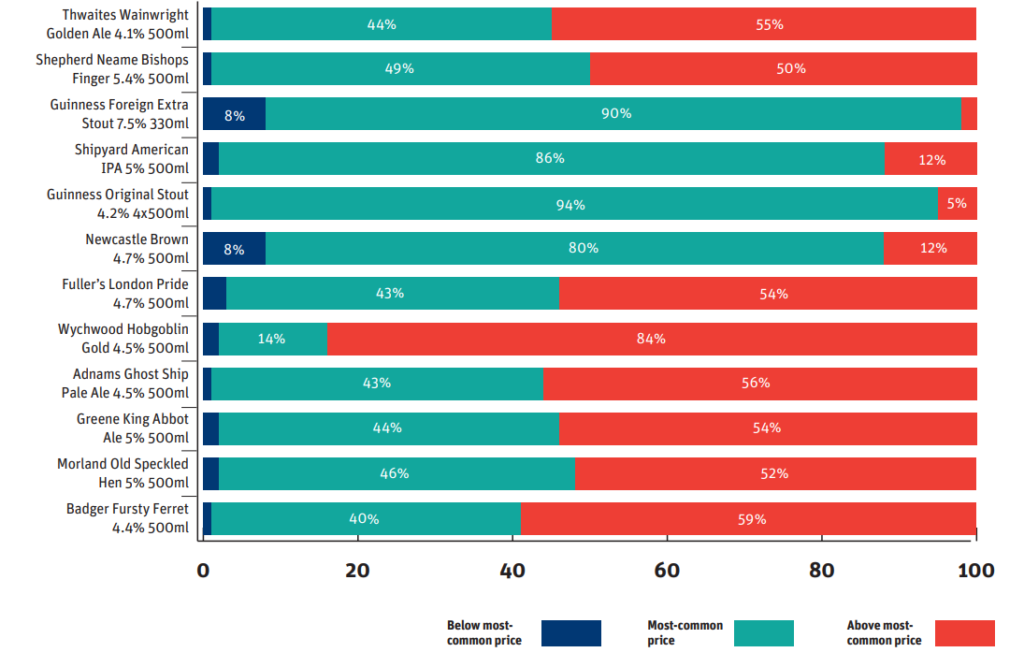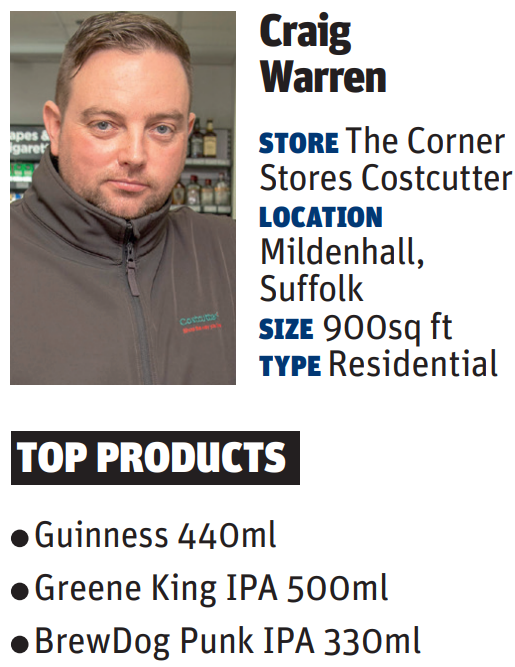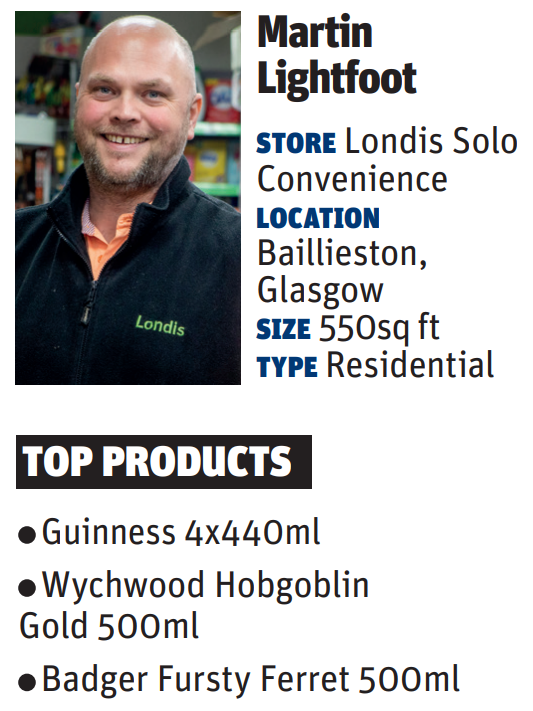 "We don't have a massive range because we don't have a huge amount of space. The traditional stout seller is Guinness, and we have traditional ales such as Greene King IPA and Abbot Ale.
"We're in Mildenhall, which is only 10 minutes from Bury St Edmunds, where Greene King brewery is, so that and Abbot are as local as it gets. As far as craft ales go, we've got BrewDog Punk IPA and a couple of others.
"We keep traditional ales ambient. The people that go for them would probably drink them at an ambient temperature, but craft ales go in the chiller."
"It's not a vast selection – we've got six or seven lines on an ambient shelf. It doesn't really justify going in the fridge. For us in the east end of Glasgow, it doesn't seem the most important thing.
"We don't have the space or appetite for local suppliers. Guinness and McEwan's are the go-tos in the fridge.
"The size of our store doesn't suit a big range, but it's probably like how gin has grown in the past few years – you could have a bigger section that people would come in specifically for, but it's about giving it the space and the time."
Read more Pricewatch and get expert product price comparison analysis and retailer insight on all the key products in your store

Data supplied by the Retail Data Partnership, a specialist data and EPoS supplier committed to serving the independent retail sector