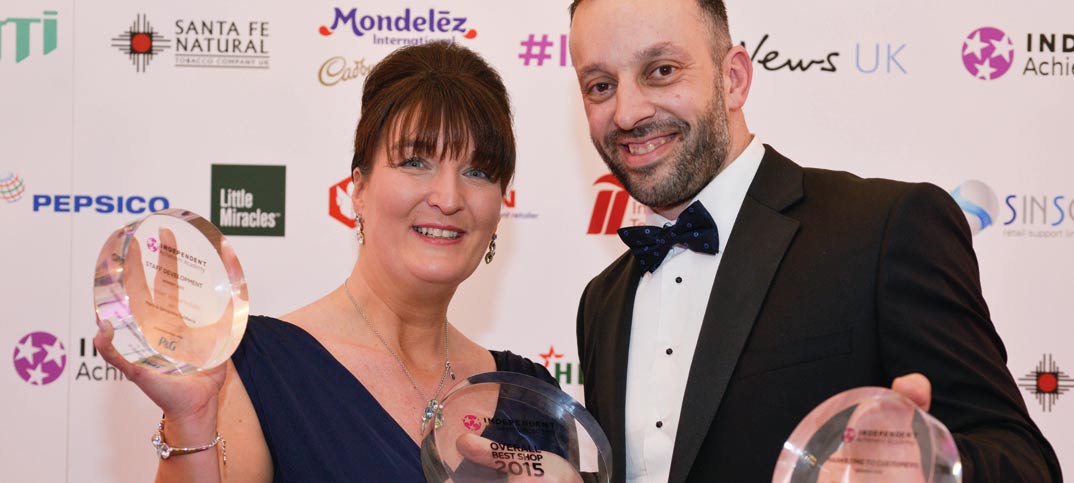 Back in March, I interviewed Mark and Samantha Coldbeck on stage at the Independent Achievers Academy launch event and they told us about the journey they've been on with it.
In 2012, they didn't enter because they didn't think their store was good enough, they said, but they identified a number of areas to work on. In 2013, after receiving positive feedback from suppliers, they entered and made the UK top 100 stores list. Again, they picked a few new areas to work on over the next 12 months. In 2014, they were finalists in two categories and won the availability award.
The Academy isn't just a chance to be part of a club and receive feedback about how your store could be even better, they told the launch event, customers love you being a part of it too, and check on the progress you're making. But what are you looking to get by taking part again in 2015, I asked them. Ramesh Shingadia's Overall Best Shop award, they replied. On Monday night, in front of 330 industry peers, they achieved their goal.
Mark and Samantha's drive and passion came across prominently in their entry form
When the judges were picking our winners, Mark and Samantha's drive and passion came across prominently in their entry form, which captured what's brilliant about their shop and the energy their team puts into everything it does.
It also captures what IAA stands for: raising standards and driving the industry forward at a time of massive change, while giving stores the tools, ideas and confidence to thrive.
Next week's special report contains 39 tips from this year's winners. Use them to grow your business and work towards becoming a future Academy winner.
Be part of an excellent team – subscribe to Retail Newsagent and get the best industry advice and support available to independent retailers
Comments
This article doesn't have any comments yet, be the first!
Become a Member to comment
Register to comment and get exclusive content and subscribe to the online and print versions of Retail News.
Become a member