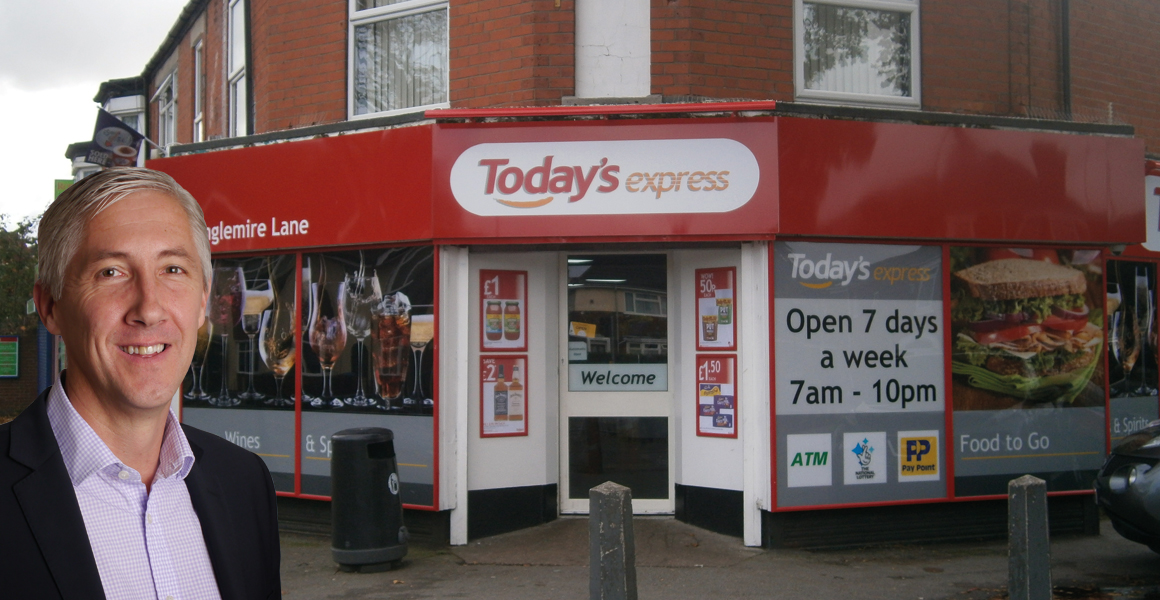 The new Today's managing director talks growth opportunities, Palmer & Harvey and his plan for 2018 with Tom Gockelen-Kozlowski
"The Today's Group grew by 4% last year and, outside of tobacco, it's growing again this year. In an area of the market where you almost get fatigued by questions about what Tesco is doing, what Amazon is doing and who's buying who, there's actually growth if you do the job right and you keep it simple."
Darren Goldney, Today's new managing director, has been in charge a little over three weeks when RN sits down with him at the group's Doncaster headquarters.
In that time, the CMA has given an effective green light to the Tesco-Booker merger, Co-op has joined forces with Nisa and Costcutter and the industry goliath Palmer & Harvey has been put into administration. As he observes, history has suddenly begun to move very quickly.
Recent events have only further highlighted the responsibility of Mr Goldney's new role: in testing times a group such as Today's needs to prove to consumers and retailers that the independent channel really can meet the needs of a modern convenience operation.
As he says: "Retailers should make the choice to work with Today's, but only if we continue to offer everything a corporate giant can do."
Mr Goldney's CV is an impressive one and, he believes, equips him with the necessary skills to meet the challenge. He began his career working in a cash and carry more than two decades ago, but has been a director at Coca-Cola Enterprises and Whitworths. Most recently, he held the position of commercial director at Palmer & Harvey (more of which later) and is planning to use this experience to guide Today's towards what he strongly believes is a brighter future for independent retailers and wholesalers alike.
The first part in this plan is finding new sales. With higher running costs for the industry and increased pressure on price, Mr Goldney sees sales growth as the major opportunity in an era of rising costs. "Ultimately, wholesalers are often working on a net margin of less than 1%, so scale is what makes them profitable. We've still got a growing population and, as long as we can make sure we don't deflate the volume that's in there, if we can do a better job for consumers there's enough value for everyone to have their share."
Getting that share won't be easy however and Today's' vision for 2018 and beyond is based on making tangible improvements to the operations of its 147 wholesaler members and their retailer customers.
On the operations side, Mr Goldney believes working with wholesalers to make retailers' lives easier and cut in-store staff costs while using its buying power to negotiate down utility costs and card charges is essential.
"It's about offering delivery, click and collect, very efficiently laid-out cash and carries to minimise the time retailers are in there. It's also about working with suppliers on shelf-ready packaging, for example. Then on the other side, what could we do about bills and costs? Maybe we can use our £5.7bn of negotiating power to look beyond FMCG suppliers to think about how we can save retailers hundreds of pounds on gas, electricity and credit card charges."
Elsewhere, Mr Goldney sees Today's' upcoming launch of a new data platform as being a crucial element to the company's future success. Linking in-store EPoS data to that of individual wholesalers, Today's and suppliers, the platform is designed to give a "seamless" picture of what is going on in the supply chain. "We already have 15 suppliers subscribed and we have some significant members who are on board. We can only see that growing to include our broader wholesale colleagues."
It's what Today's then does with this information which Mr Goldney believes will be key: "With data comes the obligation to provide solutions. If data shows there's a gap in one store, for example, can we provide the solution of how we're going to fill that gap? That could be a process of allocating products out from a wholesaler to fill it or it could be a live vouchering system for retailers. It's about turning our insight into action."
The big opportunity for many Today's wholesalers – and what will really convince retailers that the independent channel is keeping up – is improving on growth categories such as fresh, food to go and chilled.
"Chilled is the second biggest category in convenience and it's an area we've got to focus on. If you were talking about Savage & Whitten in Northern Ireland or United Wholesale in Glasgow, these are businesses which have invested significantly to be able to take a greater range of fresh, chilled and frozen. Other members haven't had that and we partner with Nisa Chilled and Fresh to Store, to provide a tapestry of solutions. But one of my focuses for the end of 2017 and 2018 is how we improve on this because it's a growth area and that growth is going to continue."
That his former employer, Palmer & Harvey, has collapsed in the early days of his new role emphasises the responsibility Mr Goldney carries. The devastating consequences of when large wholesalers and buying groups don't keep up are all too clear.
While his first thoughts are for the colleagues involved – "ninety-nine percent of whom did nothing wrong" – Mr Goldney is also aware of the lessons that can be learned.
"Palmer & Harvey took its eye off the ball when it came to independents. Its business changed quite dramatically to a distribution-led company and it also changed to have quite an inflexible approach to independent retailers in terms of minimum order drops while delivery windows were also too broad."
Instead, his plan for Today's is a strong focus on independent retailers and he has already found a model he wants to repeat.
"I went to a Dee Bee branch in Grimsby and one of their Today's symbol customers, Mike Singh, had been Sainsbury's Local until recently. When I worked for suppliers, all I ever heard were stories of multiples taking over independents and doing a lot better. This guy had managed to operate the store more efficiently and had put a better proposition to customers thanks to pricemarking and promotions. The turnover went up substantially," he says.
"I came out of that with a spring in my step. The expertise of the retailers in the Today's Group can, in many ways, be better than the homogeneous offering some of the multiples offer. Our stores have the ability to stock locally-tailored ranges and services and have real community involvement."
Mr Goldney smiles: "You've got me going now. My big message, and the reason I'm excited, is there's a choice for independents and we need to help them make it. You can choose an increasingly corporate world where your competitor is now your supplier or you can choose a like-minded set of independent businesses who are focusing on being here in the next generation."
His job now is to make sure the latter, emotional, choice also makes business sense for retailers.