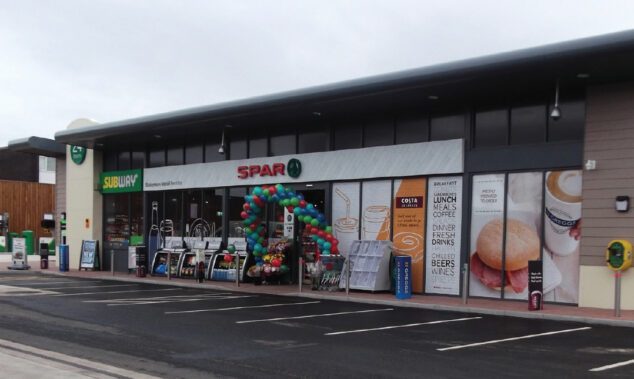 Spar UK is to invest £125m in store expansion as it has identified own label, value and home delivery as key growth areas.
Speaking at the symbol group's 'Winning Together' online conference last week, Spar UK strategy and operations director Lee Johnson said retail and wholesale sales for the four weeks ending March 28 had grown by 8.5% and 9.8%, respectively, compared with the same period in 2019.
The convenience chain also saw a 37% increase in average basket spend amid a 15.6% decrease in footfall.
"We've had 300 new store openings and refits over the year," said Johnson. "We're going to invest £125m during the year ahead in new builds, refits and improvements to refrigeration.
Spar launches first pop-up shop
"This will include £25m invested in improving the supply chain, IT capability, distribution, and bikes and vans for home delivery."
Spar UK head of brand Jamie Seymour revealed major own-label development plans as the company aims to increase the number of pence spent per £1 on own label from 24p to 35p in the next five years.
The strategy includes adding more than 300 own-label lines to each store and a major survey of existing and potential customers on the range.
Seymour added Spar is looking at opportunities to have entry-level and premium own-label products amid a review of its frozen, impulse, soft drinks and household range. Food to go, evening ready meals and confectionery were also highlighted as major areas for development. "We want the Spar brand to be more inclusive," said Seymour.
Spar Scotland rolls out new food-to-go brand CJ's
"We want to beat customers' expectations for range, taste performance and price. We want to cut out all costs that don't add value and enhance retailer margins."
The symbol group has launched a national advertising campaign focused on highlighting the affordability of its current own-label range.
Describing the marketing activity, Spar UK brand and marketing director Suzanne Dover said: "[We want to be] better at communicating who we are to customers and going from being just the local shop around the corner to being the preferred choice. [We want to go from being] perceived as being pricey to being worth the money."
Leading Spar retailer launches Rocket Eats diner concept
Spar International chief executive Tobias Wasmuht said the symbol group is also developing its home ordering apps to help "future- proof" stores against rapid home delivery companies such as Getir, Weezy and Gorillas.
He added: "Convenience is in growth and attention is coming from competitors such as Aldi Local and Sainsbury's Local. There's also an emergence of new startups, such as Weezy, Dija and Gorillas, which will be disruptive."
Read more Spar news