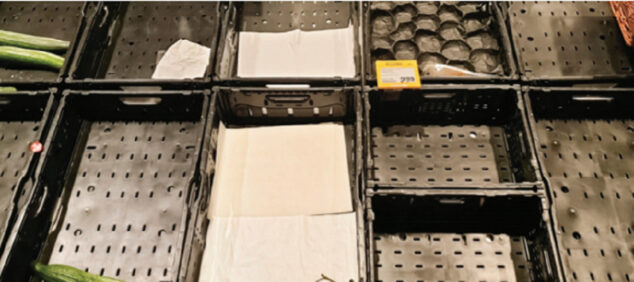 Retailers claim to have found nearby supermarkets with better availability of lines that they had been told were delisted, or had been short-stocked.
Last month, Nisa and the Co-op were criticised by retailers who claimed own-label availability was greater in nearby Co-op stores, despite being told otherwise.
Posting on social media, one store owner said: "What do you do when your partner Nisa tells you that certain Co-op lines will be delisted due to the supplier having production issues? You believe [them] because they are your partner, and you trust them.
"So, what happens when you go into a Co-op store and find your partner Nisa has been lying to you?"
The post was accompanied by pictures of chilled products, such as cooked beef, cooked ham, and corned beef.
Nisa hit hardest by UK driver shortage
Other retailers have reported similar issues.
One senior source said some stores in the Nisa supply chain were receiving up to 60% availability.
They had seen products in Co-op stores they were told had been delisted by the supplier.
One Nisa retailer, who asked not to be named, said: "The issue is that it's regionalised and there might be some regional Co-op groups that might be doing better, and might be holding extra stock because they did some forecasting.
"I've seen lots of Co-ops that haven't had great stock, but others that have been really good. I know some Co-op managers have been complaining about Nisa stock levels."
Similar issues have been reported by Booker customers.
Warburtons suffers delivery failures due to driver shortages
One retailer claimed availability in a nearby Tesco store was greater on lines they had seen restrictions placed on.
However, betterRetailing understands Booker and Tesco share different supply chains, and customer limits were unrelated to Tesco, with the wholesaler working to ensure its retailers have availability.
The issues experienced by retailers reflect similar challenges at the start of the pandemic in April last year. Major suppliers had then been accused of restricting supply to independent convenience stores to protect availability in the supermarkets.
Commenting on the issues, a Nisa spokesperson said: "The whole of the UK is experiencing supply issues caused by driver shortages and the 'pingdemic'.
"Nisa and Co-op have independent supply chains, and we are focused on ensuring Nisa partners have the best possible availability in these difficult circumstances."
Read more symbol group news