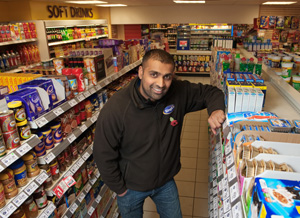 At the recent Independent Achievers Academy awards evening one of my family's stores, Singh's Premier  at Herries Road, Sheffield was one of the winning businesses. My parents started the family business with a shop at 286, Teynham Road that was in 1988 when I was 10 so you could say that becoming a retailer was a natural extension of my childhood. Like my twin brothers Baljeet and Vrinder I was fortunate enough to go to university and gain a degree. I graduated from Sheffield Hallam with a 2:1 in Business Studies.
Since then we have added 2 more shops to our growing chain. The first in Fairley Road, Sheffield in 2004 and the next one in Herries Road in 2008. All three store are trading under our personalisation of Booker's Premier facia. Beyond the family owned stores there are 4 more independently owned stores that trade under the Singh's Premier brand and to our standards across their stores.
I describe our style of retailing as Local Convenience with a passionate focus on the communities that our stores serve. Customers who use our Tenyham Road store are mainly from the housing estate that surounds us. With a near by school we have a significant rush of children both morning and afternoon, but there is also a good level of local and passing trade. We support the community in many ways such as our sponsorship of 7 local football teams. We also have a community panel chosen from our customers that decides how to distribute the £1,000 a year that we donate for local good causes.
Our local approach extents to how we look out for people in our community. With the darker mornings we recently advised one of our older female customers to delay her shopping time so that she would not be out in the dark risking her personal safety. Her son made a point of coming in to see us to personally thank us for taking the time to notice his mother.
Our top sellers reflect our customer base with Euro Shopper Energy Drink  being our number one followed by, Euro Shopper Isotonic Sports drink and Carling Black Label. We promote our business strongly with house to house leafleting, a loyalty smart card and some very unique offers. We  have great support from Booker with a relationship that started from when they took over Nurdin & Peacock. My family and I were, of course delighted to receive the recognition of the Marketing to Customers award at the IAA Gala Dinner.
Mandeep Singh