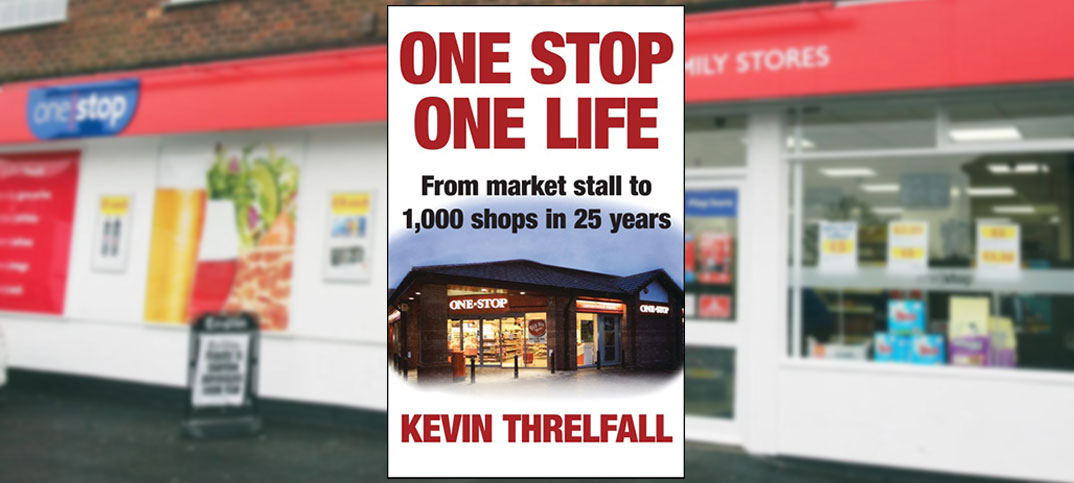 This is a story about how one man started out with a market stall – and 25 years later sold his chain of 1,000 shops for more than £500m to Tesco. But Kevin Threlfall's book One Stop One Life is more remarkable than that.
Any modern convenience store operator wanting to learn about business should read Threlfall's remarkable life story. You will pick up some neat ideas about how to exploit loopholes and spot profit opportunities. But mostly you will just pick up his zest for life.
Threlfall's parents had a knack for sales, and after his dad opened a cut-price market stall in the 1950s they had enough money to pay for him to get a good education. Knowing how much money could be made from market stalls, he went into partnership with his dad, selling special offers and top-up shopping.
In competition with the supermarkets, Threlfall made a list of all the "must-buy items" and priced them lower, sometimes making as little as a penny per pack.
"In being cheapest on known value items we had a marketing edge. People knew we were the cheapest on everyday necessities and they assumed therefore we were the cheapest on everything else. But of course that was not true."
The trick was to upsell. After the customer had bought the basics, they would ask, "Now, are you sure you haven't forgotten anything?" and there was always something they could tempt customers with.
Threlfall didn't stop there. He worked out how to get the best deals from cash & carries and how to exploit loopholes in tax laws. Wiser businessmen admired his skills and Ralph Feeney of J&F cash & carry backed him to launch a Lo-Cost discount store, which developed into a chain with sales reaching £12m in 1976 on a wafer-thin 2.5% profit margin.
The partners sold out in the face of a price war launched by Tesco, which effectively stopped the discounters in their tracks. Threlfall's analysis of the big economic picture is one of the strengths of this book. His skill helped him to switch strategy.
He was back with a cut-price tobacco outlet in 1978 with a 3% margin, out of which the business had to pay all its expenses. To make this work you have to get your sums right and find the right sites. Threlfall used a measure invented by Ray Ridgley, a former Lo-Cost partner.
"He counted the number of people passing the potential site over a period of five minutes on a busy weekend lunchtime. For some reason 100 people would equate to £10,000 per week (of tobacco sales), 150 £15,000 and so on." Confectionery tended to work out at about 15% of tobacco sales.
Site selection was absolutely critical, meaning he turned down far more sites than he took on. The business grew rapidly. He listed it on the stock market, bought talent and more shops. He moved into convenience. Then, in 2002, he saw Tesco investing in convenience and he decided the time was right to sell out.
Plain speaking and modest, Threlfall writes about his life journey, the friends he has made and how generosity unlocks business success. If you can't get 50 ideas to make your life better out of this book, then you are not really trying. An unmissable read. Put it on your Christmas list.
One Stop One Life by Kevin Threlfall is available to buy on Amazon