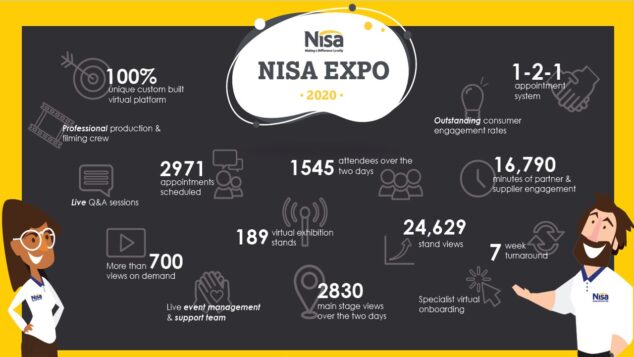 Nisa retailers can now register for the 2021 annual trade show. The virtual event will take place on September 28-29.
The wholesaler hopes that the event will build on the success of the 2020 expo, providing opportunities to interact, grow, and receive advice from suppliers.
Event manager Jenny Potts said: "Our first virtual event last year was a great success and this year it will be bigger and better with more opportunities for engagement with suppliers as well as Nisa and Co-op colleagues."
The event includes the return of the Co-op led category talks alongside exclusive on the day promotions, networking opportunities and the annual awards ceremony.
Nisa Live strategy event unveiled as end of share incentive to stay with group nears
Nisa has also opted to extend the one-to-one appointments with suppliers and Nisa colleagues this year, to allow time for more conversation.
Potts added: "We felt it was important to improve and in new features to the 2021 show, based on feedback and learnings from last year and so we hope our partners and suppliers will like what we've done."
A chance to participate in Nisa and supplier initiatives, which Nisa believes will assist partners in generating incremental growth is an additional feature of the exhibition.
To avoid delays, Nisa has ensured that all technical elements can be tested in advance, and partners will be asked to participate in live voting for some of the yearly awards categories.
Read more Nisa news