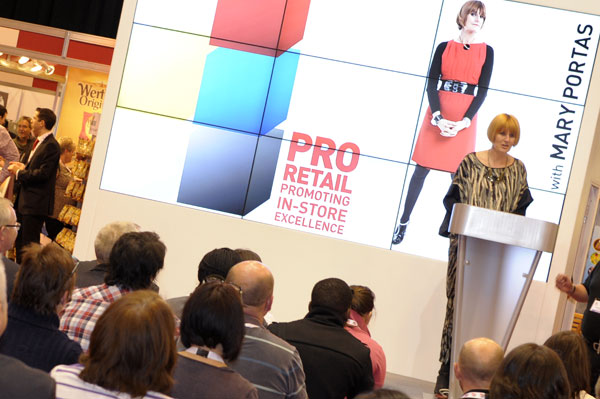 One of the biggest successes at this week's Pro-retail show 2012 was the inclusion of a local suppliers 'village', where 100 really good niche producers showed off their wares and asked retailers to vote for their favourite.  Among the tasty nosh on offer was bespoke chocolate handmade in north London, biltong from the Isle of Man (where there are no abattoirs apparently), a cross between cheddar and parmesan cheese, wonderful cranberry and tomato relishes and beautifully baked bread.
Palmer and Harvey, the wholesaler behind the trade show, is promising to offer a national listing to the winning supplier who gets the most votes, giving them their big break and putting their goods into c-stores across the UK.
During the day retail queen in residence Mary Portas gave her backing to independent shops looking to offer niche, 'sexy' products, and said this would be an important part of the jigsaw puzzle for small retailers in the future.
"I genuinely think local products can work in convenience stores," she told the waiting press pack on Wednesday morning.
"Those gorgeous organic delicatessens you get in Hampstead are not going to work in Doncaster. But local products can work as a percentage of what you put into a shop in Doncaster alongside branded foods. You can highlight these products. The supermarkets will start to do it because they want to be seen as having the bespoke, slightly sexy products."
This assessment, while perhaps a little presumptuous in its attitude toward Doncaster, has a grain of truth in it. While most customers won't necessarily be looking to buy the most extravagant products available all of the time, surely there's a case for giving them the option to buy a treat.
With the announcement the we are now 'officially' in a double dip recession, and with consumers inevitably cutting back on holidays to extravagant foreign climes, they might well look to simpler, home grown treats – and what better way to do keep the economic misery at bay than by enjoying the likes of Diana David's chocolates (lovingly handmade in Hornsey), Bookham's cheese and butter, Peppersmith mints or even a nice posh beefy sausage from the Isle of Man.
*
Thought for the day: does anyone else think there's scope to catch the mood of the nation with a 'Double Dip' ice cream recession lolly?