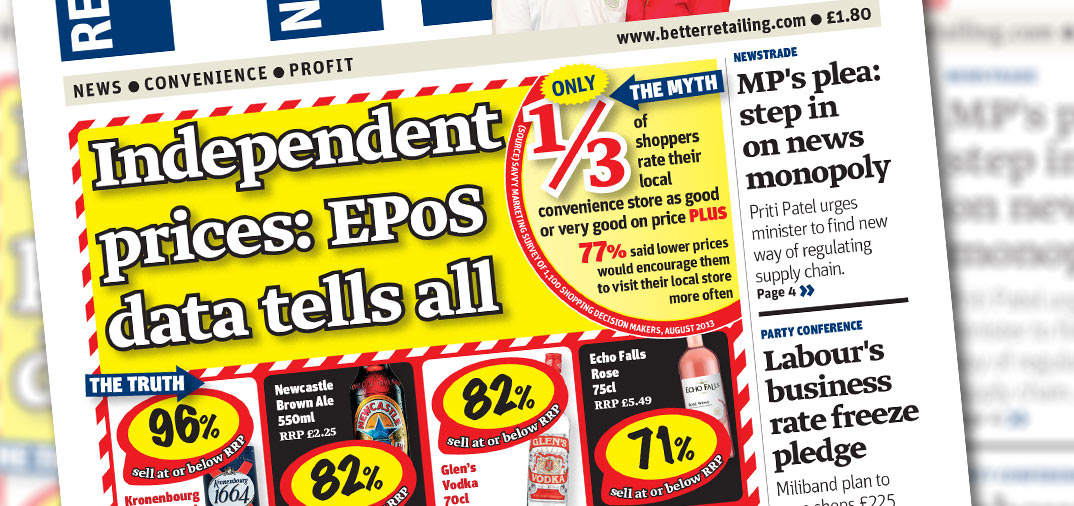 It's a commonly held view that independent squeeze every penny they can out of their customers. It's why you work so hard to benchmark your prices against your competitors.
But this week I was looking through issues of RN and it slapped me round the face: it's not true. Every issue features evidence that local shops aren't overpricing their stock in the bar chart at the bottom left of our weekly Pricewatch feature.
Independent stores prices – the truth
Kronenbourg 1664 500ml
96% sell at/below £1.59 RRP
Newcastle Brown Ale 550ml
82% sell at/below £2.25 RRP
Glen's Vodka 70cl
82% sell at/below the £11.99 RRP
Echo Falls Rose 75cl
71% sell at/below £5.49 RRP
Café Crème Blue 10s
69% sell at/below £4.77 RRP
Magnum Classic
63% sell at/below £1.60 RRP
Red Bull 250ml
61% sell at/below £1.35 RRP
Princes Corned Beef
340g 60% sell at/below £2.69 RRP
Dolmio Bolognese Sauce
59% sell at/below £1.99 RRP
Independents are most competitive on alcohol. Last week, we showed that 96% of retailers sell Kronenbourg 1664 at or below the RRP. Previously we've highlighted 83% sell Blossom Hill wine at or below RRP. Alcohol is a high cash value category, a big footfall driver and the area most affected by supermarket discounting.
Alternatively, confectionery is where c-stores are most expensive. This week's table shows only 26% of retailers sell Snickers at or below RRP. In the most extreme case, just 3% of retailers sell Twirl at or below RRP. It's an impulse product and an opportunity to make up margin.
The majority of independents undercharge on everything from Café Crème cigars and Magnum ice cream to Red Bull and Dolmio bolognese sauce.
This is likely to depend on the area shops trade in and the need to remain competitive, but many retailers may not even know the correct RRPs for their stock. This is where EPoS is useful for identifying low-margin products and goods being sold below the recommended price.
But the best tool is already in your hands. Use Pricewatch each week to ensure you're getting maximum value from your stock and the right balance of volume and value from your sales.