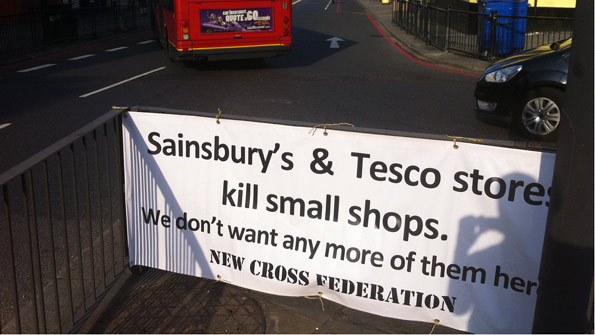 London City Retailer Murkesh Patel has recently seen his sales dive by 15-20%. This he attributes to the ongoing protest at St Paul's Cathedral nearby. Although this is a very unique reason for a downturn in sales it is not uncommon for an external factor to have a heavy impact on your business. The most common example of this is when a multiple opens up one of its convenience branded stores near by.
So what can the independent retailer do when faced with external pressures over which they have no control? There are two options you can follow if you find yourself in this position
Adapt and diversify your  business and focus on what independents can do that larger corporations can't.
Confront these external pressures head on and try to take the fight to them.
Nigel Botterelli argues in the Independent that 'as a business owner, you are 100% responsible for what happens to your business.'  While this message doesn't fully take into account all the circumstances of a businesses success or failure, the tough stance does provide some interesting points on how you can improve.  The fact is that in these tough economic times you need to use every opportunity possible to your advantage.  One of the biggest advantages that local businesses have over large corporations is the ability to offer a much higher, more personalised level of customer service. Get to know your customers and find out what they want and how you can help them, that way you can build up a much stronger relationship with them than they would get at the nearest supermarket.
Alongside websites like betterRetailing aimed at helping you energise your business, it is amazing how many freely available tools there are online that you can use. Wherever possible take advantage of social media and tools such as Google Places geo-tags your business so that tech savvy customers can more easily find it.
Let's say that you are already taking the most of every opportunity you have to adapt and diversify your business for success but you're still struggling. Is Option 2 possible? Can David take the fight to Goliath? This is a very testing position to take and may be difficult to achieve concrete goals but it is still worth noting that making your voice heard is a worthwhile pursuit.
With the news that Sainsbury's plans to open more stores in the area, local residents in New Cross, south east London have formed a campaign group to fight against the dominance of big multiples and their effect on local shops. Since the summer the New Cross Federation has staged a number of demos in protest at the proposals that would see the third convenience supermarket open in the area in as many years.
Chris Boddington, Chair of the Federation, argues that there is a difference between a free market and a fair market where people are on a level playing field.
"A company like Sainsbury's has a thousand times the buying power of an independent shop. It is well known, for example, that the big supermarkets dictate prices to farmers. While there is always room for improvement among local businesses, my own included (and we're not resting on our laurels) there's no way that 'raising your game' can put you on an equal footing with a giant corporation."
Whatever you choose to do to try and improve your business, whether that's taking on the multiples directly or adapting to make yourselves different and more appealing, the most important thing is to try and fully understand the position your in.  Only then can you take steps to improve it