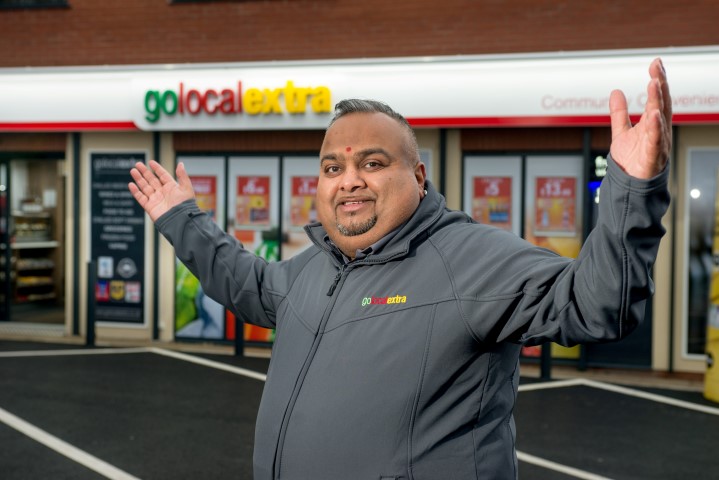 Parfetts has launched its debut Go Local 'concept store' in Rochdale, the wholesaler's first to have a new food-to-go design and dedicated space for vaping products.
The 1,300sq ft shop in Rochdale opened in February and is managed by store owner Sasi Patel, who also manages another store under the Go Local fascia.
It is also the first Go Local store to have a backlit shelving unit for spirits and wines. The site is brand new and Stockport-based Parfetts worked closely with Patel on its design and range.
The Premier League football trophy was displayed at the store launch, alongside football-related raffles and giveaways. Suppliers Coca-Cola and Budweiser supported the launch.
Patel, who moved Parfetts from Bargain Booze in March 2019, said: "It was an easy choice to choose Parfetts and Go Local for our next store.
Parfetts promotes Guy Swindell to retail director
"We have seen strong trading since we moved our first store to Go Local in March, where gross margin has increased over 8%. The development process of this store has been a true partnership. Parfetts was absolutely instrumental from store design to marketing. The brand new backlit spirits and wine solution looks great, and I'm sure it will prove popular with customers.

"Working with Parfetts is easy. We have complete flexibility in promotions, free delivery, and great value. The support goes beyond the day-to-day, with central contracts that help us operate more efficiently and profitably."
Parfetts retail director Guy Swindell added: "We have worked in a close partnership with Sasi to develop the new store and everyone is pleased with the outcome. The new concept looks great and optimises the space with dedicated retail areas. Sasi is an ambitious and talented retailer, and we look forward to growing with him."
Patel was named Parfetts Retailer of the Year at the wholesaler's annual awards in February.
Fascia report: Is Go Local Extra the right fascia partner for your store?