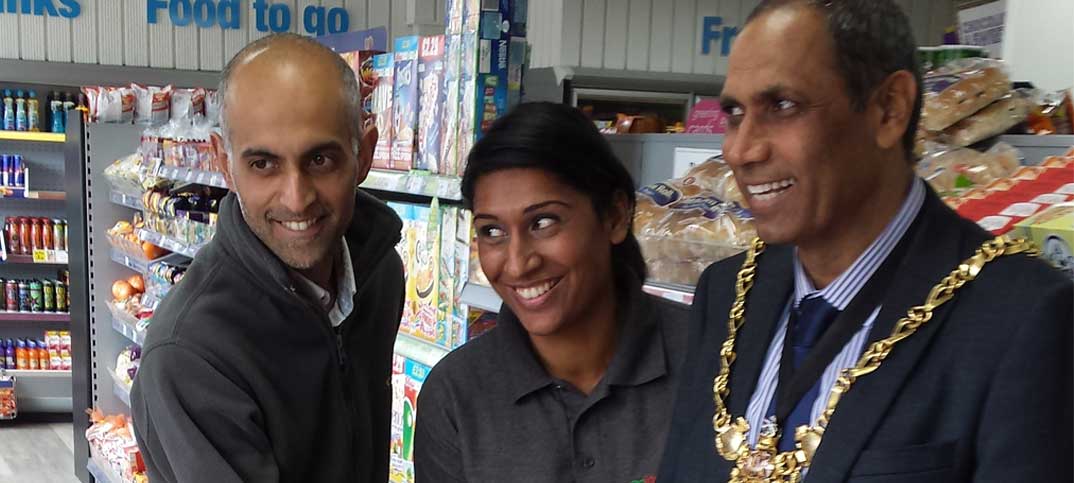 Jai and Mandeep Singh officially launched their larger, redeveloped store in Wheata Road, Sheffield last weekend.
The city's Lord Mayor, Councillor Talib Hussain was on hand to cut the ribbon. By the time the store was officially opened, a community street party was well under way to celebrate the event.
MJ's Go Local Extra is now the standout store in Wheata Road with big uncluttered windows giving people passing a welcoming view of what's on offer inside.
Across the width of the store there are stacks promotional products offering customers great value. To the right of the main door there is a feature digital screen, a whopping 75". It's BIG!
Jai and Mandeep have spent a lot of time on the detail of the new store from the floor to the ceiling. Their use of decking as pelmetting is imaginative and has been well executed by their builder, Brad. The high standard of his company's building and shop fitting is apparent across the store.
Every category has benefited from the extra space, but the big growth areas are alcohol, specifically beer, fresh & chilled and frozen. The new category area that the space allows is a 5 metre display of products at £1 from OTL.
Jai said: "My wife and I are delighted to have completed the development and are so grateful for the support we have had from Parfetts, the builder, shop fitter and our own staff. We are very happy with the new store, but know that the real task of making it work starts now."
This comment on the store's Facebook page from a happy customer says it all.
Follow Jai's store redevelopment journey from the very beginning in our special weekly series. Here's part 1.