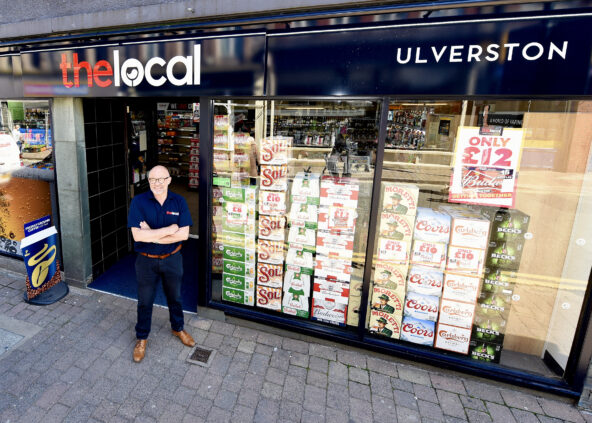 Parfetts has launched a new fascia targeted at retailers who want a smaller format off-licence.
Called The Local, the new fascia sits alongside the wholesaler's existing Go Local symbol group. The company has already converted Haydn Hicks's Bargain Booze in the Lake District and Sasi Patel's Go Local store in Bacup, Lancashire, to the Local brand.
Parfetts retail director Guy Swindell told betterRetailing the format will target sub 1,300sq ft stores and include a range of traditional canned lagers and more premium products such as gin and cocktails. In comparison, Parfetts's existing Go Local fascias focus on a convenience and food to go offering.
Swindell said: "We had a lot of enquiries from retailers previously who said they liked our range and promotions, but were reluctant to move away from an off-licence format. The Local format will allow us to target these retailers now. Haydn Hicks's newly converted store has been open since May and he's already seen his margin increase by 8%. There'll be some grocery products in Local stores, but they'll be predominantly focused on alcohol.
Parfetts capping alcohol orders due to "poor supplier availability"
"We've got a few stores in the pipeline we're aiming to convert to the brand. We can also take any lessons from the Local format and bring them over to our Go Local symbol group. We've got a summer of sport and many people will be able to entertain friends and family at their homes."
Commenting on his conversion, Hicks said: "Having been with Bargain Booze for 22 years, it was time for a change and a new challenge, where I felt I could bring out the benefits of independence that my customers will love. The Local is a great concept and has given me a new lease of life, along with an immediate increase in margin of 8%.

"I have my independence back and the flexibility to use my expertise to work with customers to give them what they want, responding to the latest tastes and trends popular in the drinks world. I'm developing relationships with local craft brewers, which means I'm introducing the communities I serve to premium quality, locally produced beers and spirits. A one size fits all approach to retailing is not a model that Parfetts subscribes to, and this allows independence to flourish."
In February, RN uncovered trademarks for the brand registered by Parfetts in late 2020. The full name registered was 'The Local Beers Wines Spirits'. The brand was previously used as an off-licence concession in some Go Local stores last year.
Read more symbol group news