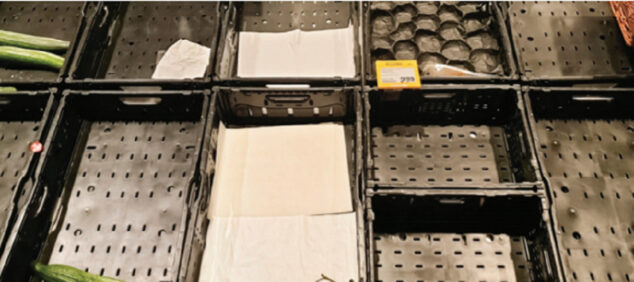 Pressure is growing on wholesalers and stores driven by a nationwide driver shortage with no end in sight.
Covid-19 and Brexit have been blamed for a reported shortfall of 70,000 lorry drivers, while the reopening of hospitality, the heatwave and Euro 2020 have added to the issue.
The Federation of Wholesale Distributors said the situation was at "crisis point" and called for the army's trained drivers to be put on standby.
Wholesalers continue to implement order caps to mitigate the impact, affecting availability for major promotions. Last week, Booker capped alcohol, soft drinks and impulse orders, with restrictions ranging from one-to-three cases per order depending on depot.
Blakemore also limited purchases on the same categories to four cases until further notice. A technical fault at Blakemore's frozen distribution centre meant all scheduled deliveries for 12 June were cancelled. A minimum order of 10 cases on frozen was also introduced.
Following similar issues, Nisa retailers claimed their chilled deliveries had been made on non-temperature-controlled vehicles.
However, Nisa denied these claims, assuring retailers it was using smaller temperature-controlled vehicles due to the driver crisis. Senior staff from Scottish wholesaler Filshill also took on deliveries to ease the pressure.
One store owner affected by Booker's caps told betterRetailing: "Heineken was running beer promotions for Euro 2020, but I can't fulfill it. This period would have been massive for my alcohol sales."
Londis retailers also reported unhappiness among their delivery drivers, causing concern this would lead to further strain. One retailer added: "My previous driver left for a supermarket because they were unhappy at Londis."
Retailers also criticised chilled wholesaler Eden Farm Hulleys for introducing a £5 delivery fee on orders less than £250. Minimum order spend was increased by £50 to £150, and some reported having deliveries cancelled altogether.
Supermarket shelves were also reportedly empty, as an employee from one major chain claimed messages from their head office warned of further strain.
The Scottish Wholesale Association urged retailers to be sympathetic following "disappointing levels of aggression" to wholesale staff.
Advising how to handle the crisis, one retailer told betterRetailing: "It goes back to how we handled the start of the pandemic. I went to the old way of retailing and put in the effort of visiting as many different wholesalers as I could. Where I couldn't get a product, I'd find the closest substitute."
A former head of in-store marketing at a major grocer added: "Customers don't know there's a wider issue, the buck stops with you to find a replacement or to explaining its a temporary outage, the cause and when your next delivery is due."
Read more symbol group news