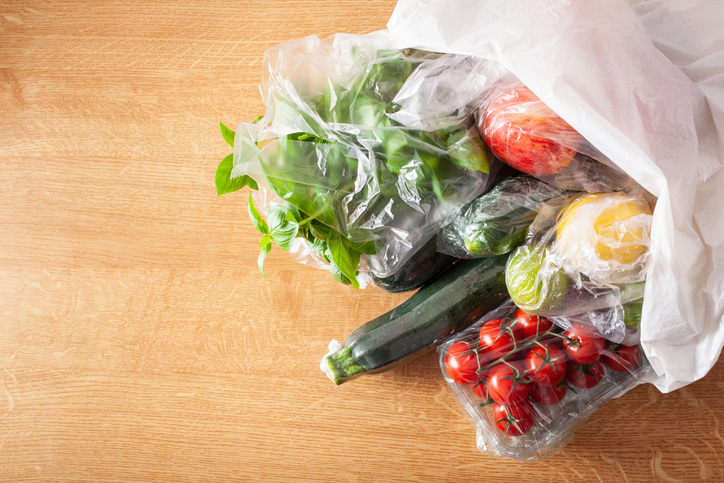 The havoc that Covid-19 has wreaked around the world has not left the convenience sector unscathed. Although lockdown was a time of increased sales for many, there have been other knock-on effects from coronavirus landing on our doorsteps.
For several years, environmental sustainability, and particularly reduction of plastic waste, was growing in importance in the sector, yet the impact of the virus has changed priorities.
It has already contributed to the Deposit Return Scheme (DRS) in Scotland being pushed back a year to 2022, and Edinburgh retailer Dennis Williams believes this is likely to be one of many sustainability schemes delayed or put on hold.
Other retailers have pointed out that shoppers are more concerned than previously about fresh items being left unwrapped, making it more difficult to avoid using single-use plastic.
One thing retailers are frank about is the convenience of plastic as a packaging and wrapping device. However, it's also clear that they and their customers are increasingly aware of the amount of plastic they are using.
Years before the environment became such a hot topic, Abdul Arain of Al-Amin, Cambridge was already leading the charge by visiting primary schools in his local area, teaching young people about the harm of plastic and how to look after the environment.
Nowadays, there are more products than ever before with environmentally friendly packaging and credentials. However, Williams believes these goods could have a clearer stamp or colour scheme that differentiates them from other produce.
With so many other things on retailers' minds, cutting plastic is not the priority it once was. Williams says perhaps this is an area in which suppliers can take the lead because ultimately they are the ones responsible for a lot of the packaging decisions.
Andrew Thornton's store empowers his staff to embrace plastic-free products
Loose vegetable solution
After noticing his customers were behaving nervously around the open fruit and vegetables section, Sunder Sandher, owner of One Stop working with Royals in Leamington Spa, quickly devised a solution to make them more comfortable.

"Shoppers were clearly not happy seeing it all out in the open on the shop floor, due to Covid-19 concerns, so I decided to purchase paper bags with a plastic film frontage so we could pre-package some of the goods," says Sandher.

"In this way we could keep the use of our plastic down and also provide as much protection as possible." The part-paper, part-plastic bags, which he also uses in his bakery section, were purchased at a nearby Booker cash and carry. Additionally, Sandher also recycles plastic in his store and tries to keep use of plastic to a minimum, regularly looking for new ways to cut it down where he can.
Suppliers' duty
The onus is on manufacturers and suppliers when it comes to reducing plastic packaging, according to Dennis Williams, owner of Premier Broadway Convenience Store in Edinburgh.
"Retailers don't have much say on how the products are packaged and delivered, but I think with people becoming more environmentally aware, suppliers will be looking into their use of plastic," says Williams.
Williams, who runs the store with his wife, Linda, recycles plastic and cellophane through Booker, and he says this has delivered a "massive benefit". However, he worries about the impact of Covid-19 on recycling initiatives.
"The introduction of DRS in Scotland has already been put back a year until 2022," he points out. Ahead of the curve on plastic bags, Williams introduced a 5p charge in 2005 and has been donating this money to local groups in the area.
Educating the community
The owner of Al-Amin Store in Cambridge, Abdul Arain, has been passionate about the environment for many years and embarked on an education scheme with local schools in 2008.
Practising what he preached, Arain is one of many retailers that brought in his own charge on plastic bags ahead of the government.
"In 2008, we gave 2,500 free canvas bags to the customers and then started charging them a few pennies for plastic bags with the money going to local charities," says Arain.
In store, Arain uses biodegradable paper bags for fruit, veg, breads and pastries, although admits they are not as durable as plastic.
"We supply multi-use containers for takeaway food and encourage customers to reuse them often," says Arain. "We also moved to wooden biodegradable forks, knives and spoons a year or two ago."
Ongoing battle
For Amrit Singh, of Nisa Local High Heath in Walsall, cutting plastic in store has been an ongoing project for a number of years.
"We've recently started selling paper instead of plastic straws," he explains. "If something comes packaged in plastic, we always try to find an alternative. But some things you can't help it, such as toilet rolls."
He and the team also do their best to educate customers and, where possible, encourage better habits.
"We have reusable bags, but people often forget to bring them," Singh explains. "We remind them, but, of course, there's only so much you can do. Or, say for example a shopper asks for a carrier bag just for a single bar of chocolate, we'll ask them if they really need the bag."
Looking ahead, Singh says that having a refill service on washing-up liquid is something he'd like to set up in the future.
Eco-slush
Atul Sodha, from Londis Peverills in Uxbridge, has decided to bring in special recyclable plastic cups for his new slush machine.
"In our minds, we do as much as we can," says Sodha. "We use recyclable packaging for our food to go, but we only use products that do the job."
He says unpackaged fruit and veg isn't right for his store because of its size and the fact that goods come pre-wrapped from Booker's Farm Fresh range.
Dana Burton's plastic-free shop gives her margins of 40%
Through the introduction of the 5p bag charge, Sodha saw the number of plastic bags used reduce from 1,000 to 250 a week, and he hopes the raise to 10p in 2021 will reduce it even further.
"Our delivery service took off over lockdown, so we started a system where we would charge £1.50 for a hessian bag and then pay back the customer when they returned it," says Sodha. "It helped to minimise extra plastic usage."
Five ideas to cut plastic in your store
Deliver lower plastic
If you've started a delivery service in the wake of Covid-19, why not do a bag return scheme on non-plastic bags (like hessian)? This will save on plastic bags, as well as reduce costs in the long run.
Wooden it be nice
If you have a food-to-go section, switch plastic spoons, forks and knives for wooden varieties.
Bag giveaway
Doing a giveaway on non-plastic bags could encourage your customers to make the switch and help them get used to using something other than a plastic carrier bag.
Team up with symbol groups and wholesalers
Speak to your symbol group and cash and carries to find out what recycling and plastic reduction initiatives they have available.
Meet in the middle
Paper bags with a plastic film front in your bakery could be a good compromise that lowers plastic usage, allows customers to see the product and reassures them on Covid-19 safety.
Explore more of our how-to guides for independent retailers