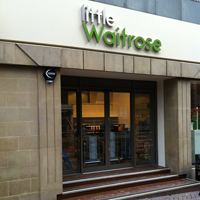 The John Lewis Partnership has parked this 'little Waitrose' convenience store, which opened last Thursday, just across the road from Marks & Spencer in the centre of Shrewsbury.
On the one hand, this shows that the big retailers in town centres are thinking about competing head-to-head and they assume that their competitors have sites with the best footfall. This may be helpful for independent retailers as they are left unscathed in areas where footfall does not meet the multiples' requirement.
On the other, it shows that the big retailers are deadly serious about competing for a bigger stake of the convenience market. Their intent grows. Justin King, head of Sainsbury's, has announced that he will take responsibility for its convenience business, which will be one of the areas where it will grow strongly in the future.
Mr King told the City last week that consumers were "managing their household budgets wisely and well" and this fits with its successful marketing strategies – such as Feed your family for a week for £50 – that demonstrate its strengths of affordability, freshness, quality and ingredients. However, as it makes 35p for every £10 of sales – compared to 55p for Morrisons and 63p for Tesco – independent retailers can see that the costs of investing in quality space and products might generate very slim returns.
Also announced earlier this month, Dalton Philips of Morrisons said opening hours would extend at most of its 440 stores which would now stay open until 9 or 10pm. This is clearly aimed at tapping into the convenience shopper who chooses to use a supermarket in the evening. Talking to one northern c-store owner last week, we agreed that we were surprised that any major grocer still closed at 7pm. A 'low hanging fruit' for Mr Philips, clearly.
Again, in its internal forecasts, Morrisons suggests that the longer opening hours will cover costs and perhaps do a little better. Like Sainsbury's, its move into convenience is not assumed to be offering better margins.
This demonstrates that the market is already very competitive, which many local store operators will already know. The good news is that independent retailers backed by good wholesalers are achieving good returns and sales growth. The bad news is that the multiples will continue to invest time and money in competing for the convenience shopper, which means local shops are going to have to work hard and long to stay ahead. The good news is that so many are still staying ahead.
But it would be wise to benchmark your operating profit against that of the supermarkets. Remember that their numbers are an integrated figure for both wholesale and retail. You will be sharing profit with a wholesale supplier.
Looking ahead, Charlie Mayfield, who heads the John Lewis Partnership, says that it is going to be "a long period of slow, stuttering growth punctuated by confidence moving up and down in response to events. Very different from the past 10 years when we've enjoyed sustained increase in consumption."
The shopper is not going to rescue anyone by spending more.