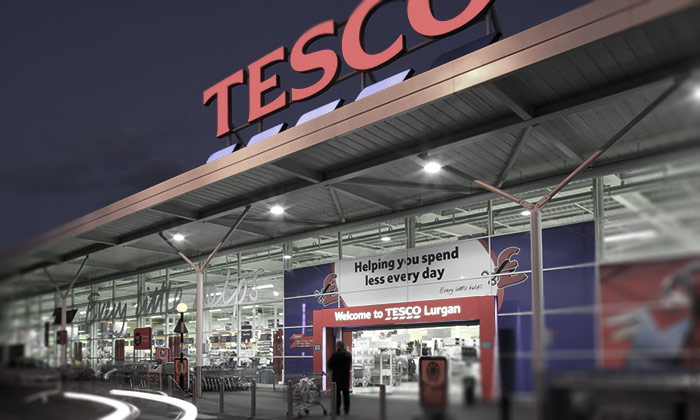 How Philip Clarke must have been hoping for an interesting Queen's Speech. He did not get one. Its absence meant Tesco's worst results in 40 years were the news. But don't kid yourself. Tesco is still a great business doing lots of things right.
On the front page of the Financial Times were three graphs showing how badly Tesco is doing:
Five quarters of no growth in UK like-for-like sales (down 3.8% in Q1 201)
2.0 per cent fall in market share since 2010 as measured by Kantar. Aldi is up 2.7%. Lidl 1.2%. Waitrose 1.1%.
Total shareholder return since March 2011 down 13.9%. Only Morrison is worse at down 16.9%.
The FT says Tesco's big stores are out of favour with consumers who are "switching to convenience stores, German discounters and online grocery shopping".
Analyst Bruno Monteyne of Bernstein told the paper that half of the like-for-like sales fall was driven by price cuts, better discipline in use of vouchers and store "disruption" (whatever that is).
The FT's Lex column for investors compares what is happening to when Tesco overtook Sainsbury almost 20 years ago to become top grocer in the UK. It accuses Tesco of tinkering and of "sitting on operating margins at the top end of the sector at close to 5%".
Jonathan Guthrie in the FT's Lombard column, which purports to set the agenda for London stock exchange listed business, compared Tesco's position with the decline of the Roman empire.
"Fighting discounters with targeted price cuts and investing in online deliveries are reasonable, though the cost of delivering groceries for a £1 charge must be eye-watering," he writes.
But the real problem is a lack of traction for Mr Clarke's turnaround strategies, says Guthrie..
The agony for Clarke doesn't stop there as the FT continues with a half page analysis to show:
Tesco's problem is it has lost its emotional connection with the customer, says HSBC analyst Dave McCarthy
The problems started because of Sir Terry Leahy's "ill-fated" move to launch Fresh & Easy in the US. This held back the UK business for five years and allowed competitors to regroup
Tesco failed to launch a big enough price war five years ago [promoted heavily by McCarthy in analyst briefing after briefing at the time] and allowed the discounters to gain "traction". Action today, McCarthy says, will be more expensive for Tesco.
Everywhere in the US, Europe and the UK shoppers are shopping more frequently and closer to home. Or online. Or from discounters.
And analyst Clive Black of Shore Capital, who five years ago was a big fan of Tesco's strategy unlike McCarthy, says its prices today remain too high.
But Clarke says: "Price is an important part of the the story but it is not the only story."
Local retailers should think about all these facts. Tesco still wins £1 in every £8 spent in retail by UK shoppers. It sets the agenda for your business and for your suppliers businesses. It remains a great business.
What are the other stories not told above that you should think about.
Firstly, the Aldi discount model (copied by Lidl) is based on selling a narrow range of products at very low prices. It is not possible for Tesco to compete head on with them and to hit its profit targets and to invest in things like delivery for £1. Not possible at all. You may be able to do this but you need a good wholesale partner and a lot of discipline.
Secondly, like-for-like sales strip out the really poorly performing stores that were closed in the last year so the real benchmark figures are probably worse. Be honest with yourself. If your sales are up by 5% then you are doing really well. if they are flat, you may be doing OK. If they are down 5% then you need to be making some changes.
Finally, the FT publishes a sales per square foot chart showing Tesco making around £16, Sainsbury around £17, Morrisons around £18, Aldi around £21 and Asda around £25 per square foot. So you have three benchmarks for your shop:
5% operating margin
£20 per square foot weekly sales
0% year on year life-for-like sales growth.
If you are have a 1,000 square foot shop and your sales are £1m a year and you are making a 5% operating margin of £52,000 after paying yourself and your sales are flat, then you are doing better than Tesco.
But that may not be good enough if Aldi and Waitrose park either side of you.