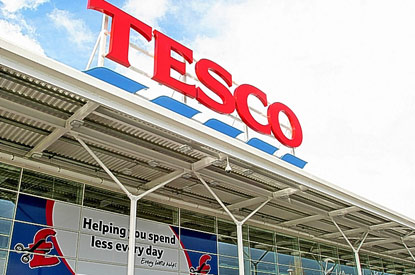 Ed Garner of Kantar Worldpanel reckons he has the best tool for knowing what is happening in the UK grocery market and his data says Tesco's strategy does not work. Nine out of 10 people already visit Tesco regularly and no matter how hard it tries, this number is unlikely to become 10 out of 10.
Sitting in a room with 9 businessmen and one environmental campaigner yesterday I mentioned this 9 out of 10 statistic and they simply did not believe me. How many people shop at Tesco, the chairman asked and only two of us put up our hands. The other shopper said he mainly used Tesco late at night when he had to make a distress purchase.
Which got me thinking about my visit the previous evening to buy toothpaste. I had caught a train out of Paddington and planned to buy the toothpaste at Sainsbury's busy c-store in the station. Thinking ahead about this purchase and after hearing at the Independent Retailer Conference about how multiples organised their shops around shopper missions, I was looking forward to putting this to the test. This outlet, I am sure from previous visits, is chaotic. Successful chaos however as shoppers flood past on their way to and from the busy railway station.
However, arriving at the station my train was leaving in three minutes so I decided I would shop in Reading. At the station we have a Marks and Spencer and an independent c-store, one of a small chain in the town. Thinking ahead I wondered if M&S sold toothpaste and I wondered how expensive it would be in the c-store.
Sure enough, no toothpaste in M&S. I walked reluctantly into the c-store. This is a chain that looks outwardly impressive but I know from previous visits two things: one is that it premium prices everything. The other is that the staff never smile at the customers. They always make me feel like I am a shoplifter.
I go in and find some small tubes of toothpaste on a dusty shelf. The pricing is for a different product. My wife, the commissioner of the purchase won't be happy. I won't be happy.
But no worry, the Budgens in Emmer Green is a great shop. I will go there. But it is just after 9pm. Will it be open? I drive there, passing the Tesco Express that is open to 1030. As I approach, I see the lights are out and I drive back to Tesco.
In store I buy a loaf of Finest bread at £1.30, which seems a keen price, and go find the toothpaste. They have two the same, one larger than the other, but only the price for the smaller one. I take the toothpaste to the till (no queue, perhaps Budgens is correct to be closed) and ask the teller to tell me what the difference in price is. He scans both and tells me it is £6.22. I repeat my question. They both cost the same. To his credit he looks at the product with interest, sensing that one is better value for money than the other. I pay and leave.
This is an incremental purchase for Tesco. Its strategy of being open late is paying off. The threat to Budgens is: Where will I shop next time? If it is before 9pm, I believe I will still make an extra effort to visit Budgens as it is a well-run store with friendly staff and interesting promotions. But would other shoppers?
However, think about the proposition at the top of this article. Tesco is attracting nine out of 10 shoppers and most people don't realise this. While its strategy may not be helping it to grow – now when it cuts prices it cuts its own market share, says Ed Garner – it has this one fantastic strength that is nine out of 10 shoppers are already customers.
While opening more and more stores may be hurting its short term proposition for City investors, it is not hurting its long term  proposition of being available to shoppers when shoppers need something. That is only going to get stronger and you need to strongly differentiate your local store to ensure local shoppers stay loyal.
As to my group of businessmen – and one environmentalist – I would not build my business strategy on how they say they behave. Ed Garner's data is a much better guide to what's really going on.