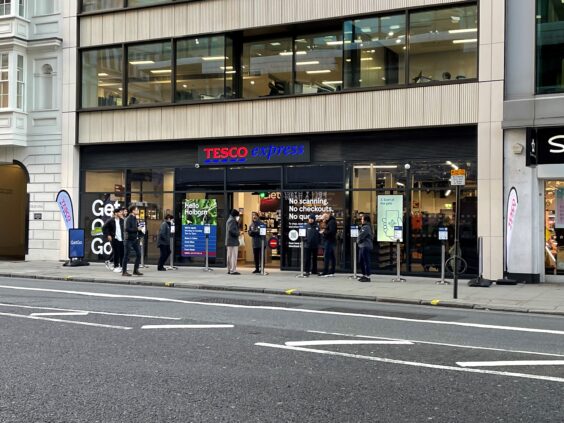 Tesco has become the latest supermarket to trial their first cashierless store named GetGo, which launched this week in High Holborn in London.
The new trial will enable customers who have a Clubcard and have registered it on the Tesco app to scan the QR code at the main entrance to enter the store. Customers are unable to enter the store if they do not have the app or a Clubcard.
EXCLUSIVE: Tesco to launch Amazon Go-style checkout-less stores
Once inside customers are able to freely grab items and place it in their pockets or even use one of the recyclable bags provided.
However, the accessibility of this store can be questioned, with betterRetailing.com noting that a number of people chose to leave the store once told they needed to download an app to enter, many of whom were elderly. Staff are situated at the entrance of the store to explain how to download the app and enter the store.
The store has cameras and sensors which logs in anything that you pick up, the sensors on every shelf in the store registers what you have taken and if an item is no longer wanted it just needs to be returned to a shelf anywhere in the store.
Bryan Roberts: the evolution of Tesco's Jack's brand
According to a staff member at the GetGo store the cameras have 99.9% recognition rate which helps to ensure you are not overcharged for what you are buying.
There is also a section in the store specifically for age-restricted products, with a separate exit and a gated entrance where staff will check ID. A security guard was situated near to this section and by the entrance and exit.
Magazines and newspapers are not available at the store. However a good range of products are including; a bakery section, meal deals and alcohol and tobacco products.
Within three seconds of leaving the store customers will receive a receipt of everything that was brought straight to their phone and Clubcard app.
Explore Tesco GetGo Holborn
Read more Tesco news