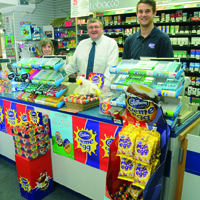 British retailing is going through one of its toughest periods, with incomes declining, household budgets coming under increasing pressure and confidence falling rapidly. But retailers are a resilient bunch and they have responded not only by cutting prices but more importantly offering promotion.
A recent report stated that 40% of sales by the big four supermarkets are promotions. One visit to the supermarkets will convince you of this.
At the FWD conference recently a panel of senior industry figures highlighted the need for independent retailers to offer value for money through promotions. The point was made that promotions are not just about price-cutting, an emphasis has to be placed on delivering value. As the saying goes: "Price is what you pay, value is what you get". Or as one speaker at the conference commented "Great value doesn't necessarily have to be cheap."
Promotions are also featured in RN's This Week In Magazines section whereby the publishers, wholesalers and distributors are offer a raft of promotions to increase the sale of magazines in the summer months.
And lastly the sale of The News of the World has sparked a price promotions war by other Sunday papers as they jostle to fill the gap.
So here you have just three examples of promotions in a spate of one week.
Whereas the big supermarkets employ professionals to dream up promotions, advertise and highlight them in the stores, what armoury is available to the small retailer with his limited budget and time?
Well, first of all the wholesalers are investing in educating the retailers by not only offering advice but also offering ideas and products like meal deals, an idea which has become very popular in these recessionary times, and by telling retailers to promote themselves at the heart of the community.
The NFRN as the leading trade association in this industry can and does play a vital part in educating its members through its web site, its sales force and its publications.
But more than anything the retailer himself has to take the initiative as he is best suited to know his customers, his area and his products.