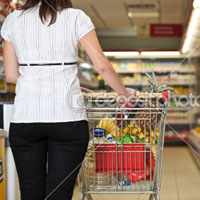 On 20 June retailer Paul Cheema told me how sales were: two good weeks, one OK week and one bad week. On Monday this week, Dalton Philips, chief executive of Morrisons, briefed journalists that this was a national trend, with grocery shopping being pushed towards the beginning of the month.
What is Morrisions doing? It is concentrating its marketing on the period between the 27th of the month and the end of the month.
What is Morrisons seeing? Big sales in week one and lower sales in weeks two, three and four. Shoppers are filling their pantries and then trying to last the month. Mr Philips said the trend was evident everywhere outside London.
The average household budget is £100 lighter each month due to higher VAT, fuel and other utility costs. Shoppers are looking for value
Local shops need to watch for two things. One, the timing of supplier promotions. Two, if shoppers are going once a month to the superstore, can they win them for more top-up purchases. Think about your buying patterns and make sure you have the stock available at the correct times to maximise your sales. For the alert and nimble operator, the market looks interesting.